SimilarWeb Competitors and Similar Companies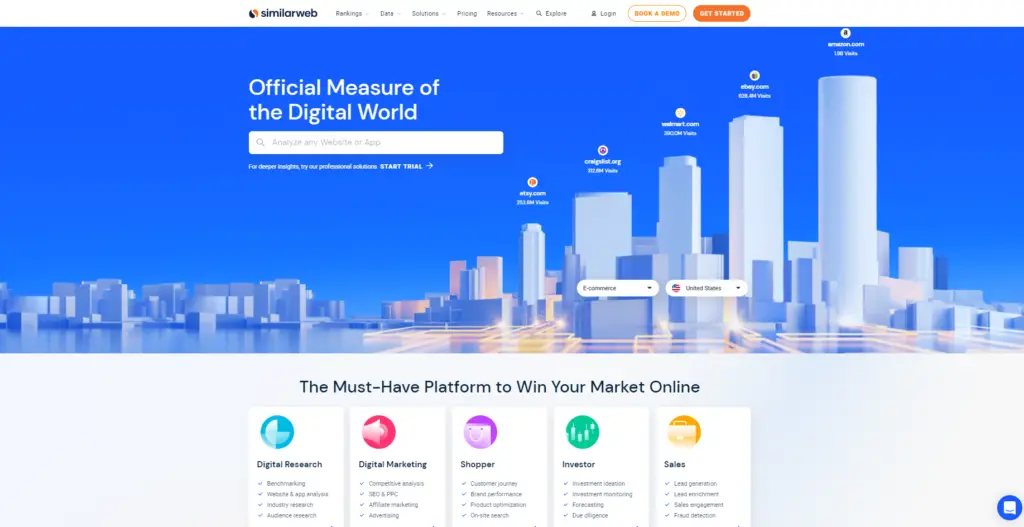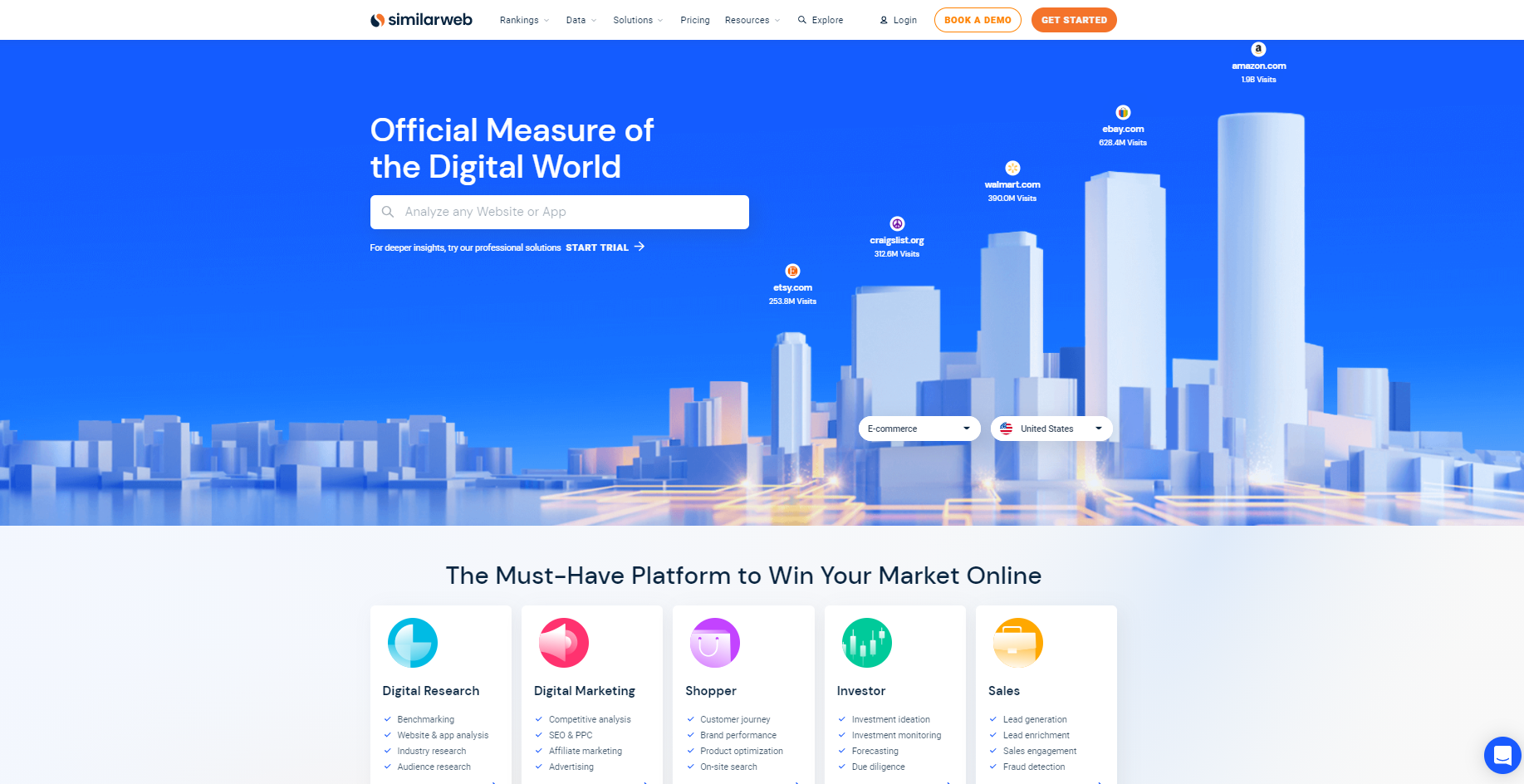 SimilarWeb is a company founded in 2007 that is set to provide its customers with the most useful traffic analysis services. Apart from traffic analysis, this company provides keyword research and referral research solutions. The goal of SimilarWeb is to help customers boost the website traffic and level up against the competitors in the market. 
| | |
| --- | --- |
| NAME | SimilarWeb |
| FOUNDED | 2007 |
| HEADQUARTERS | Tel Aviv, Israel |
| SIC CODE | 7370 |
| STATUS | Limited Liability  |
| INDUSTRY SECTOR | Information Technology, Web Traffic, Web Analytics, Marketing Intelligence |
| EMPLOYEES | 1288 |
| TRADING SYMBOL | NYSE: SMWB |
How SimilarWeb Makes Money
SimilarWeb offers several solutions in the field of traffic analysis and digital intelligence. Let's go through their products and see what these solutions are in detail and how this company makes money.
Digital Research Intelligence
A single, user-friendly surface can help customers analyze the market, explore the trends in a certain industry, and understand the audience's behavior with the goal of growing traffic and expanding the business. A customer can look at how it stands against the competition, do market research, analyze industries and trends, and understand the root of the successful competitor better. 
Digital Marketing Intelligence
This digital marketing toolkit allows customers to perform competitive analysis, keyword research, referral research, as well as ad and media research. All of this is supposed to help SimilarWeb's customers grow traffic, find affiliate partners, and increase the budget. 
Shopper Intelligence
This solution is designed to help customers analyze shopper behavior. They can analyze trends, products, brands, and categories, as well as shopper's habits and potential threats from the competition. These insights are supposed to help the customers grow their business and stay ahead of the market competition at all times. 
Sales Intelligence
SimilarWeb offers 360° insight into e-commerce. Customers can find merchants that fit into their business model and also advertisers and publishers to sell their solutions to. SimilarWeb has over 130 million websites in its database for this purpose. 
Investor Intelligence
Numerous investors use this solution SimilarWeb offers. Investors can track digital activity, websites, and apps to analyze companies' long-term earning trends. They can also track earning performance and inspect the data of millions of companies in real-time.  
This solution can be used for hedge funds, quant funds, private equities, investment banking, venture capitals, and equity research.
Advisory Services
SimilarWeb's advisory services are designed to provide custom premium analysis to businesses. This company promises to solve business challenges through a granular, collaborative, and bespoke approach. 
SimilarWeb Similar Companies 
SimilarWeb offers a wide variety of solutions that can help businesses and corporations achieve more and fast. Traffic analysis, market research, and audience research are necessary in the digital world, and this company provides customers with a single surface that covers it all. Whether a customer is an investor, an owner of a small or big company, or a CEO of a corporation, SimilarWeb has a solution. 
This company's data includes over 100 million websites, 190 countries, over a billion keywords, almost 5 million apps, ten billion content pages, and more. With a database that large, it's no wonder some of the world's leading companies use SimilarWeb, such as Google, Adidas, Adobe, Booking.com, Walmart, etc. 
Although SimilarWeb holds one of the leading spots in the world of traffic analysis, it has some competitors in the market. The biggest rivals of SimilarWeb are Semrush, Ahrefs, SE Ranking, Google Analytics, Mouseflow, SerpStat, Open Web Analytics, Pathmatics, and Conductor Searchlight. Let's discuss these companies in more detail and see how they rank against SimilarWeb. 
Semrush
Semrush started out in 2008 as a small company of IT and SEO specialists that wanted to make market competition in the online world transparent. Today, it is one of the leading, if not the leading, platforms with nine offices and more than a thousand employees. 
This company offers services in the fields of SEO (local SEO, link building, rank tracking, on-page SEO, keyword research, and competitor SEO analysis), content (marketing, creation, distribution, optimization, and marketing analytics), market research (competitor and market analysis, paid advertising, and PR monitoring), monetization, and social media management. 
Although Semrush is still a bit smaller than SimilarWeb, it managed to report a profit of more than 50% in 2021 than in the year before. Its exponential growth can become a threat to the SimilarWeb very soon, making it one of the biggest SimilarWeb competitors. 
| | | | |
| --- | --- | --- | --- |
| Annual Revenue | Funding | Headquarters | EMPLOYEES |
| $124.88M | N/A | Boston, MA, USA | 1000+ |
Ahrefs
Ahrefs is another SEO company that provides customers with resources and tools necessary for analyzing and growing website traffic. It is an intuitive and user-friendly software that a customer can use to research keywords and backlinks of competitors. Some other services that Ahrefs offers are keyword search, site audit, rank trackers, and content explorer. 
This company is located in Singapore and although it has less than 100 employees, it reports revenue of around 100 million dollars yearly. It offers more specific services than SimilarWeb, but it is still one of the competitors. 
SE Ranking
SE Ranking is a company on a mission to make SEO easy for people with any level of knowledge and experience in the niche. Their services are mainly in the SEO field – keyword tracker, on-page SEO, website audit, backlink tracking tool, competitive research, marketing plan, etc. Another service they offer is a competitor analysis tool, meant to help customers analyze rivaling websites and get data to learn about the competition in depth. 
SimilarWeb is a much larger company, offering more products and services to its customers. This, and the overall revenue it reports, makes it a smaller competition to the SimilarWeb company. 
| | | | |
| --- | --- | --- | --- |
| Annual Revenue | Funding | Headquarters | EMPLOYEES |
| $18.6M | N/A | Silicon Valley, CA, USA | 128 |
Google Analytics
Google is the most used website in the world, with over 90 billion monthly users. There is not much to say about it that you don't already know, but maybe you haven't heard about Google Analytics yet.
Google Analytics is one of the services Google offers that gives businesses insights and data no other website can provide. Customers can follow website traffic and understand their audience better with the goal of increasing the traffic and, of course, profit. 
It's needless to say that Google is the biggest competitor of SimilarWeb, considering the company's size, revenue, and the number of employees.
Mouseflow
Mouseflow is a relatively young company, founded in 2009 in Copenhagen, Denmark. It has nearly 200 thousand customers, including some big names, like Verizon and Vans. 
This company provides tools and services in the field of behavior analytics. Customers can optimize and improve their websites and use the data to grow website traffic and convert it to more sales, when applicable.
Mouseflow is still a relatively small company, so it isn't a big competitor of SimilarWeb, but we will see what happens as they grow in the future.  
| | | | |
| --- | --- | --- | --- |
| Annual Revenue | Funding | Headquarters | EMPLOYEES |
| $2.7M | N/A | Austin, TX, USA | 20 |
SerpStat
This company was founded in 2013 as a keyword search tool but has since grown to offer more useful services utilized by more than 200 thousand customers. 
SerpStat is used to analyze websites and competitors with the help of tools such as keyword analysis, site audit, rank tracking, and similar. 
Some of the prominent customers this company has acquired over the years are Lenovo, Philips, Rakuten Viber, Uber, Samsung, Deloitte, Yves Rocher, Udemy, and many more. 
Considering the growth of SerpStat since it was founded, its number of customers, and overall revenue growth, we can say that this company is on the way to becoming one of SimilarWeb's serious competitors. 
Open Web Analytics
Open Web Analytics is an open-source framework that lets customers analyze how often and in what way people use their websites and apps. It is customizable and offers some important advanced tools, such as heatmaps, clickstreams, and popular search terms. 
This company is not big and doesn't report a huge revenue as SimilarWeb does. However, what makes it a competitor is the fact it's free. Not a lot of software companies offer an extensive list of tools completely free of charge, so this makes Open Web Analytics the first choice for a lot of users. 
| | | | |
| --- | --- | --- | --- |
| Annual Revenue | Funding | Headquarters | EMPLOYEES |
| <$5M | N/A | N/A | N/A |
Pathmatics
This company is another one that implements digital marketing intelligence to help customers make the best out of their businesses. Their products give insight into digital advertising on various platforms, such as Facebook, Instagram, Twitter, YouTube, and more. 
Pathmatics is one of the similar companies to SimilarWeb, although they don't offer the exact same services.
| | | | |
| --- | --- | --- | --- |
| Annual Revenue | Funding | Headquarters | EMPLOYEES |
| $6.1M | $7.7M | Los Angeles, CA, USA | 50 |
Conductor 
Conductor is a New York-based platform that focuses on helping customers create and optimize content to grow their online presence. It is an organic marketing platform that businesses can use to increase their website traffic by analyzing competitors, keywords, and similar features. 
Considering the amount of funding Conductor has been getting in the past few years, we can expect only great things from this company. It wouldn't be a surprise if they become one of SimilarWeb's bigger competitors in the future. 
Conclusion 
SimilarWeb doesn't have a lot of competitors in the field of traffic analysis services. However, the SimilarWeb's biggest competitor is Google Analytics. It's no wonder since not a lot of companies, if any, can compare to the most visited website in the world. Another SimilarWeb competitor worth mentioning is Semrush, along with Ahrefs, SE Ranking, Google Analytics, Mouseflow, SerpStat, Open Web Analytics, Pathmatics, and Conductor.