Top Wework Competitors In 2023
WeWork is an American Commercial Real Estate Company that offers shared co-working space for technology and individual startups and services for other enterprises. Founded in the year 2010 by; Adam Neumann, Miguel McKelvey, and Rebekah Neumann, it is headquartered in New York City.
WeWork operates under the parent company name "The We Company," 10 years later, after launching the company, it is serving in 33 countries, it has 625 locations, 15,000 employees, plus over 600,000 members globally.
According to the 2019 report, the estimated WeWork revenue was $1.8B by the end of 2018, and the company managed over 4 million square meters.
| | |
| --- | --- |
| COMPANY NAME | The We Company |
| FOUNDED | 2010 |
| HEADQUARTERS | New York City, New York, U.S. |
| SIC CODE | 6531 |
| STATUS | Public company of NYSE |
| INDUSTRY SECTOR | Commercial real estate |
| EMPLOYEES | 15,000 |
| TRADING SYMBOL | WEWK |
WeWork similar companies:
IWG plc (Regus), Workbar, Hera Hub, TechNexus, Wolfhouse, Galvanize, 1871, Alley, Industrious, Impact Hub, Knotel, SOMAcentral, Serendipity Labs, Techspace, Green Desk, Make Offices. 
How WeWork Makes Money
Memberships
WeWork coworking memberships are the primary source of revenue for the WeWork business model. According to the 2018 revenue details, the Company generated $ 1.8B. 88% of it comes from memberships. The 88% are enterprise clients who currently add up to 40% of WeWork's total membership.
Rentals
The WeWork Company works under the commercial real estate industry. WeWork does not do the building; it rents space in an office building depending on the area market demand. It can be on one floor or more. Then, they partition the space into the desired size, small offices, and conference areas. The Company makes money by renting small office rooms to tenants. The room can be with or without furniture. If the tenant does not have the time to source for furniture, the Company provides at a fee. The Company also does generate cash by renting conference halls to customers who want a desirable place to hold a meeting.
Office Services
The Company also generates cash by offering office services like; Printing, Wi-Fi, Coffee, and Phone service.
Another source of revenue toward WeWork are perks and subscriptions sold through the company service store. 
The typical WeWork clients include; small companies that have not yet grown to need a big office, mobile company owners, freelancers who need a small office away from home.
IWG plc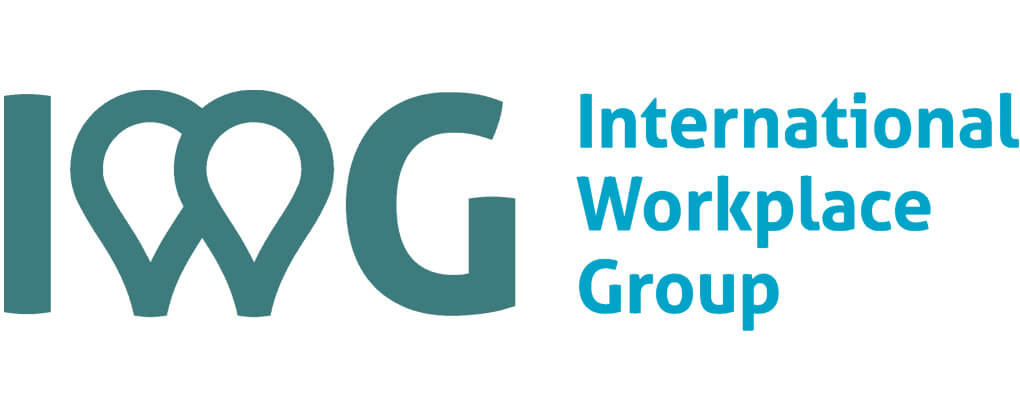 IWG plc "International Workplace Group" was primarily known as Regus. Regus was launched in 1989, by a British Businessman Mark Dixon. It had its headquarters at Saint Helier in Jersey U.S. Later on the same year 1989, Regus re-branded to IWG plc. IWG plc was founded in Brussels, Belgium, currently, has its headquarters in Switzerland and incorporated in Jersey.
The IWG plc offers its services globally, which include providing; serviced offices, Coworking spaces, Virtual offices, Business lounges, Meeting rooms, and Video teleconference services. The Company has employed over 10,000 people, in more than 3, 500 locations in 120 countries. Additionally, as per the 2019 survey, the Company has provided its services to more than 2.5 million clients.
IWG gets stiff competition from WeWork, given it is the top competitor of WeWork. WeWork got a loss of above $4300 per desk in 2017; on the other hand, IWG gained a profit of $500 per desk the same year. By the end of 2018, the total revenue of IWG was $3.2B, with a net income of $200.73 million. The Company offers workspaces to clients on a "first come first served basis" Additionally, they provide mail handling service for long term tenants.
Alley
Alley is a private American company based in New York City, founded in April 2011 by Jason Saltzman, Jonathan Enge, and Nsi Obotetukudo. It is headquartered in New York City, U.S. Alley is a Coworking Company which operates in four offices in different USA cities. Also Alley owns several offices branded Alley powered by Verizon, courtesy of Verizon. Alley offers workspace related services to its clients. Its main client includes; Small businesses, Start-ups, Entrepreneurs, and freelancers who need a workspace away from home.
Alley started with its first office at 500 Seventh Avenue in Manhattan, New York; the property had 5,000 square-feet. But, the Company become popular after the hurricane disaster, which happened in Manhattan, and the Company volunteered to offer charity to the affected families. The popularity enabled the Company to expand to 590,000 square-feet in Manhattan by the year 2014.
The difference between Alley and WeWork is, Alley is an organization based on charity, and it provides free shared workspace to companies who are not able to fund themselves at the beginning, once they become stable, is when they start paying for the office space. By 2015, 110 startup companies had benefitted from the free shared workspace project, plus the Company raised $16 million.
Industrious
Industrious is an American real estate and property developer company. Founded in 2013 by Jamie Hodari, and headquartered in New York, US. It constructs workspaces, warehouses, and distribution buildings. It has built 90 workspaces in 45 cities in the US,
By the end of 2018, Industrious had raised a total of $142 million. The Company has 95 locations in more than 50 cities by 2019, with 394 employees. The Company offers Coworking, shared office space, Collaboration, Community, Flexible workplace, Commercial real estate, Flexible office, and hospitality to its clients.  
Industrious is one of the top WeWork competitors. By the end of 2018, the Company made a total revenue of $80 million from its investor clients. The Company only rents space to professionals who already have a history of successful Coworking with companies of the same industry. 
Impact Hub
Impact Hub is a UK based co-workspace company, founded by Sara Anjargolian, launched in 2005, headquartered in Vienna, Austria. It provides shared workspaces. Impact Hub is amongst the most significant networks focusing on building entrepreneurial communities and workspace, providing a platform to young startups and entrepreneurs.
The Impact has an average annual revenue of $3 million. Currently, the company is offering its services in over 100 cities, 50 countries. It has hosted more than 11,000 events globally, with an average of 200 programs per year. The company has got an active community of above 16,000 members. The company is not selective when it comes to members who are willing to be members; they welcome members from diverse backgrounds because the company believes in numbers and values the importance of working as a team.
Impact operates differently compared to WeWork and IWG. It involves the community in its operating system. A franchise of Impact needs only three founders who have the same interest to start working as a team to implement the idea. Then impact helps them through the initial stage until the project is a success. The best part is, hubs of impact hub do not compete against each other in the same city. 
Knotel
Knotel is a New York-based shared co-workspace company, launched in 2016, founded by Amol Sarva and Edward Shenderovich. For four years, the company has managed to spread globally. Knotel offers; unique office space, capital efficiency, and simple rules to follow to get and maintain as many clients as possible.
Knotel has a total of 250 shared co-workspace buildings in 15 cities. The company occupies 4 million square feet in 200 locations, in 3 continents. 
Knotel is raising to becoming one of the top competitors of WeWork; in 2019, the company secured the first investment of $400 million from the Kuwait social security funds. What makes Knotel different from WeWork is that it does target large professional businesses, and lets go small and startup companies and freelancers.
SOMAcentral
SOMAcentral is a US shared co-workspace company, founded in 2009, headquartered in San Francisco, Californie, US. It provides workspace to technology startups, fostering a community full of creativity and collaboration of top startups. The company specializes in the offering; Coworking space, Events, Coworking startups, technology startups, and Technology Event spaces. 
SOMAcentral has supported many startups companies that eventually grew and became famous; they include; Grammarly, Instagram, co-Tweet, Twilio, 99 Designs, Animoto, Playfish, Jambool, or Socialgold, and AppJet. Also, SOMAcentral monitors the progress of startups and offers professional guidance to established companies, which helps in growing more leads and generating more income flow. SOMAcentral provides a special bonus to its members, which include; free access to the three physical offices of the company which is; Broadway Oakland, Mission Street San Francisco, Townsend Street San Francisco. Free access to the two largest event spaces of 6,000 square feet for personal use. 
SOMAcentral compared to WeWork it offers exceptional amenities to its clients which include: 24 hours service, pet-friendly rooms, private shower rooms, filtered water, professional security, email box, standing desks, meeting rooms which accommodate more than five individuals, communal kitchen, tea or coffee, secure bike parking lot, high-speed internet, printer scanner, and copier. It is in collaboration with BootUp, Mind the Bridge, and Founders Space. SOMAcentral deals with only technology startups, while WeWork does offer service to all customers who come seeking their services. It does offer all the other essential services co-workspaces companies do provide.
Serendipity Labs
Serendipity Labs is a US share workspace company, launched in 2011, founded by John Arenas, headquartered in New York. By the end of 2019, the company had more than 35 locations in 29 cities. Serendipity Company has an annual estimated revenue of $4.5 million. 
Serendipity does offer the following services to its clients; secure workplace, private offices, meet-ups, conference halls, workspaces for individuals, and startups. Additionally, the client is assured of a professional work-friendly environment.
Compared to WeWork and other brand companies, Serendipity operates differently; it works like the franchise business. It sells licenses to interested landlords and property owners to use the brand name to gain more sales on their properties. Then, when sales are made, the profit is shared between the two. 
Techspace
Techspace is an American shared workspace company, founded in 1997. It provides infrastructure and co-workspace to individuals and businesses. The company has physical locations in 6 cities in the U.S.
Techspace's shares were bought by a company called Enfrastructure, located in California in the year 2002. But, the primary company name Techspace didn't change since the brand had already become a big name and famous, which could have led to reduced sales or getting a stunted growth pattern. 
In May 2019, the Industrious Company did buy Techspace, making Industrious the parent company of Techspace. This led to the fast growth of the Techspace Company, making it among the topmost competitors of WeWork. The best part of the partnership is, given Industrious goes for professional high-value clients, collaborating with a company that goes for startups and freelancers or, in general, all clients, it makes a perfect match. And this way, WeWork has to sweat to catch up with that speed of growth.
Green Desk
Green Desk is an American-based eco-friendly shared workplace company, founded in the year 2008, by Jeffrey Terry Green, an American billionaire businessman. Green Desk has got five central physical locations, which include; Dumbo, Downtown Brooklyn, Greenpoint, Williamsburg, and Long Island City.
The company offers various services to its clients, which include; quality workspace, private office, virtual meeting rooms, and conference halls. Additionally, the company does provide office services, which include; email handling, printing, paper scanning and printing, high-speed Wi-Fi, coffee, or tea. The company offers a reasonable rent fee favorable for startups and many companies that have not yet taken roots deep in the market. 
Compared to its competitors, Green Desk offers a bonus to its clients, which includes a 24 hours service accessibility, cleaning services, fully furnished office rooms, and a kitchen. Green Desk has got a total of 6,152 desks, 5,403 members, and 247 pets. 
Make Offices
Make offices is an American real estate co-workspace company, founded in 2012, by Ray Rahbar, Chris Junior, and Jason Shrensky. The company is headquartered in Arlington.    
Make Offices do offer workspaces to startup companies, freelancers, small businesses, and entrepreneurs. The company has got an estimated annual revenue of $5 million. The company has got physical offices in 4 cities in the U.S.
Make Offices operate differently compared to WeWork, given it offers discounts to startups and small companies, which get it hard to clear the rent bills, unlike WeWork, which provides services to only clients who are ready to pay for the services offered.
Conclusion
The top 10 WeWork competitors are; IWG plc, Alley, Industrious, Impact Hub, Knotel, SOMAcentral, Serendipity Labs, Techspace, Green Desk, and Make Offices. Together these companies employ 30,559 million people globally, with Impact Hub employing 16,000 people taking the lead on the number of employees. The top 10 competitors make an average of 7,159 employees per company.
COMPETITORS STATS
| | | | |
| --- | --- | --- | --- |
| NAME | FOUNDED | HEADQUARTERS | NO. OF EMPLOYEES |
| IWG plc | 1994 | Saint Helier, Jersey USA | 10K |
| Alley | 2011 | New York City, USA | 270 |
| Industrious | 2013 | New York City, USA | 394 |
| Impact Hub | 2005 | Vienna Austria | 16K |
| Knotel | 2016 | New York, USA | 500 |
| SOMAcentral | 2009 | San Francisco, USA | 575 |
| Serendipity Labs | 2011 | New York City, USA | 137 |
| Techspace | 1997 | New York, USA | 33 |
| Green Desk | 2008 | New York, USA | 2500 |
| Make Offices | 2012 | Arlington, USA | 150 |
WeWork Competitor Crossword
Content from this and other articles on this website can be used as a crossword clue