Great Clips Senior Discount Requirements, Details, and Other Ways to Save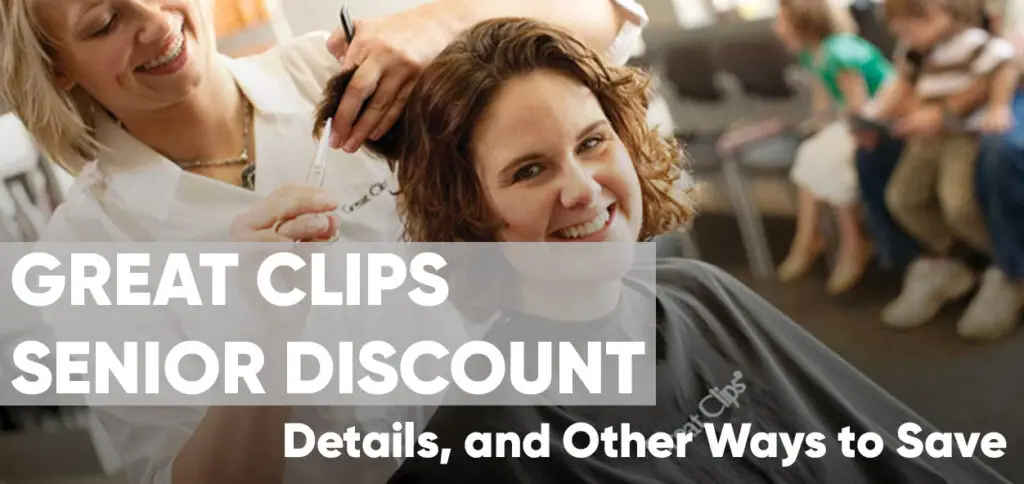 Having a pair of scissors to snip at your hair can be surprisingly pricey! It can strain your wallet if you have high-maintenance hair while surviving on limited retirement funds.
But does that mean you should pull back on haircuts and styling? No! The trick is to leverage your age and find senior discounts. The good news is that you can reduce your hairdo costs by going to Great Clips, a leading American salon with more than 4100 branches in North America. 
Read ahead for everything you want to know about the Great Clips prices for seniors and explore more ways to save at the salon. 
Does Great Clips Have a Senior Discount in 2023?
Great Clips offers a senior discount at selected salons. This option allows seniors aged 65 years or older to get a $2 discount on a regular haircut. In other words, you'd pay $12 after the discount instead of the standard charge of $14. 
Plus, senior citizens can save at the salon using coupons, the Great Clips survey, and possibly Military Discount. Continue reading to discover how you can get discounted rates at Great Clips; find the limitations of these offers; and know what similar salons offer senior discounts.  
What Are Great Clips Prices for Seniors?
At Great Clips, seniors can get a $2 discount on haircuts. This means that the saloon haircut price – around $14 usually – is cut down to $12 for senior citizens. 
That said, Great Clips is an individually owned salon chain, having more than 4000 franchised locations in the U.S. Since all the franchisees operate with their independent policies, the discounts might vary across salons. 
Although most salons under the chain offer a senior discount, you might want to check and confirm with your nearest Great Clips outlet for more information.
How Do I Get a Great Clips Senior Discount? 
Getting a senior discount with Great Clips is pretty simple. 
The first step is to book an appointment at your nearest Great Clips salon after confirming their senior discount policy. You can check-in online or make your appointment over the phone call. When providing your details, don't forget to mention your age. 
When you arrive at the saloon, let the hairstylist know you're eligible for the senior discount. They might check your ID document to confirm your eligibility and apply the senior discount to your bill. 
Constraints Around Great Clips Senior Discount
Before anything else, you must be at least 65 to qualify for the discount. Besides, the senior discount is only offered on the haircut prices, not products or styling services. 
Plus, there is no Great Clips senior day in the promotion policies. That's a good thing, considering you can get the senior discount every day of the week. 
Granted that the discount rates could differ by salons and locations. But, according to Great Clips' official website, $2 is the minimum discount. By that logic, you might even be lucky to get more significant price cuts.   
Do Great Clips Salons Have Coupons? 
Yes, Great Clips offer coupons to encourage customers to avail themselves of their services, especially targeting those in the senior age bracket. 
There are multiple ways you can get Great Clips coupons. These include print postcards, social media, emails, text messages, and direct mail. 
First, get their email subscription to have coupons right in your inbox. In addition, you may want to visit their Facebook and Instagram pages before visiting the saloon to see if they have any active coupons available. Also, check out the "coupons" section of the newspaper to find any printed coupons. 
Just as discount offers, coupon availability might differ from location to location. For that reason, call directly at your local Great Clips to confirm if they're currently offering or accepting any coupons.  
How to Check if My Coupon Is Valid? 
You might find a lot of websites claiming Great Clips coupons with generous discounts. But understandably, you may come across fraudulent coupons as well. 
Check with your local salon to ensure your coupon is valid and authorized by Great Clips. The good news is that there's another way to verify online coupons.
Great Clips coupons contain a unique, single-use code, which is 5-6 characters long. They also have a web address stating the eligible market, city, or saloon. If you find an online coupon without a 5-6 character code or valid web address, it is, likely, not legit. 
Take the Great Clips Survey for More Perks
Great Clips customer satisfaction survey is another way you can take advantage of exclusive offers by the company. 
To ensure customers are satisfied, the saloon chain takes customer feedback regarding staff behavior, suggestions, and complaints. In exchange, you may be rewarded with coupons, a free haircut, or a discount on styling service.  
Take their survey by visiting the link at the bottom of your receipt. Note that only one survey is allowed per purchase. 
Does Great Clips Offer Military Discount? 
Yes, Great Clips has a "Thank a Veteran" program to pay tribute to the military officials. If you happen to be a veteran, you can either get a free haircut or a haircut card for future use.  
Which Similar Companies Offer Senior Discounts
Great Clips haircut offers for senior citizens are indeed valuable. However, some Great Clips competitors also offer exclusive discounts to senior citizens. Here are the leading salons that offer dedicated senior discounts.
Master Cuts: Get 20% off on all salon services and hair products from Monday to Thursday; You must be 60 years or above to avail yourself of this offer.
Supercuts: Get a $2 senior discount on adult haircut prices at selected salon locations; valid for 60+ years old customers. 
Conclusion
Most Great Clips locations offer a senior discount worth a minimum of $2 on haircuts. You can get the discount while booking your appointment or directly when you visit the salon. Moreover, Great Clips offers coupons via emails, mailing services, newspapers, social media, or text messages. These are also great ways to reduce costs and save at the salon. 
You can also undertake an online survey by the company to win exclusive offers, discounts, and free haircuts. Or maybe you'd want to check out Great Clips competitors like Master Cuts and Supercuts for senior discounts.