Publix Senior Discount Requirements and Details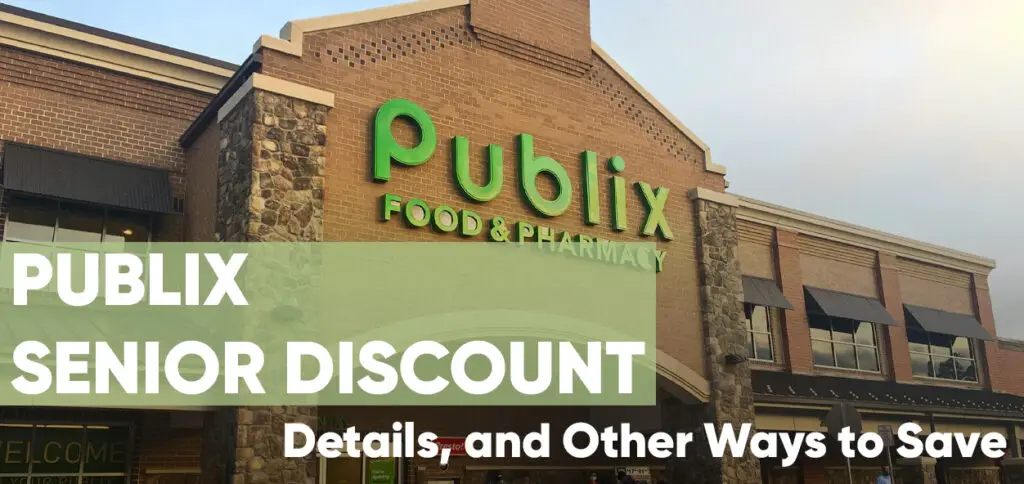 Publix Super Markets is one of the largest grocery store chains, with more than a thousand stores in the US. Its mission statement is to be the premier quality food retailer in the world. You will find everything under one roof, from grocery to bakery and pharma items! 
But as a senior citizen, you shop on a budget and want to cut your costs and save money wherever possible. Many stores, restaurants, and other businesses in the US offer senior discounts to support their customers. Does Publix offer any perks for senior citizens, you ask! 
Read on for the answer and find out more ways to save at Publix!
Does Publix Have a Senior Discount in 2023?
The good news is that Publix gives a 5% discount to senior citizens every Wednesday – the official Publix senior discount day. This discount is available to seniors aged 60 or above.
However, the Publix senior citizen discount is available at selected outlets and locations. As such, we recommend you call your nearest Publix outlets to ask whether they provide senior discounts. 
Apart from the senior discount, Publix offers more promotional deals that seniors can avail of and enjoy discounted shopping. So, are you curious about those ways and want to learn more about the Publix senior discount? Keep reading for everything you want to know!
How to Get the Publix Senior Citizen Discount?

As we briefly mentioned, the Publix senior discount is only available at selected locations and regions in the US. These regions include North Carolina, Tennessee, South Carolina, Alabama, and Georgia. 
You may want to call your local Publix outlet to know if they offer a senior discount. Remember that the Publix senior citizen discount is only available in selected stores and not online.
Once you confirm the location, just visit the Publix store on Wednesdays to avail of the discount. However, make sure to keep valid identification proof with you. All you need to do is:
Visit the store on a Wednesday – the senior day at Publix.
Complete your shopping.
Go to the checkout counter.
Show your age proof to confirm you are 60 or above and get 5% off your bill.
Other Ways to Save at Publix for Seniors
Since the Publix senior citizen discount is not available in every region and location, not every senior customer would be able to enjoy its perks! But that doesn't mean you don't have any other ways to cut your shopping cost at the store. There are some other ways and offers that seniors can avail of to save money while shopping at Publix stores. 
Read on to explore more ways to save at Publix.
1. Participate in the Publix Survey
Publix conducts a customer satisfaction survey online to ensure its customers are satisfied with its products and services. Customers can take this survey only if they have shopped at any Publix store during the past 3 days – just put your receipt number, and they will know. 
Now you must be thinking, what is the catch here? Participating in this survey gives you a chance to win a $1000 digital coupon that you can redeem at the store. Plus, you can get many other rewards to save money on future purchases. 
2. The BOGO Sale
The BOGO Sale is one of the most exciting promotional offers by Publix. It is a Buy One, Get One (BOGO) free sale, a collection of new deals the store introduces weekly. Senior citizens get almost 25-30 BOGO deals at all Publix outlets and on the store's website.
3. Club Publix Member Account
Create a Club Member Public Account and open the doors to endless benefits at Publix. The process of registering an account is straightforward. Visit the Publix website, navigate to Club Publix Membership, enter basic information, and sign up for free. 
Once you become a member, you'll get early notifications and reminders about promotional offers and sales. Moreover, you will get exclusive perks, a quick checkout option, and discount coupons to save money on your purchases.
4. Publix Coupons
Did we tell you that you can also get digital coupons after signing up for the Club Publix Member Account? Yes, that's true! These digital coupons will usually give you dollar-off discounts on different products. 
But how to use these coupons? Well, simply click on the coupon you would like to use, enter your registered phone number, and check out to avail of discounted products.
Besides the digital version, the store accepts internet coupons, manufacturer's coupons, and coupons from nearby competitors. However, the policies and limitations regarding these coupons may vary from one location to another. As such, we recommend you do your research and call the store for details before shopping there!
5. Extra Savings Category
You will find an "Extra Savings" category when visiting the Publix website. This category has many amazing discounted daily deals to help people save money. For example, you may find a deal: "10 1.25 liter Diet Coke for $10."
6. Purchasing In-Store Brands
Since Publix also manufactures some products itself, you will find several in-store brands in Publix outlets. These products are priced at surprisingly low rates compared to high-end brands. It is always a good idea to purchase Publix in-store brands because they always cost you less.
Which Similar Companies Offer Senior Discounts?
Here is a list of some similar companies and Publix competitors that offer senior discounts for their customers:
Harris Teeter: This store offers a 5% discount every Thursday for seniors aged 60 or above.
Fred Meyer: The store offers a 10% discount for senior customers aged 55 or above.
Kohl's: Kohl's offers a 15% discount coupon every Wednesday for seniors aged 60 or above. 
Conclusion
Selected outlets of Publix Super Markets offer a 5% discount every Wednesday to support senior citizens aged 60 or above. Apart from this discount, you can take the Publix survey and sign up for the Club Publix membership for incredible rewards. Plus, you may want to shop at the extra savings category and BOGO sale to enjoy discounted deals. Not to forget, redeeming the Publix coupons can also help you save a lot of bucks.