IHOP Senior Discount Requirements and Details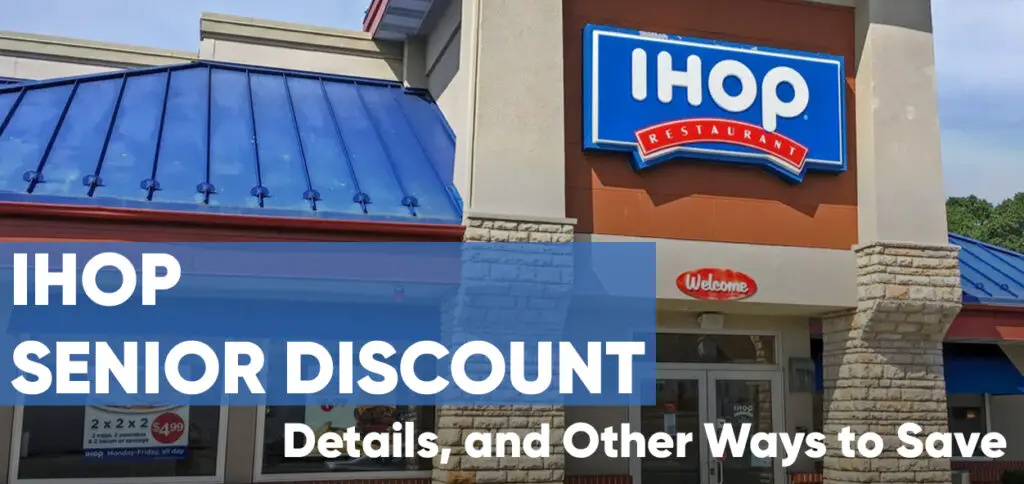 It's no secret that nothing can beat IHOP when it comes to comfort food and a savory stack of pancakes. IHOP, The International House of Pancakes, has been satisfying our food cravings for more than 61 years now. 
Since many restaurants in the US offer discounts for senior citizens to support them after retirement, it makes sense to ask whether IHOP senior citizen discount is available in 2023. 
This post will answer your questions about IHOP senior discount and provide details of other ways to save at the famous pancake house. Read on!
Does IHOP Provide a Senior Discount in 2023?
Being one of the US leading restaurant chains, IHOP extends its support to senior citizens. The company has no specific percent-off discount policy, but it offers a special IHOP senior menu with discounted prices on breakfast, lunch, and dinner items. 
The IHOP senior discount age is 55 years or above. If you meet the age requirement, you can visit any IHOP outlet any day to avail of the special senior menu. However, the IHOP 55+ menu is not the end of the benefits you can enjoy at the famous restaurant. There are plenty of other ways for seniors to cut their dining bills at IHOP! So, are you curious about the IHOP senior citizen discount and other ways to save? Keep reading!
IHOP 55+ Menu Details and How to Get the Discount
As mentioned above, IHOP offers an exclusive menu for seniors aged 55 or above. The 55+ menu contains some of the most famous and original IHOP meals, but in small portions and at discounted prices. 
By discounted prices, we mean many, many dollars down! From classic pancakes for breakfast to turkey sandwiches and steaks for lunch and dinner, you will find everything on the senior menu!
IHOP 55+ Menu Details
The IHOP senior menu may not contain all the meals and food items mentioned on the original menu, but it still has some great deals for breakfast, lunch, and dinner. For breakfast, you will find a savory sampler meal consisting of one egg, one pancake, one slice of bacon, one sausage, one piece of ham, and some yummy hash browns. 
Besides the sampler, you can find two more combo meals containing make-your-own omelets, thick & crisp French toast, and buttermilk pancakes. Plus, you get options and combos comprising turkey sandwiches, tilapia florentine, roasted turkey, steaks, french fries, and much more for lunch and dinner. The senior menu will also have calorie counts for the small portions mentioned to help you make a healthy choice. 
How to Avail of the IHOP 55+ Menu?
The best part of the IHOP senior citizen discount is that you can enjoy the IHOP 55+ menu any time of the week with your friends, family, or even alone. There is no specific day or time restriction for senior citizens to enjoy their delicious meals. Just go to your nearest IHOP outlet and ask them for the senior menu. 
However, remember that you must show valid identification and age proof to be eligible. Also, one senior can choose one meal from the 55+ menu for themselves only. In easy words, one meal per person. 
Other Ways to Save at IHOP for Seniors
Are you looking for more ways to save at IHOP? We have you covered. Below are other methods to cut your dining cost at the famous American pancake restaurant.
IHOP Military Discount
Some outlets of IHOP offer an exclusive discount to honor veterans and active service members. The discount can range from 20% to 30% off your entire bill. You must show a valid military ID to be eligible for the deal. Some IHOP outlets even give free yummy pancakes to military members. We recommend you first call your nearest outlet and ask what kind of military discount they offer. 
The IHOP Survey
Seniors can also complete the IHOP customer satisfaction survey to win and enjoy an exciting reward. IHOP conducts this survey to get customer feedback and ensure customer satisfaction.
Want to participate in the survey? Head over to www.talktoihop.com, take the customer satisfaction survey and enjoy free buttermilk pancakes. But keep in mind that you will need a valid IHOP purchase receipt from the past 3 days to take the survey. 
IHOP Pancake Club
You can also sign up for the IHOP Pancake Club online or at the outlet and enjoy free drinks or pancakes at every purchase down the line.
IHOPPY Hour
IHOP celebrates IHOPPY Hours from 2 PM to 10 PM every day. During these hours, customers can find some menu items at discounted rates of $5 or $6. 
Visit on Your Birthday
IHOP offers special deals as birthday gifts for its customers. All you need to do is visit the restaurant, tell them it is your birthday, and show your ID to enjoy special discounted deals.
Which Similar Companies Offer Senior Discounts?
Are you looking for more restaurants that offer senior discounts? Below, we've mentioned some IHOP competitors in the US that offer senior discounts. 
Krispy Kreme: This famous donuts shop offers a 10% discount for seniors aged 50 and above. 
Chick-fil-A: This restaurant provides free drinks for senior customers aged 55 or above. 
Taco Bell: Taco Bell offers a 5% discount on their tacos for customers aged 65 or above.
Subway: This popular fast-food restaurant offers 10% off for customers aged at least 60.
Conclusion
IHOP demonstrates its care for senior citizens through a special menu. You can avail of this offer if you want to cut your dining cost and save money. The minimum age limit to avail of the IHOP seniors menu is 55 or above. 
The 55+ menu includes small and calorie-controlled portions of all the IHOP classic food items. Plus, seniors can avail of this offer any time they want. You can also save by taking the IHOP survey, joining the pancake club, and opting for the military discount. Or maybe you'd like to visit IHOP on your birthday or during IHOPPY hours to save some cash.