Marriott Senior Discount Requirements and Details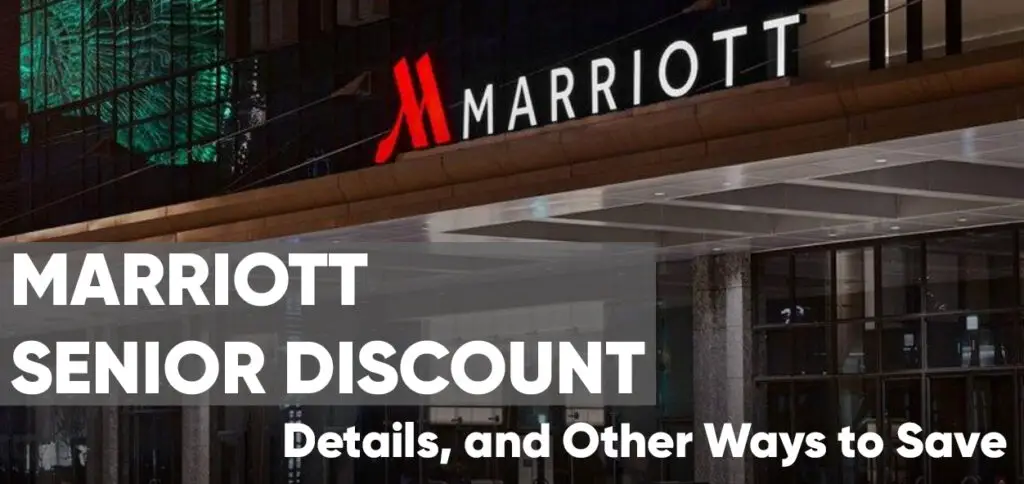 As a senior citizen, you can take advantage of many perks just by being older. Many US hotels, restaurants, and other businesses offer special discounts to help senior citizens save money. 
So, are you a senior who is planning on traveling soon? Why not then take advantage of senior-friendly hotels like Marriott? Marriott, one of the largest hotel chains in America, is the best place to stay when you are on vacation. 
Read on to know the Marriott senior discount age, requirements, and other details. 
Does Marriott Have a Senior Discount in 2023?
Fortunately, Marriott Hotels in the US offer a 15% discount on standard room prices for senior citizens to enjoy vacations without exceeding their budget. The minimum age limit to avail of this discount offer is 62 years. You'd also need to carry a valid age and identification proof to get the discount. 
However, this offer may vary with seasons and locations, so make sure to check with the hotel while booking. The best part? The Marriot senior discount is not the end of the benefits seniors can enjoy at Marriott. There are many other offers like Bonvoy Rewards, the best rate guarantee, and much more. 
Keep reading to explore how seniors can make the most of their vacations at Marriott without spending a fortune!
How to Get the Marriott Senior Discount?
The good news is that it is pretty straightforward to avail yourself of the Marriott senior discount. The hotel chain keeps the convenience of senior citizens in mind at every step of the process. 
Here is a step-by-step guide on how to get the senior discount at Marriott without a hassle:
If you are traveling during peak season, you may not find available rooms for the senior discount. So make sure to confirm availability before showing up at the hotel.
The Marriott senior discount only allows one eligible person to book 2 rooms per night.
Once you have confirmed everything, you can proceed with the booking on call or by showing up at the hotel.
As you know, the Marriott senior discount age limit is 62 years or above, so don't forget to carry a valid government-approved ID as age proof. 
How to Get the Marriott Senior Discount Online?
If you want to book a room and avail of the Marriott senior discount online, here is how you can do it:
To receive the senior citizen discount online, visit the Marriott website and navigate the hotel room booking page. 
Select the dates you want to book the room for, select the room type, and then click on the "special rate" menu. A new dropdown will open; select 'senior discount rates' from there.
A new page will open with rooms at special discounted rates. Choose the one you like and then proceed with the booking and payment. 
They may ask you to show the age proof while booking or at the time of your arrival at the hotel.
Other Ways for Seniors to Save at Marriott
For all the enthusiastic senior travelers out there, we are jotting down a list of more ways to save at Marriott. 
1. Marriott Military Discount
Marriott offers a 15% discount to veterans and current military men and women in service. The dependants of military personnel can also enjoy this discount. Make sure to carry a valid military ID when checking into the hotel. 
2. Marriott Teacher Discount
Marriott shows compassion towards current and ex-educators and teachers by allowing them to save up to 40% off on room bookings. They offer a teachers package with accommodation for 4 people and complimentary self-parking for one vehicle per room at amazingly discounted prices.
All you have to do is take a valid proof of teaching background at arrival/check-in. However, you cannot combine this discount with any other promotional offer.
3. Marriott Bonvoy Rewards
Bonvoy is a reward and loyalty program by Marriott. This program allows customers to enjoy many perks and benefits after signing up for membership. The good news is that the program membership is entirely free, and you can sign up through the Marriott's website. The essential perks can include:
Free Wi-Fi
Reduced Member Rates
Mobile Check-In
The more nights you spend in the Marriott Hotels, the more benefits you can enjoy – it's a loyalty program, after all! As you progress through, you can unlock many more benefits like:
Late checkouts
Up to 75% points bonus
Guaranteed room type
Lounge access and much more
Best Rate Guarantee
The Marriott Best Rate Guarantee works just like price match guarantees of retail stores. This policy ensures that customers enjoy staying in Marriott at the best rates possible. 
Make a booking through Marriott's official website or application to avail yourself of this deal. After reservation, if you find the same room type, of the same hotel, at lower rates, at a non-Marriott website (booking.com, etc.), you can submit the Best Rate Claim! You can get a 25% discount or 5000 Bonvey Points if Marriott approves your claim.
Which Similar Companies Offer Senior Discounts?
Are you wondering what other similar hotels offer senior discounts for their customers? Here is a list of some Marriott competitors that offer senior discounts:
AmericInn by Wyndham: This hotel offers a 10% discount for seniors aged 60 or above.
Castle Resorts & Hotels: Get 25% off if you're 55 or above.
Myrtle Beach Resort: This resort offers a 10% discount for seniors aged 55 or above.
Conclusion
Marriott Hotels gives a 15% discount to its senior customers. Seniors citizens of age 62 or above are eligible for the offer, and the best part is that the deal applies to all room types. 
As a senior, you can also save by taking advantage of the military discount, teacher discount, Bonvoy Rewards Program, and Best Rate Guarantee. If you don't find a good deal, you may want to check out Marriott competitors like AmericInn by Wyndham and Castle Resorts & Hotels for better senior-oriented discounts.