Walmart Senior Discount Requirements, Details, and Other Ways to Save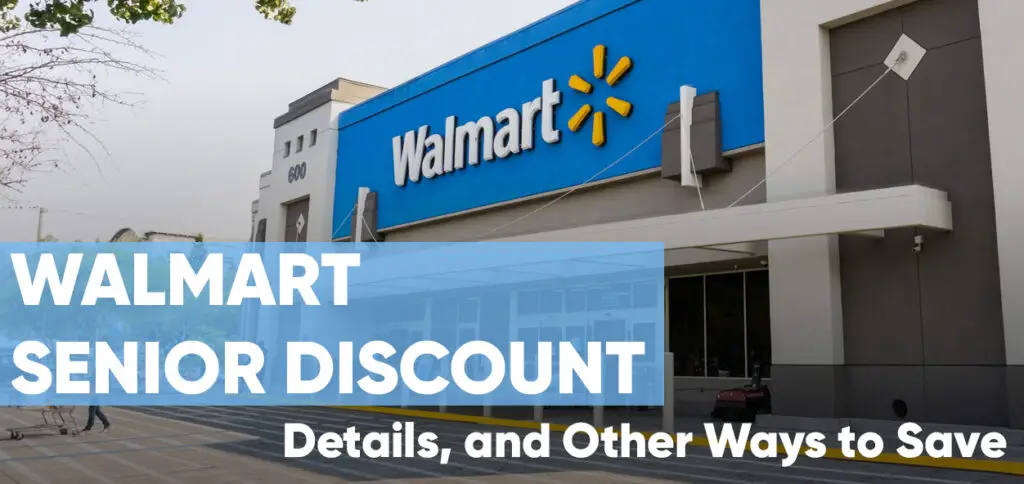 Walmart is an attractive shopping option for young adults and middle-aged individuals. The store has a wide variety of products at affordable prices. Unfortunately, things might not be similar for senior citizens pinching pennies post-retirement. 
Among the cost-saving methods that seniors often look for, the senior discount is often the most effective. Does Walmart have one? What is Walmart's senior discount age? Are there other ways to reduce your shopping expenses as a senior citizen? Read on to know how seniors can save money at Walmart. 
Does Walmart Have a Senior Discount In 2023?
Unlike many other store chains, there are no senior-specific discounts at Walmart. Nor does the store have any senior-specific discount days. But the good news is that seniors can take advantage of various alternative ways to reduce their shopping expenses at Walmart. 
Rollback prices, clearance sections, Walmart pickup discounts, in-app deals, free grocery pickup…you name it! Walmart offers many alternative ways for everyone, including seniors, to cut their shopping costs. 
Keep reading to know how seniors can save money without any senior discounts at Walmart.
How Do I Save Money at Walmart? 
Despite the absence of senior discounts and Walmart senior discount days, you can use these strategies for a cost-cutting shopping experience at the chain. 
Look for "Rollback" Prices on the Walmart Ad
Products prices listed on Walmart ads are usually the "everyday low prices" for items. Besides other information, you'll find rollback prices mentioned next to some items. These products have either been lowered for three months or perhaps permanently. The most apparent reason behind this is to move inventory that isn't selling well. 
Shop at the Clearance Section 
Some Walmart stores have big clearance aisles to move inventory fast. Others have smaller clearance sections or clearance products scattered throughout the stores. If you face trouble finding clearance products, look for products having bright yellow tags. Clearance products are generally marked with yellow tags to show the original vs. clearance price. 

Plus, it has been noticed that baked goods, meat, and other products nearing their "best before" date are also marked down. You'd need to visit the store early morning to leverage these offers. 
Get Walmart Pickup Discount
Walmart offers a "Pickup Discount" on some online-only merchandise when you pick them up from a nearby store. Here's how a pickup discount works: 
Select a product having a Pickup discount eligible tag.
Select Ship to a local store before checkout.
Enjoy a pickup discount on the product's price before purchase.
This option won't save you a lot in a typical scenario. But, if you're already planning to visit a Walmart store, you might want to line up a pickup purchase from the online-only deals and save yourself some money. 
Find Deals With the Walmart App
The Walmart app should be your go-to destination if you want to get discounts at your convenience. You can download the app from Google Play Store or Apple App Store.
The Walmart app offers a plethora of saving options for seniors. For one, the app has a Weekly Ads section that spotlights in-store special deals at your nearby Walmart stores. The app also gives you early access to sales and exclusive product catalogs.
Apart from money, you can use the app to check for product availability before visiting the store, check-in for in-store pickups, or create shopping lists.
Use Free Grocery Pickup
Some Walmart stores allow you to order grocery online and pick it up from your nearest store. All you have to do is drive to the store, and a Walmart employee will load groceries in your car at no extra charge.
You won't be getting any pickup discount in this case. But, considering the delivery cost of groceries, which is $7.95 typically (without a Walmart+ membership), this is a cost-effective option for the elderly. 
Save Money With Walmart+
If you use Walmart grocery delivery, Walmart+ will unlock more cost-saving options. For instance, you get free same-day delivery (for a $35 minimum order). According to Walmart, you save over $800 and 90 hours every year with free delivery from stores. 
Groceries aside, there are other benefits of Walmart+ subscription. 
Annual savings of $500+ with free next-day & two-day shipping from Walmart.com (no minimum order requirement).
Fuel savings of $75+ per year at over 14,000 fuel stations nationwide.
In-store smartphone checkout — use your phone's camera to scan product bar codes for a self-checkout.
Costing $12.95 per month or $98 per year, it'd take just 13 grocery orders to cover your membership cost. 
Leverage Walmart Coupon Policies
Walmart accepts dollars- and cents-off coupons and buy-one-get-one-free (BOGO) coupons. There's no limit on the number of coupons you can use as long as you don't exceed the manufacturer's limit. However, you can't double down on coupon usage by combining BOGO coupons with other coupon types. 
There are plenty of websites offering Walmart coupons. And since Walmart isn't strict regarding coupon usage as long as they're valid, it makes for a great discount shopping option.  
Earn Cashback With Walmart-Appropriate Reward Apps 
Besides other methods, you can use reward apps to save even more money at Walmart. These apps give cash-back rewards on purchasing from their partner retailers. Ibotta, for instance, gives many cash-back offers on Walmart purchases. 
Other apps offering Walmart rebates include:
Fetch Rewards
Checkout 51
Dosh
Which Similar Companies Offer Senior Discounts?
While there are workarounds to shop smarter at Walmart, you might want to check out other big names offering exclusive discount offers for seniors. Here are some Walmart competitors that offer discounts for seniors. 
Kohl's – Kohl's gives 15% off on regular purchases (in-store, 60+ years)
Michael's – 10% off on in-store and online purchases (applicable on Michael's Rewards account, 55+ years)
Savers – Percentage varies according to store location (55+ years)
Fred Meyer – Get 10% off on selected items (55+ years) at Fred Meyer. 
New Seasons Market – 10% off on most items (65+ years)
Conclusion
While Walmart doesn't have any discount offerings for senior citizens, there are other effective ways to reduce your shopping expenses at the chain. These include budget-friendly shopping options, such as rollback prices, clearance sections, in-app deals, discounted pickups, Walmart+, coupons, and reward apps.