SAP Competitors and Similar Companies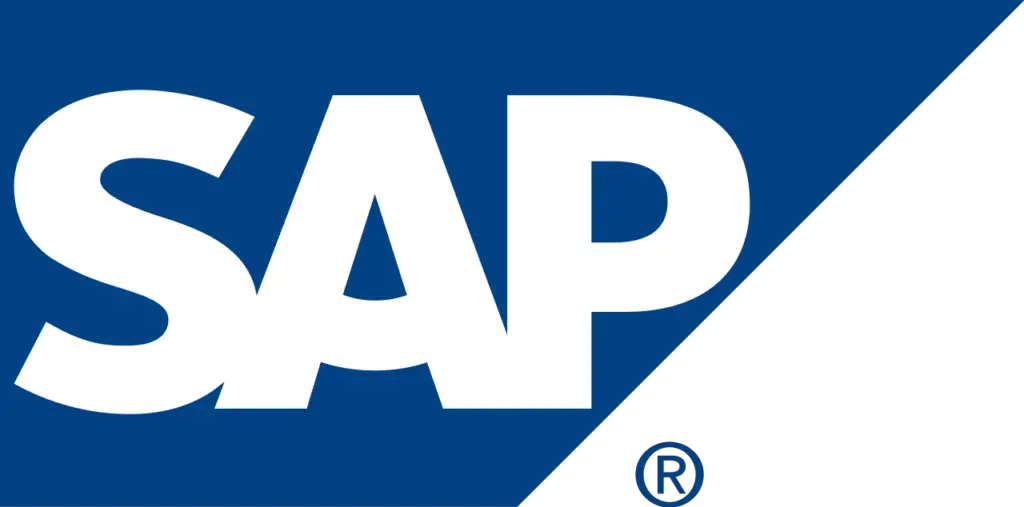 SAP is a major software company headquartered in Walldorf, Germany. The company is famous in business circles for its enterprise resource software (ERP) which is used mostly for managing the customer service department of a firm. It also deals in cloud computing and provides consulting services for the same. The enterprise system of SAP was launched in 1972 by five former IBM employees, Dietmar Hopp, Hasso Plattner, Claus Wellenreuther, Hans-Werner Hector, and Klaus Tschira. Of these, only Plattner is still actively involved with the company as its chairman.
How SAP makes Money
SAP earns its staggering $28.27 billion revenue in four ways – software sales, support, cloud subscription, and consulting services. SAP sells its ERP software to businesses by providing a license for the product. You might think that since it is an enterprise-level software, it would be generating a lot of money for the company. No! Maximum part (around 42%) of SAP's revenue comes from providing support for the software, like installations and upgrades. Its cloud product is based on subscriptions, while its consulting services are in collaboration with IBM.
Enterprise Software
As the name suggests, enterprise software is software for enterprises rather than individual users. SAP is one of the leading companies in this industry, with a client base of over 425,000. It has managed to acquire more than 70 competing businesses during its 50-year reign. ERP is just one of its major products. Others include database management, cloud, product lifecycle management, supply chain management, etc. The company's operating income lies somewhere around the $5 billion mark.
Companies Similar to SAP
SAP has emerged as one of the finest enterprise software developers since its inception. It has a glorious customer base with the likes of Burger King, Walt Disney Company, AirBnB, and you! But we understand if you wish to explore other options to fulfill your company's software needs, and we have come up with a few excellent alternatives.
SAP Similar Companies
The biggest rivals to SAP are Oracle Corporation, Workday, Infor, and Salesforce. Out of these, you probably might have heard about Oracle and Salesforce, and indeed they are quite the force in this industry. But Workday and Infor are also almost equally competent. Let's discuss these SAP competitors in more detail.
Oracle Corporation
Oracle Corporation is the third-largest software company in the world, and SAP is nowhere near it in terms of revenue. It is best known for its database software, and it is one of the leading horses in the enterprise software niche. Almost all the products and services offered by SAP are provided by Oracle as well, only in a much larger capacity. The company was established in 1977 by Larry Ellison, Ed Oates, and Bob Miner. Ellison works at Oracle to this day as its CTO and executive chairman.
Enterprise Software
Oracle is involved in several sectors of the software industry, but enterprise software remains its primary offering. It provides everything in this niche, right from ERP and EPM to CRM and human capital management (HCM). Other products in its repository include application management, Oracle Cloud, Fusion Middleware, and development software. The company has been making huge profits for several decades, and its operating income currently stands at $15.21 billion.
Workday
Workday is a software management company that focuses on areas of finance, human capital, and student information. Instead of selling the software to its customers, Workday offers it for an annual subscription. The prices differ and are dependent on the suite of services that you have applied for. You can expect regular updates to the software, for there have been over 34 updates since its inception. The company has established data centers in five different locations, three of which are in the US, one in Ireland, and one in the Netherlands.
Enterprise Software
Dave Duffield and Aneel Bhusri founded Workday in 2005, and their software was released a year later. After going through a few good funding rounds, the company went public in 2012. Initially, it mostly dealt with enterprise software, just like VMware which produced only one software in the early stages, only to expand later. It wasn't until 2016 that its Student information system was released in the cloud. And today, after acquiring over 17 other similar companies, Workday nets an income of $29.4M.
Infor
Infor is a cloud-based enterprise software provider with headquarters in New York City. Its product archive only consists of business applications catered to large corporations. Its software is compatible with most major cloud computing platforms like AWS and Microsoft Azure. It is also more flexible in terms of business processes compared to SAP. Infor was established in 2002, and it was called Agilsys back then. Its primary product was and is enterprise software, but post 2010, it shifted its focus more toward developing a user-friendly software design.
Enterprise Software
Infor's enterprise software products are ERP, supply chain management, CRM, and so much more. The company has a whole host of writers, developers, and designers which are focused on enhancing the user-side experience of their platform. Infor also has other subsidiaries like Dynamic Science Labs and the Education Alliance program. Its client base is spread across 200 countries, and it includes notable businesses like Heineken, Ferrari, Legacy Health, and Boskalis.
Salesforce
Salesforce is primarily into offering customer relationship management (CRM) software to almost every sector where it is needed, ranging from customer service and sales to app programming and analysis. It is among the largest cloud-based CRM providers in the world, thus competing directly with SAP in the virtual customer management niche. The company was founded in 1999 by Marc Benioff, Parker Harris, Frank Dominguez, and Dave Moellenhoff.
Enterprise Software
Salesforce's product in the enterprise software industry is mainly related to customer engagement over SaaS and PaaS. Its other enterprise software systems include app development, data integration, and visualization, along with consulting and training programs. Apart from cloud-based enterprise products, the company also owns AppExchange (online application marketplace) and Trailhead (online learning platform). Salesforce's operating income as of 2022 is $548 million.
Conclusion
SAP's biggest competitor is Oracle Corporation. You simply cannot ignore its exceptional database solutions and its insanely high revenue while making the comparison. The two companies may be based in different countries, but they have many customers in each other's regions. Considering the reach and popularity of Oracle, SAP seems like it has still a long way to go, despite generating considerable revenue. Thus, Oracle is the perfect option for all those looking to make a switch from SAP.