Xfinity Senior Discount Requirements, Details, and Other Ways to Save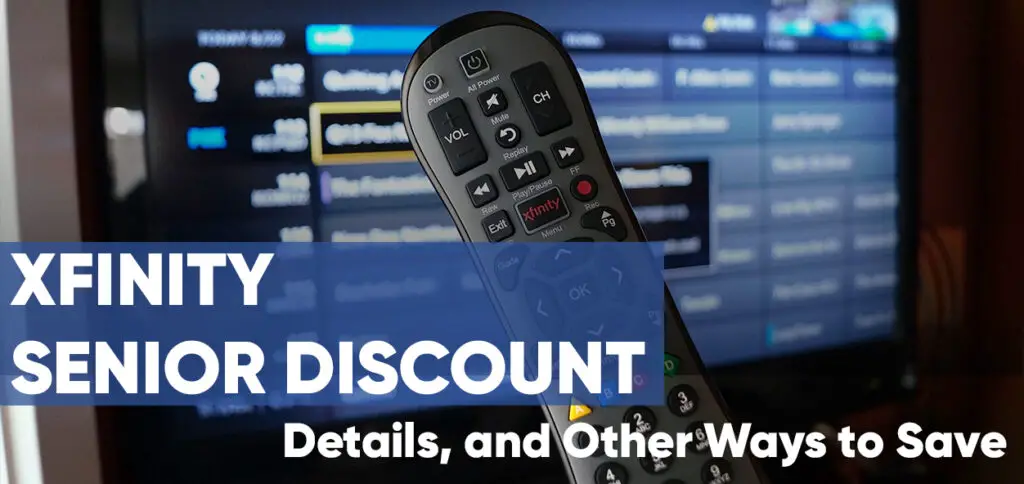 The rising healthcare, food, and housing expenses in 2023 have left most senior citizens with little money to spend on pricey internet and telecommunication services. At the same time, mobile usage has turned into an escapade, especially after the COVID-19 pandemic. While living on pension and retirement account income, it makes sense for seniors to look for ways to cut their expenses wherever possible. 
The good news is that many businesses in the US provide specific discounts for senior citizens. If you're considering getting internet and telecom services from Xfinity, you might want to look for Xfinity discounts for seniors. Read on to know whether Xfinity plans for seniors are available in 2023.  We'll also discuss other ways to save with Xfinity. 
Does Xfinity Have a Senior Discount in 2023?
Unfortunately, Xfinity doesn't offer any dedicated senior discount or age-based plan. But there are alternative ways to reduce your internet and welcome bills, with Xfinity Internet Essentials being the best at just $9.95 monthly. This plan offers 50 Mbps internet with no activation charges and equipment fees. 
Want to save more money? Consider applying for the Affordable Connectivity Program (ACP), choose paperless billing, get contract-based plans, bundle up services, or negotiate discounts over a phone call. 
Continue reading to learn more about Internet Essentials features, requirements, sign-up procedure; what benefits you can get with ACP; and other ways to save with Xfinity. 
Xfinity Plans to Reduce Your Costs as a Senior
Consider these plans and best practices to save with Xfinity.
Xfinity Internet Essentials 
Technically, Xfinity doesn't have a plan specifically for senior citizens. But, we believe that Internet Essentials, targeted at low-income individuals, is probably the best Xfinity internet for seniors.
Internet Essentials will cost you just $9.95 per month, excluding tax. Plus, it has an internet speed of 50 Mbps and is free of activation/installation fees. This means you can use social media, surf the web, or stream movies and TV without spending a fortune. 
Xfinity Essentials Complete Features
50 Mbps internet speed at just $9.95 per month (plus tax).
No activation charges and equipment rental fees
Low-cost computer offer – starting at $149.99 (plus tax).
Free internet skill training (online, in print, in-person)
No long-term contract
No credit card validation required
Unlimited access to Xfinity hotspots 
What Are the Eligibility Requirements for Xfinity Essentials? 
You may qualify for Xfinity Essentials if you're a senior citizen and on a government assistance program. Here is the list of programs that are supported:
MEDICAID
Public Housing Assistance
Supplemental Nutrition Assistance
Temporary Assistance for Needy Families
Supplemental Security Income
National School Lunch Program or Head Start
Low Income Home Energy Assistance Program
Women, Infants, and Children program
Federal Pell Grant
Tribal Assistance
VA Pension
Besides having public assistance, seniors must: 
Have a residential address in an area where Xfinity service is available.
Not be currently using Xfinity internet and not have availed of Xfinity internet plan within the last 90 days. 
Do not owe less than one-year-old debt to Comcast.
How to Apply for Internet Essentials by Xfinity?
Follow these hassle-free steps to set up your internet plan:
Step 1: Visit  internetessentials.com, es.internetessentials.com, or call 855-846-8376.
Step 2: Fill out the application form. You can choose from seven languages or talk to a bilingual (Spanish) representative. 
Step 3: You can use a National Verifier ID to enroll for Internet Essentials.
Step 4: Provide required documentation and details as prompted for eligibility checks. Your application will be reviewed, and its outcome will be communicated via email, text message, or mail. 
Step 5: If your application is approved, contact Xfinity to schedule installation and get the Getting Started kit. You'll have a home internet connection in 5-7 business days. 
Step 6: Use the step-by-step guide provided with your installation kit to activate your service. 
What Is the Affordable Connectivity Program (ACP)?
ACP is a federal government program that provides affordable broadband usage to income-constrained individuals. The good news is that ACP covers Xfinity's internet and mobile plans. This means seniors who qualify for Xfinity internet, Internet Essentials, Mobile, and Prepaid Internet can enroll in ACP.  
Benefits of ACP
Qualified customers will receive up to $30 monthly credit for their internet/Xfinity Mobile Service. More specifically, the credit amount will depend on your selected plan. 
Suppose you're using both mobile and internet plans. In that case, ACP credit will first apply on the internet, and the remaining will be added to mobile services. 
To enroll in the ACP, follow the steps listed on the Xfinity ACP page.
Affordable Connectivity Program Terms and Conditions
ACP program through Xfinity will apply to: 
Xfinity internet/Internet Essentials monthly charges
30-day refills for Prepaid Internet
Mobile data usage and service
ACP program isn't valid in the case of: 
Unlimited internet data plans
Internet data overage charges
7-day refills for Prepaid Internet
Modem cost for Prepaid Internet
Xfinity Mobile device cost 
Mobile Protection Plan
Xfinity TV, Voice, and Home
Tips to Save on Xfinity Services
1. Enroll in paperless billing
Xfinity offers up to $10 monthly off your chosen internet plan to reduce paper waste. So, make sure you opt for automatic payments and email-based statements to knock a few bucks off your bill.  
2. Enroll in a contract plan
You can get as much as 50% off with contracts, depending on the contract length and terms. 
However, if you discontinue your service, you might suffer a loss. Therefore, go for a contract only when you're satisfied with the services and considering a long-term solution. 
3. Add-on TV and phone
Bundling up your internet plan with TV and mobile service is another excellent way to cut your overall bill. Sadly, we're not getting Xfinity bundles for seniors, but the standard bundle offers should be good enough to save anyway. 
For example, X1 Saver Pro + Double Play bundle – featuring 200Mbps internet and 140+ channels at $79.99 per month – costs $20 more if purchased separately. 
4. Negotiate discount extension
Although most discounts are valid for a certain period, you can extend them or get alternate promotional deals with a quick phone call. 
Which Similar Companies Offer Senior Discounts
Here's a list of Xfinity competitors that offer senior discounts:
| | | |
| --- | --- | --- |
| Company | Discount | Eligibility |
| AT&T Senior Nation | $29.99 per month | Aged 65+ |
| AT&T Unlimited 55+ | Starting at $60 per month or $80/month for 2 lines.  | Aged 55+ |
| T-Mobile Unlimited 55+ | Starting at a monthly price of $55 for 2 lines. | Aged 55+ |
| Verizon 55+ Unlimited | Starting at a monthly price of $40 for 2 lines. | Aged 55+; Florida resident |
| Consumer Cellular | 5% discount on usage; 30% off on accessories | AARP |
Conclusion
There aren't any special plans or discount offers for the elderly at Xfinity. However, seniors can sign up for Xfinity Internet Essentials, which costs just $9.95 per month. To get discounted rates on any plan, consider signing up for ACP. Besides, seniors can save considerably by choosing paperless billing, enrolling in long-termed contracts, bundling up services, or negotiating discounts and offers.