Amtrak Senior Discount Requirements, Details, and Other Ways to Save!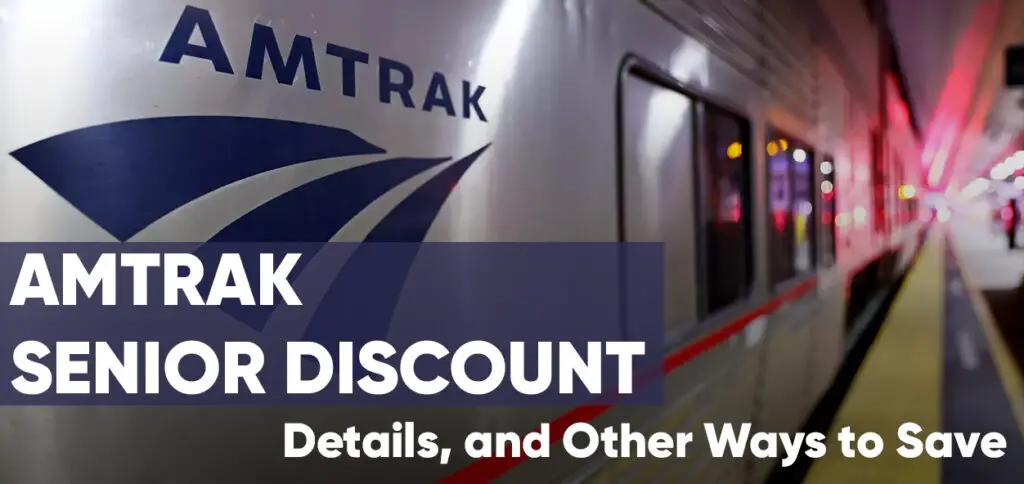 It's no secret that traveling by train is a pleasant experience. But, this pleasant feeling sometimes becomes stressful after looking at the train fares and cost, especially for senior citizens. So the question is, does Amtrak, a popular railroad service in the US, provide any discount to its senior customers?
Many businesses offer senior discounts to their customers, from retail stores to restaurants and airlines. These discounts help senior citizens cut their commuting expenses. Read on for detailed information about the Amtrak fares for seniors!
Does Amtrak Have A Senior Discount In 2023?
Yes, Amtrak offers a 10% discount for its senior customers on almost all of its rail fares. You must be aged 65 or above to be eligible for this discount. Apart from the senior discount, Amtrak offers plenty of other ways to help its customers travel on a budget. These include the multi-ride pass, children's deals, student discounts, and group and corporate discounts.
So, are you a senior citizen who loves traveling and wants to learn more about the Amtrak senior discount requirements, details, and other ways to say? As always, we have done the hard work for you! Read on for everything you need to know about the Amtrak specials for seniors. 
How Do I Get The Amtrak Senior Discount?
Claiming the Amtrak rail pass senior discount is a straightforward process. However, make sure that you have valid age proof when asking for the discount and even after boarding. You can register and claim the Amtrak senior discount by using two methods:
Using the Amtrak application
Logging into Amtrak.com
No matter what method you choose (app or website), follow these simple steps:
Sign Up if you don't have an account – Login if you are an existing user.
Enter your "From" and "To" destinations, along with other details like the number of travelers.
Select your desired train.
Open the drop-down menu and select "Senior Discount."
Submit your age and identity proof and make the payment. 
What Are The Benefits of Amtrak Senior Citizens Discount?
Here is a list of some key reasons why seniors should avail of the Amtrak senior citizens discount:
1. Relaxing Travel Experience At Affordable Rates
The rising costs of air tickets and crowded airports can be extremely troublesome, especially for senior citizens. This makes the train journey an incredible alternative with almost the same comfort and relaxation at a very affordable price. If combined with the Amtrak senior pass, this beautiful and relaxing journey can become more pleasant!
2. 10% Easy Saving
Unlike most other businesses, retail stores, and restaurants, getting the 10% senior discount at Amtrak is super easy. There are no hard and fast rules; the discount restrictions and exclusions are simple and easy to understand.
3. No Specific Days
Most businesses offer senior discounts for specific days of the week. For example, the first Tuesday of every month, or every week on Wednesday. The good news is that there is no such limitation in the case of the Amtrak senior discount. Seniors can claim this discount on any day of the week and at any time.
4. 15% With California Everyday Discounts
It is a good idea to combine the Amtrak senior discount with California Everyday Discounts and receive a 15% discount on adult fares. However, seniors should be of age 65 or above in this case too. 
Are There Any Limitations To The Amtrak Rail Pass Senior Discount?
Like every other discount offer, the Amtrak senior discount has limitations and exclusions. Here is a list of those limitations:
The discount does not apply to Business and First Class.
This discount is also not applicable to accommodations inclusive of sleeping.
Not applicable on tickets purchased with saver fares or other discount offers.
You cannot travel on an Auto Train with the senior discount.
With the Amtrak senior citizen discount, you cannot travel on Weekday trains by Acela Express.
Other Ways to Reduce Your Travel Cost With Amtrak
Apart from the senior discount, here are some other ways and discounts you can avail yourself of and save money with Amtrak:
1. Kids Ride Discounts
Kids from ages 2 to 12 can ride with 50% off with Amtrak on all rides every day. Also, infants under the age of 2 years can travel for free. So, if you're a senior and traveling with kids, you can reduce your ride's expenses with this option.
2. Military Discounts
Military personnel, veterans, and their families can save up to 10% on their train tickets and fares.
3. Student Discounts
Students between ages 17 and 24 can get 15% off to selected and top travel destinations in the US through Amtrak. However, students need to show a valid ID to avail themselves of the discount.
4. Group Travel Discounts
Amtrak will offer you multiple discount options if you are traveling in a group of 15 or more. The offer depends on what location you want to travel to!
5. Passengers with Disabilities Discounts
Passengers with disabilities can also get a 50% discount on Amtrak rail fares. The best part? This discount has no age limitation. 
6. Multi-Ride Pass
If you plan to commute to the same place frequently, you may want to purchase the Amtrak multi-ride pass. This is a one-time purchase and is available at a significantly discounted rate.
Which Similar Companies Offer Senior Discounts?
Here are some Amtrak competitors that offer discounted services for senior citizens:
Valley Transportation Authority: VTA offers different discounted fares for senior customers of age 65 or above.
Greyhound Lines: While Greyhound Lines is not a rail service, it does compete with Amtrak in the transportation sector. This bus service provides many different ways to cut your travel expenses.
Conclusion
Amtrak offers a 10% senior discount to customers aged 65 or above. This discount is available every day and applies to almost all rail fares. Apart from the senior discount, Amtrak offers Kids Ride, Military, Students, Group Travel, and passengers with disabilities discounts. You can also opt for a multi-ride pass at a discounted price.