Comcast Senior Discount Requirements and Details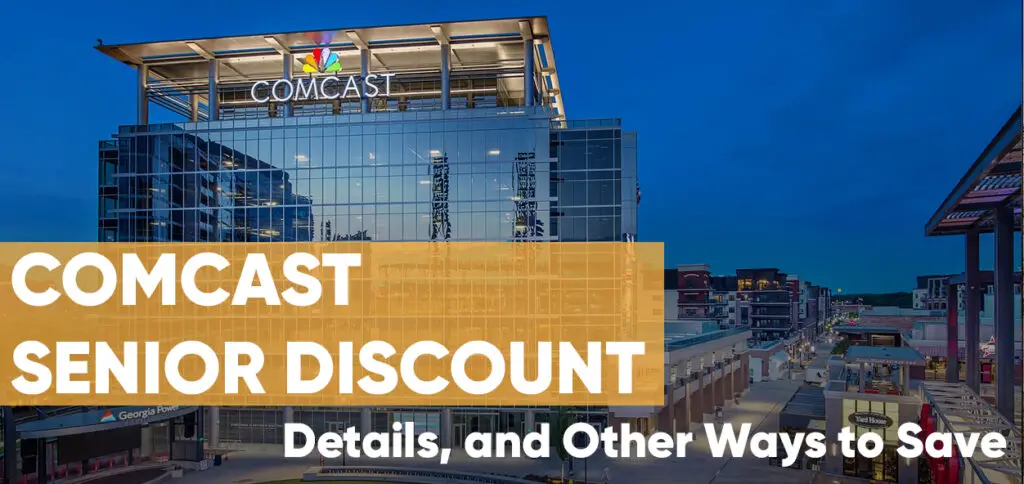 Cable TV is one of the most engaging ways for older adults to spend their time post-retirement. The growing demand for the internet can be seen across the globe. There are several companies that offer a senior discount on their products and plans in the US, and one of the most renowned names on the list is Comcast. It is the third-largest cable and telecom company in the US.
Comcast, now branded as Xfinity, is a telecommunications company. The company started its operations in 1963 in Mississippi, U.S. by Ralph J. Roberts. Since then, it has expanded exponentially. It is headquartered in Philadelphia, Pennsylvania.
Comcast Mission Statement says, "Comcast creates incredible technology and entertainment that connects millions of people to the moments and experiences that matter most." To make this work, the company emphasizes providing the best cable and telecom services to its people. As per Statista, Comcast had about 18.55 million pay-TV subscribers in the third quarter of 2021. They have numerous senior citizen subscribers, and the company offers some attractive deals and packages to their senior customers to reduce their financial burden.
Why Should You Ask for Comcast Senior Discount?
While you are in your golden age, you have time to relax and enjoy yourself. But older age also brings with it some expenses like healthcare costs in addition to daily expenses. In such cases, sparing out extra money for internet services can be an added cost. To ensure that no one stays away from the benefits of the internet, several companies offer discounts and deals, and one of the best ways is to opt for a senior discount. Comcast Cables doesn't have a senior discount, but it does have special offers wherein the internet is available at a lesser cost.
How To Get Comcast Discount?
Unfortunately, there is no discount at Comcast that is specifically for seniors only on their phone, internet, or TV services.
However, there are still many ways how you can manage to lower your Comcast bill and score some discounts and savings plan called Internet Essentials. Nevertheless, there are conditions that apply, i.e., you must be a part of a lower-income group to avail of this plan. With this plan, seniors can avail low-cost internet service at $9.95 per month, and you do not need to pay any extra charges for activation, equipment, and high-speed internet services. Along with that, seniors can access their internet training courses free of cost.
Here are the key features of this plan:
50/10 Mbps Internet service for just $9.95 a month plus tax.
There are no activation fees.
No need to pay the rental fees.
In-home Wi-Fi without any extra CST.
Now that you are aware of the benefits of the Internet Essential plan, you must be willing to reap these benefits.
Here is how you can benefit from Comcast Xfinity's senior discount:
You must be living in the area where Comcast internet services are available.
You must not have taken any subscription to Comcast Internet within the last twenty days.
There should be no outstanding amount with Comcast.
The individual must be eligible for the SSI, SNAP, or other public assistance programs.
To apply for the Internet Essential plan:
Log on to https://apply.internetessentials.com/.
Fill in the required details and upload the document (make sure you qualify for this plan before applying for the same).
After verification, you will be informed about the plan activation
Other Ways You Can Save With Comcast
Comcast customer satisfaction survey encourages users to share their feedback and experiences. Your feedback helps the company improve and progress further. Apart from that, you will be rewarded for those 5 minutes of your valuable time.
Xfinity offers various senior-friendly plans like Internet @ $10 per month.
Another easiest way to save on the bill is to apply for the Affordable Connectivity Program. The eligible households can get a credit of up to $30/month towards the Internet and mobile services. The qualifying household should be a member of the Lifeline program (such as Medicaid and SNAP). You can also check your eligibility for the ACP program by clicking on https://www.checklifeline.org/lifeline/?id=nv_flow&ebbp=true.
In addition, if you want to save on the bill, you can trim down the number of channels. Also, lowering the internet speed will help you save money.
Similar Companies That Do Offer Senior Discounts
There are some other companies that offer a senior discount on their packages, such as Verizon FiOS and DIRECTV. So, you must compare their services, discount policy, and prices to choose an affordable plan within your budget.
Comcast FAQs
What is Comcast's senior discount age?
The senior discount age varies from one service provider to another. If you want to avail the benefits of a senior discount at Comcast, then you must be 62 years of age or above.
Is there a senior discount day at Comcast?
Since there is no specific senior discount by Comcast, there is no discount day as well. However, Comcast/Xfinity internet essential plan is available to those who belong to the lower-income group. Also, the applicant must not have any debt with the company for the last 90 days, and the internet connection of Comcast must be available in your region.
Does Comcast accept AARP?
No, the company does not have any packages for AARP members
What is the bundle package?
You can also save $20–$60 per month with an Xfinity bundle. This package includes the Peacock Premium free with X1 DVR, and you may also win gift cards.
Conclusion
The Internet has become a necessity today, but it comes at a cost. In your golden age, when you are looking for the best deals and offers, you would be looking for options that are available at the best rates. Comcast offers good deals and offers; whether it is their bundle plan or the Internet Essential plan, it helps the people enjoy streaming at the best rates.
However, there are some Comcast competitors like Verizon and AT&T that offer similar deals, but streaming at a price less than $10 is always a better offer. So, don't miss a chance and apply for the Internet Essential plan today.