Amazon Prime Senior Discount Requirements, Details, and Other Ways to Save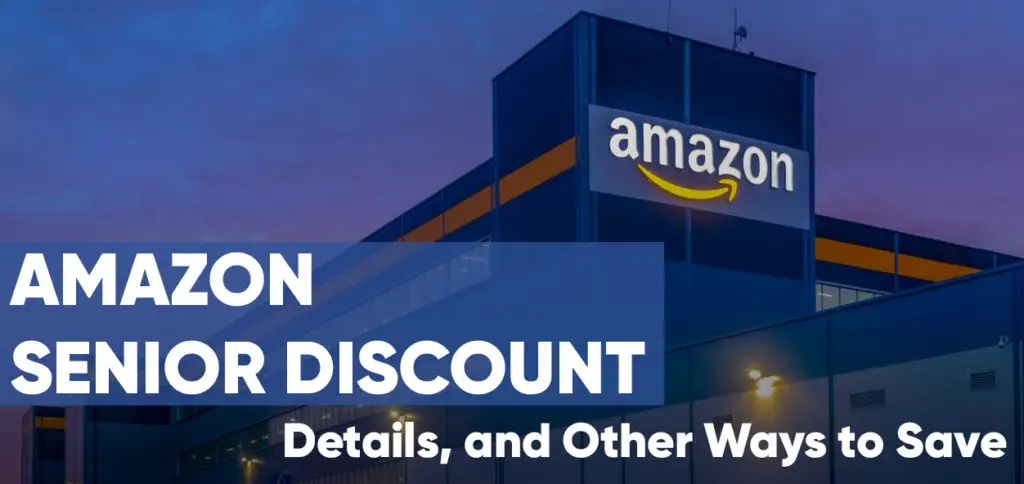 Amazon Prime is a subscription-based premium service featuring exclusive perks for its customers. As a senior citizen, you can reduce your entertainment and shopping costs through Amazon Prime. But the monthly subscription charge of $14.99 can be a turn-off for many people. 
The good news is that with a senior discount, you can avail yourself of Prime rewards and take advantage of offers at lower subscription charges. Keep reading to find out if there is an Amazon senior discount for Prime membership and all the details you want to know.
Does Amazon Prime Have A Senior Discount In 2023?
Fortunately, Amazon offers a senior discount on monthly Prime membership at $6.99. And just like other companies that offer senior discounts, Amazon has certain conditions for potential beneficiaries to meet. 
The company has reserved senior citizen discounts for seniors who're receiving some form of government assistance, such as Medicaid and SSI. You can activate the offer and save $8 monthly if you meet the requirements. 
Continue reading to know the eligibility requirements and the steps required to get Amazon Prime for seniors. 
How Much Is Amazon Prime for Seniors?
The standard monthly subscription price of Amazon Prime is $14.99. If you opt for a yearly plan, the discounted charges will sum up to $139 annually, saving you around $41. 
On the other hand, the subscription cost for qualified seniors stands at 6.99 per month. Although you get a whopping discount of about 54% here, Amazon doesn't apply a yearly subscription off with a senior plan. With a senior subscription activated, the annual membership turns out to be $83.88. 
What Are The Requirements For Amazon Prime Discount? 
To qualify for the Amazon Prime for senior citizens, you need to be a beneficiary of one of the following govt-assistance programs:
Supplemental Security Income (SSI) 
Medicaid
Supplemental Nutrition Assistance Program (SNAP)
Direct Express (DE)
Economic Impact Payment Debt (EIP Card)
Temporary Assistance for Needy Families (TANF)
National School Lunch Program (NSLP)
Low-Income Home Energy Assistance Program (LIHEAP)
Women, Infant, Children Program (WIC)
Tribal Assistance (TTANF)
You can claim your discount eligibility by showing your EBT card number/eligibility letter's image (with a date of issue within 12 months) and valid expiry date.
How Do I Get Amazon Prime Discount for Seniors?
Here's a simple, two-step sign-up process to get Amazon Prime discounts for seniors.
Step 1: Go to the Amazon Prime Discount sign-up page, and click "Join Prime." 
Step 2: Follow on-screen instructions and provide your evidence documents/EBT number to have your eligibility verified. 
Once done, Amazon will take up to 3 business days to verify your details and grant a discount on your Amazon Prime subscription.
How Long Is The Discount Valid?
A subscription discount on Amazon Prime is valid for 4 years from the sign-up date. After that, you can cancel your membership or sign-up for a different payment plan. 
Plus, Amazon's offer on Prime is renewed every 12 months. This means you'll have to re-verify your eligibility by providing valid supporting documents or the EBT number to continue getting the benefits. 
What Benefits Come With Amazon Prime? 
An Amazon Prime membership gives you many benefits, including the following:
Two-day shipping – applicable on selected items. 
Free same-day delivery – applicable on eligible zip codes. 
Exclusive discount deals for Amazon Prime members. 
Unlimited streaming of award-winning movies and TV shows. 
Convenient 2-hour Whole Foods delivery in selected cities. 
Free grocery delivery on a vast range of groceries. 
Try Before You Buy – you'll be given 7 days to try-on eligible items.
Borrow books and magazines using Prime Reading Catalog. 
How Can I Save Using Amazon Prime Membership? 
Besides monthly discounts on subscriptions, Prime gives you more ways to save money. 
Free No-Rush Shipping – With "No-Rush Shipping," you not only get free shipping, but you also earn redeemable rewards for future purchases.  
Get an extra 10% off on the in-store sale prices at Whole Foods Market. 
Amazon Prime Rewards Visa Card – By activating your Amazon Prime membership, you get a Prime Rewards Visa Card with no annual credit fees. Here are the benefits of having one: 
$100 worth of Amazon Gift Card
5% back at Whole Foods Market
5% back at Amazon.com
2% back at eligible restaurants, gas stations, and drugstores
10% back or more on Amazon rotating selection 
Prime members can pay Amazon.com prices at Amazon Physical Stores  
What Is Amazon Prime Store Card? 
Amazon Prime Store Card – and upgrade from Amazon Store Card – is another way seniors can shop smartly and save money. To submit your application, visit the Amazon Store Card page and click "Apply Now." 
Subject to application approval, you'll get a 5% back on all purchases at Amazon and a $10 Amazon gift card. Prime Store Card rewards allow you to offset your bill amount on your next purchases. 
The best part? The Prime Store Card comes with financing options. Starting for a $150 billing amount, it has Equal Monthly Payments and Special Financing features, with 6-month, 12-month, and 24-month plans. 
Another good thing about this card is that it's interest-free and has zero annual fees. This makes it an excellent way for seniors to shop on a budget. 
Amazon Prime For Senior Citizens Without Government Assistance
Here's how you can save at Amazon if you're not eligible for the Prime discount:
If you don't want to buy a product immediately, use the "save for later" option. Amazon will alert you when its price goes down.
Schedule the items you regularly need by using the Subscribe & Save option. This will automatically apply 15% off, as well as free shipping. 
Keep a check on "Today's Deals," "Deals of the Day," and "Lightning Deals" to get the best prices. 
Look for mark-downed prices on the overstock/clearance items in the Amazon store. 
Leverage the Amazon Trade-In program to exchange eligible items you no longer need. 
Shop at Amazon Renewed to get inspected and tested pre-owned products at much lower prices than the new ones.
Which Similar Companies Offer Senior Discounts?
| | | |
| --- | --- | --- |
| Company | Discount | Eligibility |
| Kohl's | 15% of purchase | 60+ years; state-issued photo ID |
| American Discount Stores | 10% off every Monday | 62+ years |
| Fred Meyer | 10% first Tuesday every month | 55+ years |
| New Seasons | 10% off every Wednesday | 65+ years |
| Harris Teeter  | 5% off every Thursday  | 60+ years |
| Bealls Department Store | 15% off every Thursday | 50+ years |
| Clarks | 10% off every day | 62+ years of a veteran |
| Michael's | 10% off | 55+ years |
Conclusion
Senior citizens with a valid EBT card and being a beneficiary of government assistance programs can apply for discounted Amazon Prime membership. With 54% off on the monthly subscription charges, you will receive access to all Prime rewards and offers. And suppose you don't qualify for the discount. In that case, you can take advantage of the Amazon Store Card, Save For Later/Subscribe & Save options, Amazon deals, and other offers.