Walgreens Senior Discount Requirements, Details, and Other Ways to Save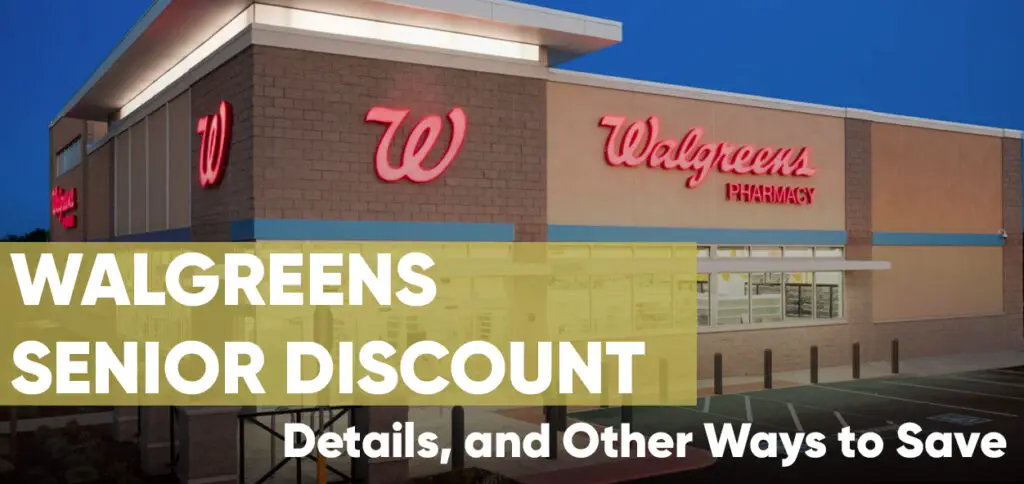 Walgreens is the second-largest pharmacy operating in the United States. This pharmacy provides everything from filling prescriptions to health and wellness products to photo services! But as a senior citizen, you want to know whether Walgreens provide senior discounts?
May retail stores and restaurants in the US offer discounts for their senior citizens to help them cut out their shopping expenses and save money. So, are you a senior citizen and wondering if the famous pharmacy Walgreens offers a senior discount? 
Read on for everything you want to know about Walgreens senior citizen discount!
Does Walgreens Have A Senior Discount In 2023?
Fortunately, Walgreens offers multiple discounts for senior customers to assist and support them after retirement. Senior citizens can get up to 20% off on qualified and selected items in 2023. 
This discount is available on the Walgreens Senior Day, the first Tuesday of every month. Seniors must have a minimum age of 55, have an AARP membership, and be enrolled in the myWalgreens or BalanceRewards program to be eligible for the discount.
So, do you want to know how to avail yourself of these discount offers, the requirements, and how else senior customers can save some cash at Walgreens? Don't worry; we have done the hard work for you. Continue reading!
How To Get The Senior Discount At Walgreens?
As briefly mentioned above, Walgreens offers a 20% discount on selected products for their senior citizens of age 55 years or above. This discount is not available daily or weekly, but only on the Walgreens senior discount day, which is the first Tuesday of every month. 
Also, the products that qualify for the discount keep changing every month, depending on availability, stock, and supply. The discount is available both in stores and online. You can avail yourself of it after showing a valid identity and age proof.
However, senior customers can only enjoy this discount if they are enrolled and a part of the myWalgreens program or have an AARP membership. Are you wondering what these two programs are and how they are beneficial for senior citizens? We have got you covered! 
What is myWalgreens Program for Seniors?
myWalgreens is an online program that offers countless benefits and discounts for senior customers. All you need to do is apply for the membership on their website and enjoy plenty of incredible benefits. 
The products of senior discounts change almost every week in the myWalgreens program. This way, you will have an endless variety and variation of products to buy at discounted prices. You need to show your myWalgreens membership proof at the checkout counter to qualify for the discounts. 
In the case of online orders, you will need a particular code from your myWalgreens membership for the senior discount. So, keep your program account logged in while ordering online!
Apart from the senior discounts, myWalgreens program has many other benefits for everyone. These benefits include unlimited cash rewards on in-store purchases and 1% storewide, and 5% on Walgreens branded products.
Moreover, myWalgreens program members can enjoy multiple checkout options like using pickup services 30 minutes after placing an order. 
What Are The Eligible Products For Senior Discount Day At Walgreens?
The 20% discount on Walgreens senior day is applicable in every store and almost all the products. But, like at most other stores, there are some exceptions and limitations in the case of Walgreens senior day discount. 
To help you have an idea of those limitations, here is a complete list of products that are NOT included in the senior discount at Walgreens:
Newspapers and magazines
Alcohol
Taxes
Prescriptions
Money Orders
Gift Cards
Clinic Services
Stamps
Tobacco Products
Dairy Products like Milk, Cheese, and Yoghurt
Pseudoephedrine and ephedrine products
Lottery Tickets
Pharmacy Services and Products
Shipping and Delivery Charges
Also, you cannot combine the senior discount at Walgreens with back-ordered items, bulk orders, and BOGO deals. And some senior discounts are only available for one-time use only.
Other Ways To Save Money For Seniors At Walgreens
Apart from the senior discount, there are many other ways for seniors to save money at Walgreens. Want to know about them? Here you go:
1. Coupon Books
Walgreen comes up with a new coupon book filled with hundreds of dollars of discounts every week. You can find up to $400 worth of coupons in some books. The coupon books are available in front of every Walgreens store and on its website. The vouchers change every week so that you can see and save on a variation of products.
2. Shipping Products at House
Next up, shipping products directly to your doorstep is another way to save money shopping at Walgreens. If you keep doing this every week, you will start getting a 10% discount and free shipping on every order.
3. Clearance Sections
It is always a good idea to check the clearance section of Walgreens from time to time. The products in this section are often priced at half their actual rate, and they keep changing every week. However, keep in mind that these may be near to expire. 
Which Similar Companies Offer Senior Discounts?
While Walgreens offers senior discounts, you may want to try other stores to save more money. Here are two Walgreens competitors that offer seniors discounts:
Kohl's: Kohl's offers a 15% discount to their senior customers of age 60 or above every Wednesday of the month.
Lowe's: Lowe's offers a 10% discount to seniors aged 55 or above. However, senior customers can avail this discount every day of the month.
Conclusion
All in all, Walgreens offers up to a 20% discount on selected items for senior citizens. This discount is available at every Walgreens outlet on the first Tuesday of every month, in-store and online. You should be a member of the myWalgreens program to avail yourself of the senior discounts.
Seniors can also use other options like coupon books, clearance sections, and shipping products to their doorstep to save more money at Walgreens. Or you may want to try Walgreens' competitors like Lowe's and Kohl's for more discounts.