Lowe's Senior Discount Requirements, Details, and Other Ways to Save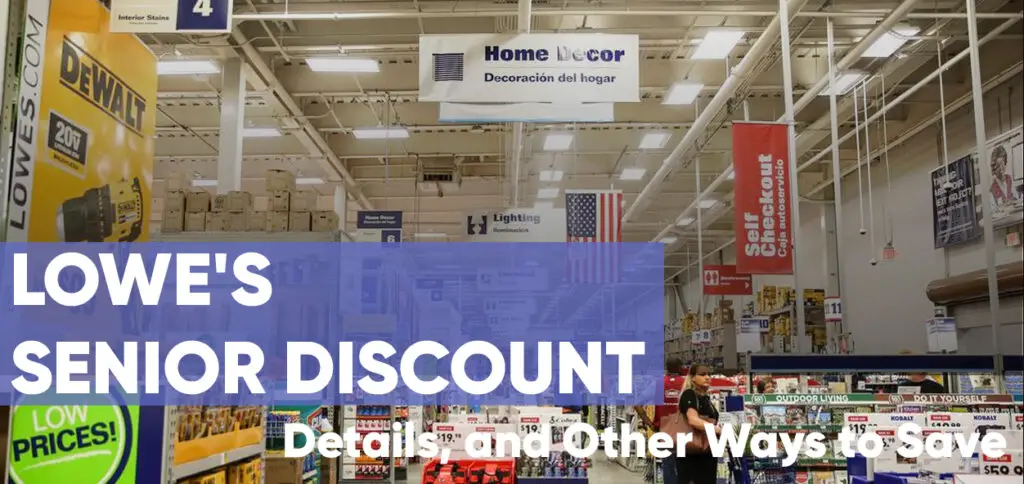 Many businesses in the US help senior citizens reduce their expenses through senior discounts. And since most senior citizens have a fixed income, it makes sense to cut your costs and save money wherever possible.
Lowe's might be your go-to place if you're considering undertaking a home improvement project. But the question is – is there Lowe's senior citizen discount in 2023? 
Read on for the answer and explore more ways to save money at Lowe's. 
Does Lowe's Have a Senior Discount in 2023?
Unfortunately, Lowe's doesn't offer a senior-specific discount in 2023. But that doesn't mean you can't save money at the home improvement supplies store. Seniors and other customers can benefit from various cost-saving offers featured at Lowe's. 
Apart from discounts and cashback, you can shop for clearance items and floor models at marked-down prices or use financing options to pay conveniently.
Keep reading to know more about your options to shop on a budget at Lowe's, including the steps, restrictions, and prerequisites. 
No Senior Discounts at Lowe's? No Problem! Other Ways To Save
Sure, the lack of senior discounts at Lowe's is a disappointment! But there are other ways to cut your costs at the store, including the following:
MyLowe's Account 
MyLowe's Account gives senior citizens and other shoppers free shipping on eligible orders worth $45 or more. Plus, MyLowe's Account holders get special offers and deals through emails. 
To get free standard shipping, head over to your cart summary. Next, select Standard 1-4 Business Days from the Estimated Shipping Charges drop-down. This will automatically apply to free shipping on eligible items.
Price Matching
Using Lowe's price matching offer, you can save money by giving evidence of a lower price for the same item at a competitor store. Here's the list of retailers that qualify for price matching:
Home Depot
Amazon
True Value
Ace Hardware
Walmart
Best Buy
Target
You may want to keep an eye on these competitors' pricing and visit your nearest Lowe's store to drive a hard bargain. Consider presenting proof through a local ad, newspaper, or retailer's website. 
Competitors Coupons
Coupons are another great way around Lowe's senior discount policy. Lowe's offers its own coupons, and the store also accepts coupons from its competitors'. For example, you can take coupons from retailers like Ace Hardware, Menards, and The Home Depot to get discounts at Lowe's. 
Moreover, we recommend you always keep a tab on your email inbox and Lowe's social media pages for promo codes and giveaways. 
Lowe's Advantage Credit Card
Lowe's credit card comes with exciting benefits, which you can't ignore as a senior citizen. For one, you get a 5% discount on eligible items daily. Additional perks include the following:
20% off per a new account – get 20% off your first purchase amount after signing up. 
Appliance financing – pay at your ease with the financing option, comprising 12 equal monthly installments on a minimum purchase of $299. 
Reduced APR financing – Valid on purchases worth $2000 or more; pay with 84 monthly installments at APR as low as 7.99%. 
Military Discount
If you happen to be a veteran, you're in luck! Lowe's gives a 10% discount to active military personnel and veterans, including their spouses. The military discount is valid for:
US Army Personnel
US Air Forces
US Navy
US Marine Corps
National Guard
US Coast Guard
USPHS
NOAA
To get this offer, sign up for MyLowe's Account and fill out the registration form with your military ID. 
Lowe's Rebate Center
Lowe's Rebate Center allows you to get cashback deals on large appliances. For example, when you purchase an LG refrigerator with some other LG appliances, you might qualify for a $500 cashback. 
The best part? Getting a rebate is simple! Select from rebate offers on Lowe's website, fill out the form with purchase details, and submit your request. You'll get cashback in 6-8 weeks, subject to application approval. 
Employee Discount
If you're interested in doing a part-time job to keep yourself busy and active, consider working at Lowe's. Why? 1) you'll get a 10% off on your purchases and 2) you'll qualify for a 30% discount on food items. 
Bulk and Volume Discount
This offer typically applies to buyers who are company representatives and might be interested in getting bulk orders. Plus, bulk discounts come in handy if you're planning to give your interior or outdoor settings a lovely transformation. You can visit the Buy in Bulk page to check out the latest offers.  
On the other hand, a Volume Savings Program is another excellent way to save on large orders. If your order exceeds $1500, visit the Pro Desk for a discount quote, which will likely be 10-30%.  
Clearance Items
Buying clearance items is a long-established and effective way to cut your shopping expenses. The good news is that, like other renowned stores, Lowe's keeps clearance items, which can be identified with color-coding:
White tags: Standard, everyday prices.
Yellow "new lower price" tags: Temporary markdowns, usually up to 60 days.
Yellow "Clearance" tags: Permanent markdowns.
So, if you find a yellow tag that says "clearance," you've got an opportunity to save a few bucks. 
Scratch and Dent Appliances
Besides clearance products, you might want to explore floor models. Used mainly for display purposes, you can buy floor models at 10-30% lower prices than the new ones. 
But remember that most of these models have dents and scratches. But if they're good enough for your use, don't shy away from negotiating the price.
Can I Stack Discount Offers at Lowe's? 
Lowe's does not support stacking discounts. For instance, if you have a 10% military discount, you cannot combine it with an additional 5% credit card discount.
But, the only way around is to make separate purchases and use discount offers separately. For example, you can use the price-matching feature to get a 10% off on one purchase and a 5% credit card discount on another. 
Which Similar Companies Offer Senior Discounts
Here's a list of Lowe's competitors that offer senior discounts.
| | | |
| --- | --- | --- |
| Company | Discount | Conditions |
| Amazon Prime | 50% off Prime membership | Must be a recipient of eligible government-assistance programs |
| Home Depot | 10% off | On-duty military member or veteran |
| Goodwill | 20% off on Tuesdays | 60+ |
| Savers and Value Village | 20-40% off | 55+; discount days vary by stores |
| TJ Maxx | 10% off | 55+; discount available at selected stores |
| Fred Meyer | 10% off; first Tuesday of each month | 55+ |
| Bi-Lo | 5% off on Wednesdays | 60+ |
Conclusion
Lowe's discounts for seniors are not available in 2023, but there are other ways to cut your costs and save money at the store. You can leverage the rebates and financing facilities besides taking advantage of the discount offers with MyLowe's Account, price matching, bulk purchases, coupons, and clearance items. You can also check out competitors like Amazon Prime and TJ Max for more discount options.