Ross Senior Discount Requirements, Details, and Other Ways to Save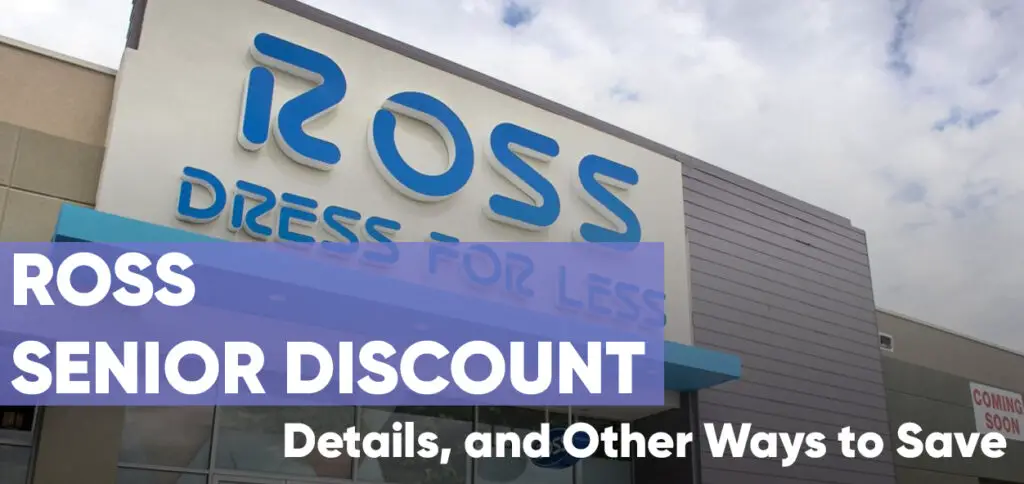 From clothing items to décor and much more, Ross has tempting offers for customers of every age group. But, when you're a senior scraping along on retirement income, you may want to avail yourself of senior discounts to save money.
If you're a compulsive Ross shopper, you're at the right place. Keep reading to know how you can get more for less using Ross senior discount and other intelligent buying strategies.
Does Ross Have a Senior Discount In 2023?
Yes, Ross offers a 10% senior discount under its Every Tuesday Club program. The deal is available to seniors aged 55 or above. This means you can get a 10% discount on purchases made on the Ross senior discount day, which is every Tuesday.
There are also many other ways seniors can save money at Ross. These include promotions and giveaways, clearance items, visiting a different store, and more.
Read on to explore how you can get a senior discount at Ross and other ways to shop on a budget.
What is Ross Senior Discount Age and Discount Method?
Wondering what is the Ross senior discount age and other eligibility criteria? Luckily, getting a senior discount at Ross is pretty simple. Ross senior discount day is Tuesday, and the age eligibility is at least 55 years.
You need to go to the customer service desk and provide your valid ID bearing your birthday and name, and that's it! The customer service representative will verify your information and sign you up for their Every Tuesday Club.
Some Ross outlets also issue a card that you'll have to bring every time you shop. You'll hand over this card at the checkout point, and the 10% discount will be automatically applied by the system.
The sales representative will manually apply the discount if a particular Ross store doesn't have a customer card. In this case, you'll take your ID to the store, the sales rep will verify your eligibility through your ID, and then apply the senior discount on your bill.
Can I Sign Up Online for a Ross Senior's Discount?
No, Ross doesn't give you the option to sign up for the Senior's discount online or by phone call. You must visit your nearest Ross store and register yourself at the customer service desk to get the 10% discount.
What Are Other Ways I Can Save Money at Ross? 
While you can avail yourself of the Ross senior discount, is there any way you can save more at Ross, you ask! What if you can't shop on Tuesday? Here are more ways you can slash your shopping expenses at Ross.
Ask for Markdowns on Ripped/Stained Items
Ross store sales representatives are authorized to provide price markdowns for damaged items. So, if you find an item with an unexpected stain or rip, be sure to ask for a price reduction. Since most of their inventory is in perfect condition, they usually provide markdowns to move defective pieces.
Shop at Clearance Areas of the Store
Ross also has markdowns sections where goods are sold at lower prices. These are the areas where you can get the finest bargains. When you shop at Ross, make these clearance areas your starting point and work your way to the rest of the sections.
Ross gives its customers regular discounts anywhere between 20% and 60%. Factor in clearance items, and you'll get the best deals. 
Check Out Facebook for Contests and Giveaways
Ross features giveaways, prizes, and contests on its official Facebook page. This is an excellent opportunity to reduce your shopping bill. Before anything else, head straight to your Facebook app and follow their page to stay updated and watch out for promotions and deals. 
Walk Away and Come Back Later
Ross gets new shipments frequently. This is different from stores where they get a season's worth of inventory at once and keep it accessible for more extended periods. This means that if something doesn't fall in your budget today, you might be able to get something similar a week later. On the downside, this also means that what is available today might not be tomorrow. 
In short, it makes sense to walk out of the store and come back later unless you absolutely love an item or you need it urgently. 
Check Out a Different Ross Store or dd's Discount
Unlike many renowned stores, Ross doesn't keep a homogeneous collection. So, another alternative to waiting and coming back later is visiting a different Ross store. If you're lucky, you might find what you need at your preferred price point. 
Moreover, Ross has a subsidiary – dd's Discount – which offers excellent deals on clothing, shoes, toys, home décor, electronics, etc. Do check it out!
Look for Promo Codes and Discount Vouchers
Another way seniors could cut their shopping expenses at Ross is by using promo codes and discount vouchers. Many businesses offer promo codes and vouchers as part of their joint ventures with Ross. 
You can look up such deals on Facebook or Google, or subscribe to a senior magazine. But remember that there are many fake coupons as well, so you might want to verify these coupons by reaching out to Ross' customer service representative.
Which Similar Companies Offer Senior Discounts
Here's a list of Ross competitors where you can get senior discounts. 
Bealls: 15% off every Tuesday (50+)
Belk: 15% off the first Tuesday of every month (62+)
Clarks: 10% off every day (62+)
Dressbarn: 10% off Tuesday/Wednesday (day varies by location – 55+)
Goodwill: 10%-20% off one day every week (discount day varies by location – 55+)
Kohl's: 15% off every Wednesday (60+)
Michael's: 10% off every day (with AARP card – 55+)
Conclusion
Ross gives a 10% senior discount every Tuesday, which you can get at the customer service desk by showing your valid ID. Ross senior discount eligibility age is 55 years and above. The store doesn't offer an online option to get a senior discount.
Other methods to save money at Ross include:
Negotiating defective items
Shopping at clearance areas
Visiting a different store branch
Participating in contests/giveaways
Coming back later
Looking up promo codes/discount vouchers.