Workday Competitors and Similar Companies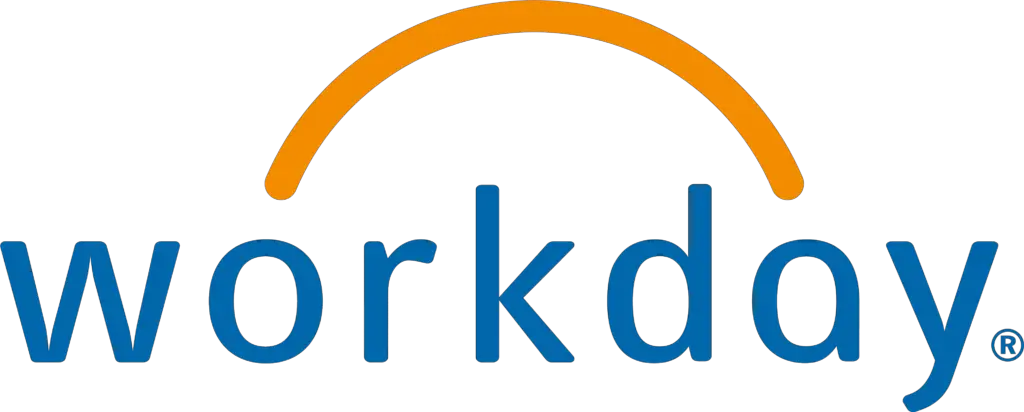 Workday Incorporated is an American system software company founded in 2005. It is headquartered in California and employs more than 15 000 people. Workday specializes in cloud management applications for finance, HR, and student/faculty, making it easier for organizations to gain insight into their employees' skills and capabilities with the goal of growing and expanding.
| | |
| --- | --- |
| NAME | Workday |
| FOUNDED | 2005 |
| HEADQUARTERS | Pleasanton, CA, USA |
| SIC CODE | 73710000; 73740000 |
| STATUS | Incorporation |
| INDUSTRY SECTOR | Custom computer programming services; Data processing and preparation |
| EMPLOYEES | 15 200 |
| TRADING SYMBOL | NASDAQ: WDAY |
How Workday Makes Money
Workday reports revenue of more than five billion dollars yearly. More than 9 500 organizations and over 60 million people actively use this software. Moreover, over half of the Fortune 500 uses Workday's services as of lately. These are all impressive numbers and show just how successful this company is. Let's see what are the services and products Workday offers that helped them achieve this extent of success. 
Financial Management
One of the most used Workday products is the financial management system. This system allows automation of financial and accounting processes and includes analytics, financial planning, audit, internal controls, and more. All of this allows customers to grow their business while keeping the control they have over the data. Some of the notable companies that use this product are Just Eat, KeyBank, SHARP, and EQ. 
Spend Management
Spend management is a Workday product designed for sourcing and procurement management. Using this product, customers can streamline supplier selection, run sourcing events, analyze performance, and manage contracts. Netflix, Airbnb, OhioHealth, and LifeTime are just some of the companies that use this product. 
Analytics and Reporting
Workday provides customers with simple and effective analytics and reporting tool for organizations. Using this product, organizations can gain a deeper insight into their employees, finances, and operations. The companies that use Workday's Analytics and Reporting are Sony and Sanofi, among many others. 
Platform and Product Extensions
Workday understands that different companies operate in different ways, so another product this company offers allows organizations to easily integrate Workday with other applications and extensions. Customers can have everything they need in one place and under one interface.
Human Capital Management
Organizations and companies can do well only if their employees work well. Workday provides customers with a Human Capital Management platform that offers a revolutionary approach to managing workers. It's designed for optimizing the workforce and for keeping employees happy. Dell, Gap Inc, Humana, Wegmans, and others use the HCM services this company offers. 
Talent Management
Apart from the HCM services, Workday offers HR talent management services. This product has everything you need to successfully recruit the best new employees and keep them updated with the necessary knowledge in order to grow your business steadily. Some of the satisfied customers are AstraZeneca, Delivery Hero, Aurekon, and Bank of Montreal. 
Student
Faculties can greatly benefit from this Workday product. It is a system that allows the faculties to go fully remote while making it easier to handle the student's records, employment, and finances at the same time. Workday made a system that benefits not only the faculty but the students too. Wellesley, Babson, Brandeis, and Smith College fall into the category of satisfied clients. 
Peakon Employee Voice
This Workday's product helps organizations and companies gain a deep insight into their employees' engagement, health, well-being, and overall feedback in order to boost creativity and productivity. Moreover, clients can compare the results against more than 200 million other data points to see where exactly they stand against their peers and competition. 
Workday Adaptive Planning
This is an enterprise planning software that lets enterprises do financial, workforce, sales, and operational planning, all in one place. The interface of this product is well-designed and user-friendly. It lets companies be in control of their businesses by planning and growing with the help of Workday.
Payroll and Workforce Management
Payroll management provides clients with the ability to automatize repetitive and boring tasks related to scheduling, attendance, and payroll. It is used by Netflix, Nordstrom, Airbnb, and Bank of America, among many others. This product lets businesses focus on growing instead of on time-consuming tasks. 
Professional Services Automation
The last product Workday offers is another product that helps companies focus on growing their businesses without wasting time on needless manual work. PSA services include project and resource management, financials, billing, time tracking, and more. It is everything a company needs to grow while keeping employees happy at the same time. 
Companies Similar To Workday
Workday is truly a gem when it comes to different management applications, resources, and tools. This company is one of the leading companies in the industry for a reason. However, there are still Workday similar companies that businesses can consider when in need of management software. The biggest rivals to Workday are Gusto HR, Bamboo HR, Workforce Management Software, Hibob, Oracle HCM Cloud, Monday.com, Ceridian HCM, SAP SuccessFactors, Epicor HCM, and Sage HR. 
Let's discuss Workday's competitors in more detail. 
Gusto HR
Gusto HR was founded in 2011, and it is a cloud-based human resources management platform. It serves more than 50 000 customers. This company manages the payroll process, hiring and onboarding, employee, health, and financial benefits, time and attendance, and talent management, and provides insights and reporting of your business' data. 
Gusto HR costs less than Workday, starting at only around $39 per month. 
While Workday provides more products and services to its customers, Gusto HR is one of the biggest competitors to this company when it comes to HR management alone. 
BambooHR
BambooHR was founded in 2008, and it offers a human resources management software system. This software is designed for small-to-medium businesses who want to execute all HR-related processes in one place. BambooHR helps with managing workforce data, hiring process, onboarding, and payroll services. It also helps create a company culture in which employees feel valued and motivated. 
This company serves more than two and a half million people spread across 26 000 companies. 
While BambooHR is a great choice for any business that wants to make HR fun and easier, it still offers a fewer number of services than Workday does. However, in the field of HCM, BambooHR is one of Workday's competitors. 
Workforce Management Software
Workforce Management Software offers solutions in the field of finance, human resources, operations, and information technology. Workforce cloud-based suite includes products concerning employees' attendance, time, absences, leaves, scheduling, experience, and more. Moreover, this software offers analytics and insights, employee labor tracking and productivity, and HCM and ERP integrations. This is all designed with the goal of improving business performance and growth.
Workforce is a much smaller company than Workday, both when it comes to revenue and the number of employees. However, it does have some high-end clients, such as Nike, Whole Foods, Oregon State University, and more. Workforce is a competitor to Workday in terms of HCM services.
Hibob 
Hibob is a platform launched in 2015. It was built with remote, global, and collaborative work in mind – the work most people do these days. It is a fast-growing company with more than a thousand clients. Hibob's platform covers onboarding, time and attendance, compensation, payroll, vacation, and performance services. It also offers surveys, analytics, and a place for anonymous and safe employee reporting. 
Some of the companies that use Hibob for their HR needs are Fiverr, BigID, Kustomer, Improbable, and more. 
Hibob is a perfect choice for companies that are in need of an HR platform. It seems that this company will continue growing in the years to come, so it is highly probable that it will become a competitor of Workday soon. 
Oracle HCM Cloud
Oracle is the world's third-largest software company. It was founded in 1977 and its main office is in Austin, Texas. Among the other products and services, this company offers Human Capital Management cloud-based software. Oracle builds software that covers all aspects of HR processes – talent management (recruiting, onboarding, career development, compensation, and more), workforce management (absences, time and labor, health and safety), payroll, and analytics. 
Oracle is by far the biggest competitor to Workday in the field of HR, both when it comes to revenue, customers, and the number of employees. 
| | | | |
| --- | --- | --- | --- |
| Annual Revenue | Funding | Headquarters | EMPLOYEES |
| $42.44B | N/A | Austin, TX, USA | 143 000 |
Monday.com
Monday.com was launched in 2014 and went public in 2021, after it raised 150 million dollars two years earlier. A similar product to Workday this company offers is Monday projects, which is a project management software. It allows centralization, streamlining, and planning of a project from day one to the finish. Customers can collaborate with other stakeholders and closely monitor their performance. 
This company has over 150 000 customers worldwide, some of which are Coca-Cola, Hulu, Canva, and Nautica.
Monday.com is a competitor to Workday when it comes to project management solutions.
| | | | |
| --- | --- | --- | --- |
| Annual Revenue | Funding | Headquarters | EMPLOYEES |
| $308M | $384.1M | Tel Aviv, Israel | 1 064 |
Ceridian HCM 
Ceridian is a company founded in 1992 that started out as a provider of payroll services. The company has since expanded, and now it offers Dayforce – an HCM software for organizations. 
Dayforce includes payroll management, workforce management, talent intelligence, streamlined HR, customer experience, and advanced HR analytics. 
This company has more than five million active customers. It is one of the leading choices of companies and organizations for HR solutions. While Ceridian is still a smaller company than Workday, it offers similar services and is expected to grow in the future. 
SAP SuccessFactors
This is a multinational software company located in South San Francisco and founded in 2001. Its Human Capital Management software is one of the most famous HCM products in the world. 
Customers can help employees achieve their full potential with the help of SAP SuccessFactors' Human Experience Management Suite because it offers individualized approaches and solutions. This suite covers all stages of the HR process, including recruiting and onboarding of new employees, and performance, compensation, and development of the company's workers. Next, SAP's HCM software offers employee experience management, payroll services, and HR analytics. 
Although this company doesn't offer as many services as Workday does, SAP is definitely one of the biggest Workday competitors. 
Epicor HCM
Epicor is a company founded in 1972 and headquartered in Austin, Texas. This business software company is another one offering HCM software that can be used either on the cloud or installed on-premises. 
The software is intuitive and user-friendly, and it helps companies automate and simplify generally time-consuming and repetitive tasks. It helps companies manage employees from the first to the last day of the job.
Epicor is a successful company with more than 20 000 customers in over 150 countries. It reports revenue of almost a billion dollars yearly, so if it continues growing at this rate, it can become one of Workday's competitors soon. 
 Sage HR
Sage HR was founded in 2012, and it is specialized in providing customers with a platform for managing all HR processes in one place. 
Some of the notable customers this company has are Deloitte, Entercom, Twino, and airBaltic. 
While Sage HR provides clients with an amazing HR solution, it is the only product it offers, unlike Workday. 
Conclusion
Workday is one of the leading companies in the field of management software systems. While it's not easy to compete with the high-quality services, products, and solutions this company provides, it still has some competitors. Workday's biggest competitor is Oracle and its HCM system since this company reports a much larger revenue and serves significantly more clients than Workday does.