New York Times Senior Discount Requirements, Details, and Other Ways to Save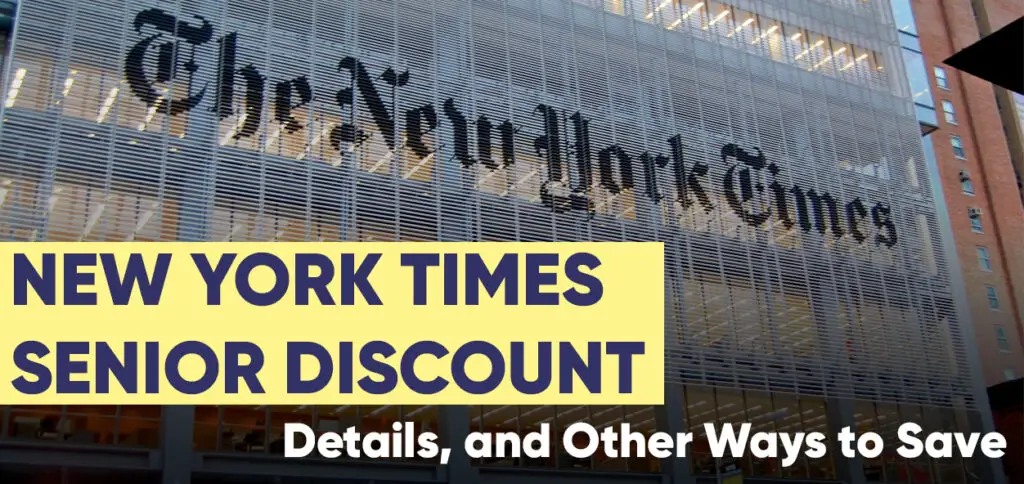 Since senior citizens depend on retirement savings or fixed monthly pensions, many companies offer senior discounts to extend their social support. 
If you're a senior citizen and like the NY Times, you might wonder whether the New York Times subscription senior discount 2023 is available. Keep reading to get your answer
Does New York Times Have a Senior Discount in 2023?
Unfortunately, there isn't any specific New York Times subscription discount for seniors. That means NY times subscription rates for seniors are the same as any regular subscriber's. 
The good news is that there are other ways to reduce your expenses on NYT subscription plans. The 132-time Pulitzer-winning newspaper features multiple cost-friendly offers, such as Introductory Year Discount, Gift Subscriptions, Digital Access Codes, Home Delivery Subscriptions, and Nook Subscribers.
Read on for complete information on these special offers.
How to Get New York Times Subscription Discount?
The New York Times offers various subscription options that work equally well for seniors and other age groups. 
Here's how the elderly can save money using New York Times subscription options:
Introductory Rate Offer
As a new subscriber, you get a special offer of $0.25/week with a Basic Digital Access subscription. Once your payment method is recorded, you'll be billed in advance at $2 for the next four weeks. If you opt for the annual subscription, you'll be charged $10/year (instead of a regular annual rate of $40).
With basic digital access, you can enjoy unlimited articles, podcasts, videos, and more content on NYTime.com.
How Long is the Introductory Offer Valid?
The introductory rate is valid for one year from the time of subscription. After one year, the standard rates are automatically applied.
How Can I Get an Introductory Rate Offer?
To purchase Basic Digital Subscription with an introductory rate offer:
Visit nytimes.com/subscription.
Select your subscription plan and click "SUBSCRIBE NOW."
Provide your account details and complete your payment to finish the process.
Digital Access Code
Digital Access Code is another way you can get New York Times subscription discount. These codes are part of the promotional campaigns released by organizations for their target audience. By redeeming this code, you can access NYTimes.com content at a discounted rate.
How Can I Get Digital Access Code?
There aren't any specific organizations offering NY Times promo codes. But if you google New York Times promo codes, you'll find a handful of sites offering the codes.
How Do I Redeem Digital Access Code?
Enter the code using the link provided in the redemption email. Alternatively, visit http://www.nytimes.com/redeemaccess and enter the access code you're provided in the email or externally. 
While redeeming your code, you'd be required to sign in or create an account. However, you can't access the promo code if you already have a NY Times subscription.
NOOK Subscriber
If you're a New York Times NOOK, you don't need to pay anything to get an NYTimes.com subscription. By linking your NOOK subscription with your NYTimes.com account, you'll have unlimited access to NYTimes.com content.
What Isn't Included in This Offer?
Unfortunately, you only get access to the NYTimes.com website by leveraging your NOOK privilege. If you want to get unlimited access to NY Times apps, NY Times Games, or Cooking, you'll have to look for a different New York Times subscription discount.
How Do I Link my New York Times NOOK to my NYTimes.com Account?
You can link your NYT NOOK to your NYT account at http://nytimes.com/nookaccess. Once you provide your ZIP code and NOOK account email address, your New York Times NOOK subscription will be verified, and you'll be granted unlimited access to NYTimes.com.
Gift Subscriptions
Using the Gift Subscriptions option, you can gift the New York Times subscription to your beloved elderly. The gift subscriptions can be availed at various levels having different price points. For instance, the Basic Subscription ($25/year) gives unlimited access to online and in-app articles, whereas Cooking Subscription ($40/year) offers recipes, guides, and videos.
What Are the Billing Terms?
The New York Times subscription gifts are valid for a specific duration and are not billed during that subscription period. Plus, the gift recipient must redeem the gift code within one year, since it expires after that period.
How to Purchase a Gift Subscription?
You can purchase a gift subscription by visiting nytimes.com/subscription/gift. You'd be required to provide the following information to complete the subscription process:
The recipient's email address
A gift message
The date of the gift's intimation
You can only give a gift subscription the recipient doesn't already have. For instance, if they have a Basic Digital Subscription, you could gift them New York Times Cooking or New York Times Games subscription.
Home Delivery Subscription
The New York Times subscription discount applies to their home delivery as well. With a home delivery subscription, you get New York Times All Access digital subscription without paying anything extra.
All Digital Access gives you complete access to NYTimes.com, NYTimes apps for smartphones and tablets, and discounts to the Times store. To top it all, you get access to New York Times Games, New York Times Cooking, and Wirecutter.
How to Purchase Home Delivery Subscription?
Follow these steps to get your New York Times home delivery:
Enter your ZIP code and select View delivery options
Select your preferred delivery option
Set up your account by providing personal details
Purchase your subscription by entering payment details
Once done, you'll receive an email with your purchase details and expected delivery date.
Which Similar Companies Offer Senior Discounts
A few NY Times competitors offer discounted subscriptions for seniors. Most competitors don't offer discounts for the elderly, but they have other subscription options seniors might find attractive. 
The good thing is that USA Today offers special discounts for its senior members. Senior citizens can get 50% discounts on USA TODAY subscriptions. In other words, it means you can subscribe to the newspaper for 8 weeks for only $19.95. Similarly, Washington Post and NY Post have many offers that might interest you.
Conclusion
The New York Times doesn't offer exclusive discounts for seniors. Fortunately, there are other subscription options seniors can use to save money. With options like Home Delivery Service and NOOK subscription, you get the best value for money. If you're lucky, you might be able to get Access Codes or Gift Subscriptions. Above all, the Introductory Rate Offer itself gives a whopping discount of 87.5% to every new subscriber.