Tableau Competitors, Similar Companies and Alternatives
Tableau is a data visualization software company focusing on data analysis and business. It was founded in 2003 and acquired by Salesforce in 2019. The biggest advantage compared to the competitors is its intuitiveness and user-friendly interface – anyone can learn how to use it in a short time. Tableau's products are aimed at businesses and individuals who want to maximize the usage of data and analytics. 
| | |
| --- | --- |
| NAME | Tableau |
| FOUNDED | 2003 |
| HEADQUARTERS | Seattle, Washington, United States |
| SIC CODE | 7372 |
| STATUS | Incorporation |
| INDUSTRY SECTOR | Software company |
| EMPLOYEES | 4 181 |
| TRADING SYMBOL | NYSE: DATA |
How Tableau Makes Money
Tableau makes a lot of money. To be more exact, this company reported $1.2 billion in revenue for the fiscal year of 2021. The company is a subsidiary of Salesforce, which generated $26.49 billion in 2022. Let's see what are the products that make Tableau so successful.

Tableau's Platform 
The platform this company provides to its customers is one of the world's leading platforms in the field of analytics. It is used by the companies such as Pfizer, Verizon, Honeywell, Whole Foods, Nissan, and many more. Tableau's platform is user-friendly and intuitive, allowing even non-computer savvy people to easily use it. 
Tableau Desktop
Tableau's Desktop product allows you to access, visualize, and analyze your data, all in one place. It is a secure environment where you can get deep insights into your data and perform advanced analytics. Customers can also take advantage of predictive modeling, as well as share the results and analyses with teams completely securely. 
Tableau Server
Tableau Server lets customers handle their data and analytics across all devices, including computers, tablets, and mobile devices. The deep integration options make this Tableau product particularly useful – you don't have to worry about the lack of security or complicated integration processes. There is also Tableau for Slack, allowing your team to have all the workflow in the same place. 
Tableau Cloud
Previously Tableau Online, Tableau Cloud is an easy, flexible, fast, and cloud-based analytics platform. It helps customers analyze and share their data securely in order to make the most out of their businesses and help them consistently grow. Tableau Cloud helps users make informed and the right decisions with the power of data. 
Tableau Prep
Tableau Prep is a product that helps customers easily and effectively approach the data preparation process. Tableau's visualization tools make it simpler than ever to collect, structure, and clean the data, while at the same time making sure that it is accurate and relevant. 
CRM Analytics
Formerly Tableau CRM, CRM Analytics works efficiently to predict outcomes and analyze trends, so you don't have to waste time on tedious tasks. If you use Salesforce, you will be able to make the most out of this program's features, since the two can integrate fast and easily. 
Tableau Public
If you want to test Tableau but don't want to have an obligation of leaving your card details, make sure to try Tableau Public. It is a free platform that allows customers to inspect, create data visualizations, as well as publicly share them online. You can easily create professionally-looking graphs, visuals, tables, and more, without coding or any previous knowledge of design.
Data Management
Tableau Data Management helps customers manage the data and analytics material within the Tableau server. It helps keep your data and content secure, connected to other platforms necessary for your business, and easy to share securely.
Server Management
Tableau Server Management is a product that helps customers with the technical side of managing the Tableau server. It allows customers to manage and administrate the server and its components, such as licenses, access management, subscriptions, security, and more.
Embedded Analytics
Tableau Embedded Analytics is a product that allows customers to embed Tableau content and functionality into their own applications, products, and web portals. This way, the teams are able to get data-driven insights without ever having to leave the comfort of the application they are using. This is all with the goal of monetizing the data and using it to your advantage – to increase engagement and enhance customer satisfaction.
Tableau's Integrations
Tableau's integrations make this company one of the leaders in the market. By integrating with the most popular CRMs, servers, and databases, Tableau makes sure that its customers can have a complete analysis of their businesses. Here are some of Tableau's integrations – Excell, SQL, Google Sheets, Google Analytics, Salesforce, and more.
Companies Similar to Tableau
Tableau is a data visualization tool that helps businesses see and understand their data. Tableau has a number of advantages over its competitors. For example, Tableau is more user-friendly and easier to learn than most other products. It also offers a better selection of charts and graphs, making it easier to find the best way to visualize your data. Tableau is also more scalable than its competitors, meaning it can handle larger amounts of data more easily. 
However, there are some companies that you may want to try out if Tableau isn't your cup of tea or if you want to see what else is on the market. The biggest rivals to Tableau are similar companies that offer data visualization tools, such as Qlik, Microsoft Power BI, IBM Analytics, SAS, Oracle, MicroStrategy, Google Analytics, SAP, Looker, and Sisense.  
Let's discuss Tableau's competitors in more detail.
Qlik
Qlik is a software company that specializes in data visualization and analytics. Founded in 1993, Qlik has a long history of helping people make sense of data. Today, the company offers a wide range of products and services that enable people to analyze and understand data. 
Qlik's products are used by businesses of all sizes, from small businesses to Fortune 500 companies. Qlik's products are also used by government agencies and educational institutions. 
In addition to its core products, Qlik also offers consulting and support services. These services help customers get the most out of their data and make better decisions accordingly. 
Compared to Tableau, this company also earns a lot of money, so it's safe to say that it is one of the biggest Tableau competitors in the market. 
Microsoft Power BI
Microsoft Power BI is a business intelligence platform that helps organizations turn data into insights. With Power BI, organizations can connect to hundreds of data sources, including databases, spreadsheets, and cloud-based applications. Once data is connected, users can create interactive visualizations and reports to gain insights into their business operations. 
Power BI is available as a desktop application, a web service, and a mobile app, making it accessible from anywhere. With its easy-to-use interface and powerful features, Power BI is becoming increasingly popular among organizations of all sizes.
Power BI was released by Microsoft in 2011 and nowadays, it has around 5 million customers worldwide. Tableau has around 1 million members, so it's clear that Microsoft is a big competitor when it comes to data analysis and visualization products. 
| | | | |
| --- | --- | --- | --- |
| Annual Revenue | Funding | Headquarters | EMPLOYEES |
| $168B (Microsoft) | $1M | Redmond, WA, USA | 181 000 (Microsoft) |
IBM Analytics
IBM Analytics is a powerful data analytics platform that helps businesses to make better decisions and improve their operations. The platform provides a comprehensive set of tools for data collection, analysis, and visualization, as well as for machine learning and artificial intelligence. 
With IBM Analytics, businesses can gain insights into their customers, products, and operational processes. The platform also enables businesses to share data and collaborate on analytics projects. 
IBM is a huge company, offering a wide variety of services and products apart from this one. It is a bigger company than Tableau, so it is simultaneously one of its biggest rivals. 
SAS
Founded in 1976, SAS is one of the global leaders in the analytics niche. Headquartered in Cary, North Carolina, SAS serves customers in 150 countries. 
With its cutting-edge software, SAS helps organizations make better decisions by providing them with the tools to analyze and gain deep insight into their data. For example, by analyzing customer data, businesses can identify trends and target marketing efforts more effectively.
Also, by analyzing financial data, organizations can reduce fraud risks and improve decision-making processes. 
Although a smaller company than Salesforce at the moment, SAS is expected to grow in the future, and it may become a competitor to Tableau. 
| | | | |
| --- | --- | --- | --- |
| Annual Revenue | Funding | Headquarters | EMPLOYEES |
| $3.2B | N/A | Cary, NC, USA | 13 939  |
Oracle Analytics
Oracle Analytics is a powerful business intelligence tool that offers a comprehensive set of features for data analysis and visualization. 
Launched in 2018, it provides users with everything they need to turn data into insights, including a robust set of tools for data wrangling, advanced analytics, and dashboarding. In addition, Oracle Analytics integrates seamlessly with the rest of the Oracle Cloud platform, making it easy to share data and insights across teams and departments. 
Oracle is a relational database management system (RDBMS), while Tableau is a Business Intelligence (BI) and data visualization tool. Basically, this means that Oracle is better suited for storing and managing large amounts of data, while Tableau is better for creating visualizations and reports. Another important factor to consider is pricing. Oracle is a fairly expensive solution, while Tableau offers a more affordable price point. Although more expensive, Oracle is still one of the leaders in the market, which makes it one of the biggest rivals of Tableau. 
MicroStrategy
MicroStrategy is a business intelligence software company that provides reporting, analysis, and visualization tools for businesses of all sizes. The company was founded in 1989 and has since grown to serve customers in over 100 countries. 
MicroStrategy's flagship product is its Business Intelligence Platform, which enables users to create, deploy, analyze, and optimize data for any device. In addition to its BI Platform, MicroStrategy also offers a variety of other products and services, including enterprise mobility management resources, cloud-based analytics, and consulting services. Whether you're looking for a way to improve your business' data management or want to gain insights into your customer base, MicroStrategy is a great choice. 
MicroStrategy is a smaller competitor of Tableau than other huge corporations that offer the same services. However, considering this company's total funding and growth over the past years, it is fair to assume that MicroStrategy is not a small threat to Tableau.
Google Analytics
Google Analytics is a web analytics service that lets customers track and report website traffic. As of 2018, Google Analytics is the most used web analytics service in the world. 
Apart from collecting and analyzing data on the Internet, Google Analytics allows customers to visualize, report, and share the data online. It also offers integrations with other applications, just like Tableau does.
Not a lot can be said about Google that you haven't heard before. It is one of the biggest companies in the world and the most visited website ever. That being said, it is a competitor of every website in the world, including Tableau.
| | | | |
| --- | --- | --- | --- |
| Annual Revenue | Funding | Headquarters | EMPLOYEES |
| $257B (Google) | $36.1M | Mountain View, CA, USA | 150 028 (Google) |
SAP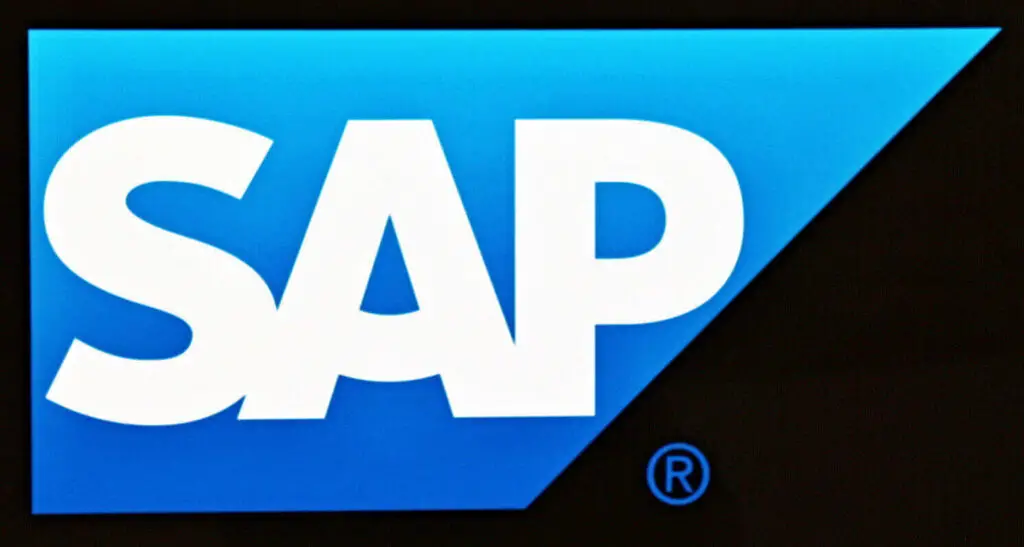 SAP is one of the leading enterprise application software companies. The company's software helps organizations of all sizes to run their businesses properly. SAP has more than 400 000 customers in over 180 countries. 
SAP provides a comprehensive suite of analytics and data management tools that can help businesses to unlock the full potential of their data. With SAP analytics, businesses can gain insights into their customers, operations, financials, and more. SAP data management tools ensure that businesses' data is accurate, complete, and up to date.
As mentioned, Tableau has over 300 million customers, much more than SAP does. However, the total yearly revenue of SAP is a bit higher than that of Salesforce, Tableau's parent company. This is why SAP is considered one of Tableau's competitors. 
Looker
Looker is a big Business Intelligence software company that was acquired by Google in 2019. The company has been around since 2012 and is headquartered in Santa Cruz, California.
Looker employs a team of experienced data scientists who have developed a powerful platform that helps companies to visualize, explore, and analyze their data. The company has worked with a number of well-known clients since its launch. 
Looker is widely considered to be one of the leading companies in the big data space, and its platform is used by organizations all over the world to gain insights into their data. Before the acquisition by Google, it probably wasn't much of a rival to Tableau. However, that has since changed. 
Sisense
Sisense is a business intelligence software company headquartered in New York, with 7 more offices around the world. This company offers a cloud-based platform that allows users to access, model, visualize, interpret, embed, and manage data in an easy and secure way. 
This company has more than 2 000 users across the world, and it keeps getting more clients every day. 
Sisense is similar to Tableau when it comes to the products, tools, and solutions it provides. While these companies are rivals, Sisense isn't a threat to Tableau, considering the difference in the number of clients these two companies have. 
Conclusion 
In conclusion, Tableau is an exceptionally powerful data visualization tool. Its drag-and-drop interface makes it easy to create complex visualizations, and its wide range of built-in functions means that it's suitable for all the businesses out there. Tableau's biggest competitor in terms of revenue is Google Analytics. However, Tableau remains one of the leading companies in the marketplace in the field of data and analytics.