Pizza Hut Similar Companies and Competitors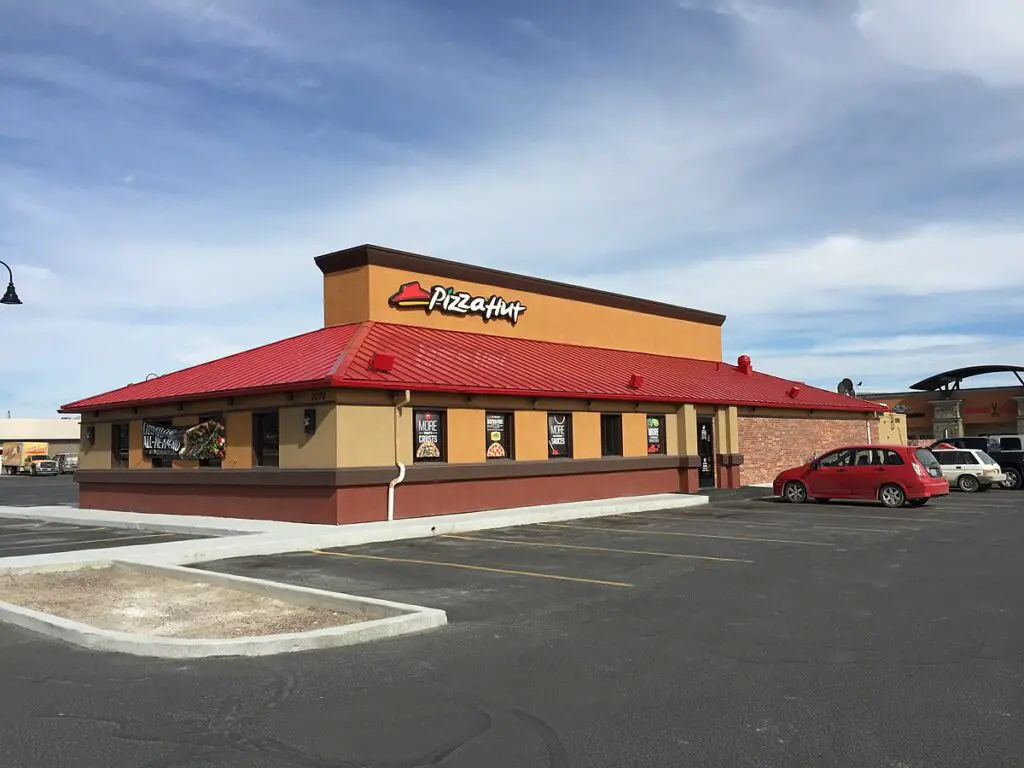 With 18381 restaurants in over 100 countries, Pizza Hut is one of the most famous eateries in the world. This pizza chain employs more than 300 thousand people. If you got tired of eating at this fast-food place or if it's unavailable in your country, let's learn more about companies like Pizza Hut.
How Pizza Hut Makes Money
Pizza Hut reports revenue of more than a billion dollars yearly. This multinational restaurant does quite well in the market, so let's see the means through which it makes money.
Pizza 
The main source of income for Pizza Hut is the profit it makes by selling pizza. Pizza Hut offers a wide variety of pizza choices, including the signature ones, like Ultimate Cheese Lover's Pizza. Foodies can enjoy them with an unlimited amount of salad from the salad bar. 
Other Food 
Lines in front of the Pizza Hut cashiers are not an unusual sight in most stores. Cheap and delicious meals are what drive people to become regular customers of this food chain. Some other food this restaurant sells is pasta, flatbreads, and sides. 
Drinks
All this food goes with drinks such as sodas, wines, beers, and hot drinks, like teas and coffees. Therefore, Pizza Hut makes most of its money by selling the food and drinks on site.
Online Delivery 
Another way Pizza Hut makes money is through its online delivery services. If you are feeling lazy and don't want to go out, you can choose to have food delivered to your home, and if you pay online, you can opt for contactless delivery. 
What makes Pizza Hut's online delivery profitable is the convenience that comes with it. Customers' favorite food is just a click away, which has been especially useful since the pandemic started. On top of it, Pizza Hut's app is user-friendly and intuitive, and it comes with a loyalty program, Hut Rewards. 
Franchising
A large amount of money that Pizza Hut makes comes from franchising. A client who wants to open a franchise needs to meet some very strict requirements. First of all, that person would need to have over $700 000 in net worth. Next, they would need to have at least $350 000 in liquid assets. Finally, the person would need to have previous restaurant ownership experience and strong credit history. As you can see, not anyone is able to just decide to open the Pizza Hut restaurant. 
Pizza Hut earns money through franchising by initially charging a new restaurant owner $25 000, then 6% of gross sales monthly, and 4.75% of national advertising gross sales. Most of the Pizza Hut restaurants do very well right from the opening, so this multichain fast-food place earns a lot of money daily through franchising. 
Companies Similar To Pizza Hut
Pizza Hut is a multinational pizza restaurant chain. Although it sells yummy food at affordable prices, it is not the only restaurant in the game. There are some Pizza Hut competitors you can choose from if you don't like this restaurant chain for whatever reason. The biggest rivals to Pizza Hut are Domino's, McDonald's, Papa John's, Little Caesars, Chuck E. Cheese, Subway, KFC, Wendy's, Taco Bell, Chick-fil-A, Arby's, and Wingstop.  
Let's discuss these Pizza Hut similar companies in more detail. 
Domino's
The biggest competitor and the most similar company to Pizza Hut is Domino's. This is the largest pizza chain in the world, with almost 16 000 stores in over 80 countries. Domino's started out as a small pizzeria in 1960, bought for only $500. Over time, it introduced a lot of features that are now the standard for pizzerias worldwide, such as guaranteed 30-minute delivery. Domino's offers a variety of pizzas hand-made from signature crusts, sauces, and the freshest ingredients. Domino's is a generally cheaper option than Pizza Hut.
McDonald's
One of the largest and the most widespread food chain restaurants in the world is McDonald's. The first McDonald's restaurant was opened in 1940 as a drive-through by two brothers. Today, it has almost 40 000 stores in 100 countries worldwide. 
McDonald's offers a lot of food items, but the most popular are signature burgers. Apart from the burgers, customers can enjoy sandwiches, fries, ice cream, breakfast, beverages, and more. 
The difference between Pizza Hut and McDonald's is that the latter doesn't sell pizza. Well, it does, but only at one location, in Orlando, Florida. However, these are similar companies because they are both widespread fast-food chain restaurants. 
Papa John's
This pizza chain's first restaurant opened in 1983 in Indiana when John, a 22-year-old, started baking pizza in his father's tavern. Now, this restaurant has almost 6 000 stores worldwide. 
Papa John's offers a variety of pizza deals, such as pepperoni, cheese, carbonara, margherita, and so on. It is the fourth-largest pizza chain in the world. While Pizza Hut is still in second place, Papa John's is slightly cheaper, and it has been steadily growing for the past few decades. It is one of the most similar restaurants to Pizza Hut. 
Little Caesars
This is the third-largest pizza chain in the United States, preceded only by Domino's and Pizza Hut. It has thousands of stores in 27 countries around the globe. Compared to Pizza Hut, which has stores in around 100 countries, it is not a lot, but Little Caesars is expected to grow more in the upcoming years. 
Little Caesars offers a variety of pizza types, such as thin-crust and deep-dish. It is similar to Pizza Hut, but a bit cheaper and with fewer options on the menu. 
Chuck E. Cheese
Chuck E. Cheese is an entertainment family center and a pizza chain restaurant that has stores in 17 countries all over the world, and in 47 states in the USA. They host kids' birthday parties and sell food and drinks. 
Although this company went into a huge debt over the past years and filed bankruptcy during the pandemic, the restaurant chain made a comeback and is still one of the favorite family places all over the world. It is similar to Pizza Hut because they sell signature pizzas as well and have stores globally. 
Subway
Subway is a multinational fast-food restaurant chain. It has more than 40 000 stores in over 100 countries. The restaurant sells salads, wraps, and the world-famous submarine sandwiches. Its annual revenue surpasses 8 billion dollars, and it employs over 400 000 people. 
While this restaurant doesn't serve pizza, it is also a fast-food chain like Pizza Hut is; Subway is similar to Pizza Hut when it comes to the popularity, deliciousness, and affordability of the food they sell. 
KFC
This restaurant chain is the most famous chicken-specialized restaurant in the world. It serves wraps, sandwiches, burgers, fries, desserts, drinks, and more. KFC has 25 000 stores across 145 countries worldwide, with another store opening every six hours.
While their menus are not similar, KFC and Pizza Hut are part of the same corporation, Yum! Brands, that operates five different restaurant chains, and all of them are very successful.
Wendy's
This is another fast-food restaurant chain that serves burgers, sandwiches, sides, beverages, and more. It has been operating since 1969, and it serves delicious food at affordable prices. Wendy's has 6 500 stores worldwide and employs almost 15 000 people. 
Similar to Pizza Hut, Wendy's has an application with a loyalty program that gives you discounts on certain foods and drinks. Although right now smaller than Pizza Hut, Wendy's has a huge base of loyal customers that is expected to grow in the future. 
Taco Bell
This is another restaurant operated by Yum! Brands. It is one of the five restaurants under this corporation, along with KFC, Pizza Hut, The Habit Burger Grill, and WingStreet. 
Taco Bell sells tacos, burritos, nachos, quesadillas, breakfast, drinks, and more. It is considered one of the healthiest fast-food restaurant chains. This restaurant also has an app and a reward loyalty program that can get you discounts and free food. This restaurant chain has almost 8 000 stores in more than 30 countries.
Taco Bell doesn't sell pizza, but it is similar to Pizza Hut because they are both fast-food restaurant chains spread all across the world. 
Chick-fil-A
Chick-fil-A is a fast-food restaurant chain specializing in chicken sandwiches. It also offers wraps, breakfast, salads, sides, a kids' menu, drinks, and more. 
This restaurant's revenue for 2021 was nearly 6 billion dollars, a 33% increase from the year before. It has been steadily growing, and it has almost 3 000 stores across three countries – USA, Britain, and Canada. Chick-fil-A will likely be opening more stores in the future, and possibly on more continents as well. 
If you like Pizza Hut but want to try some other food that is not pizza, make sure to check Chick-fil-A out if you haven't already. 
Arby's
Arby's is a sandwich restaurant chain that opened in 1964. It has more than 3 000 stores in eight countries. Arby's serves wraps, gyros, sandwiches, desserts, beverages, a kids' menu, and more. 
This restaurant doesn't serve pizza, but it is similar to Pizza Hut in terms of the inexpensive and delicious food they serve. 
Wingstop
This restaurant chain was founded in Texas in 1994, and it specializes in chicken wings. Wingstop has around 1 400 stores worldwide, all decorated following the aviation theme. 
Pizza Hut and Wingstop are both multinational fast-food restaurant chains, although their menus differ quite a lot. If you want to exchange pizza for some delicious chicken wings, Wingstop should be your choice.
Conclusion
Pizza Hut is a great choice for all the pizza lovers out there. Their standard and signature pizzas are delicious and inexpensive, and the restaurant has convenient locations all around the world. Pizza Hut's biggest competitor is Domino's – it is also a large restaurant chain specializing in making pizzas. While Domino's is generally a bit cheaper, it's difficult to say which restaurant sells more delicious food. It all depends on your taste, so make sure to try both!