Top 7 GameStop Competitors in 2023
GameStop, as the name suggests, is a one-stop shop for satisfying all your gaming needs, then be it for those online RPGs or AI-based offline tournaments. Back in the day, GameStop used to primarily deal with the customer directly via their numerous stores around the world. Today, however, considering the ongoing coronavirus pandemic, the company is focusing on its online sales to boost its no-contact policy.
GameStop, founded over 37 years ago, currently has close to 5000 outlets in several countries. It is THE largest gaming store in the US, and one of the biggest gaming franchises in the world! A fair warning: don't mistake this gaming giant for the information-only portal – GameSpot.
| | |
| --- | --- |
| Name | GameStop |
| Founded | 1984 |
| Headquarters | Grapevine, TX |
| SIC Code | 5932 |
| Status | Public Independent NYSE: GME, FWB: GS2C |
| Industry Sector | Retail/Digital Gaming |
| Employees | 35,000 (including part-time) |
| Trading Symbol | NYSE: GME |
GameStop similar companies:
Nintendo, Sega, Amazon, Sony, Microsoft, Best Buy, Valve, Carrefour and Auchan.
Who is GameStop's Biggest Competitor?
The biggest competitor of GameStop is Best Buy. It is one of the largest consumer electronics retailers in the US. With close to a thousand different locations throughout the States, Canada and Mexico, Best Buy has become the go-to store for anyone who wants to purchase an electronic item, especially console and PC games of all genres.
How GameStop Makes Money
GameStop is pretty famous in its niche – selling digital games and software. The games they sell are of all kinds, including console and PC games, and even abandonware in most genres. However, their main source of revenue comes from selling used games. Those who have already played a particular game and can get nothing more out of it sell it to GameStop for, say, half the original price. Then, GameStop decides the end selling price of the product after including their profits, but it is still far lesser than the original price.
Industry – Console Games (New/Old)
Back in the day, there were video/arcade games out of which GameStop made huge profits. Today, there are console games which are benefitting GameStop even more since they are higher priced than their traditional counterparts! The most popular consoles in the US are PlayStation by Sony, Wii by Nintendo and Xbox by Microsoft. They have so many games between them that it would take more than several lifetimes for a person to play and complete all of those!
And since the reach of these consoles extends to almost every gaming corner of the world, you would be hard put to measure their combined popularity. In fact, almost as many consoles are sold in several developing countries as in developed ones!
GameStop features quite a lot of console games in both their online outlets and offline ones. And if they don't have one in stock, then they will definitely place a request order, providing you with the said game in and under a week if possible. That is the beauty of GameStop: they don't stop until you get what you need!
Industry – PC Games (New/Old)
PC games are more popular than console ones, since almost every household in the US has a PC, for only a few can afford a console. Plus, the range in PC games is more extensive. For instance, there are quite a few console-specific games that can be played on PC, but there are many PC-specific games that haven't been converted for console use yet. The difference between the two is more apparent in the developing countries. Thus, PC gaming is a much larger industry than console gaming.
GameStop is well-known to stock almost every kind of PC game in the market, including those whose licenses have expired. Similar to console, if a certain PC game isn't available, then they will be sure to place an order for the same as soon as possible. If it is especially rare, like the WoW Collector's Edition, then they will search high and low for it and deliver it to your doorstep.
Competitors
Let us take a look at GameStop's top 7 competitors today.
Best Buy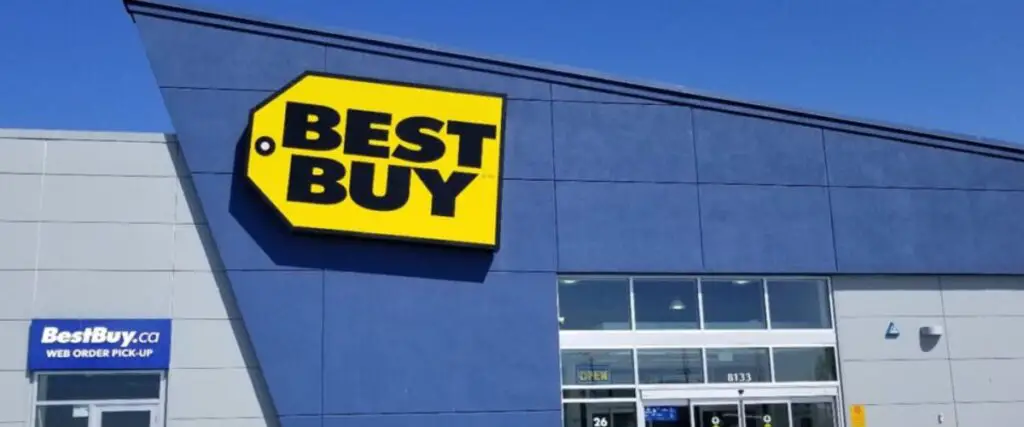 Best Buy is a top-rated consumer electronics store in the US. It also has a strong presence in Canada and Mexico. Though it deals in general electronic products, one of the company's main sources of income is digital games. Best Buy started off as a music retailer in 1966, established by Richard M. Schulze who acted as a founder and chairman till 2012 when he was ousted by the board of directors for violating some of the industry clauses.
Even today, its primary goal remains furnishing customers with music of all genres, but they have also expanded their business in other areas of electronics. New PC and console games can be found in plenty at any Best Buy store. You can even find a few good used games if you were to dig through their shelves enough.
Industry – Digital Games
Every Best Buy store in the world has a special section dedicated to selling video games, then be they for consoles, handheld devices or personal computers. They tend to stock all the latest games in almost every genre, and there is oftentimes even a pre-order facility available for certain popular games. They even deliver games over their online platform, www.BestBuy.com, where you can search and order any game you like!
But the primary arena in which Best Buy falls short of the gaming giant, GameStop, is used games. Best Buy does have many used games in their repertoire, but their collection is nowhere near that of GameStop. That may be because Best Buy entered the gaming industry a long time after GameStop, due to which several gamers, even today, prefer to sell their games to the latter.
Amazon
Needless to say, Amazon is one of the biggest online retailers in the world, not just in the US. Founded in 1994, it has rapidly grown to become the most valuable brand on the globe today. And if you didn't know already, Jeff Bezos, the company's founder, is currently the richest person on the planet! You can find all kinds of consumer products on Amazon, right from handmade goods to branded digital items. Their range of games, both digital and physical, is quite vast.
Industry – E-commerce
E-commerce uses the internet as a medium for conducting business transactions. And Amazon is one of the leading companies in this sector. Its contribution to this industry is so huge that nearly one-third of the total e-commerce sales in the US were done by Amazon last year! The gaming industry forms a part of this gigantic sector, and Amazon has contributed quite a bit to the digital gaming world as well.
New and used games both are available on the portal either by in-house retailers or third-party sellers. However, Amazon is not as popular as GameStop in the international market. Most people prefer to visit the physical GameStop store rather than shop online on Amazon, or even on GameStop's very own online website. But in the US, GameStop ranks much below Amazon in terms of overall sales.
Sony
The Sony Corporation is a Japanese multinational conglomerate that has its presence in almost every corner of the planet. It is one of the largest video game and consumer electronics manufacturers out there. The company runs on both B2B and B2C models, selling their products to game retailers and also directly to customers. 
Industry – Digital Gaming
GameStop stocks Sony's merchandise (PlayStation), so the two aren't really competitors. There are only a few cases wherein an official Sony store and a GameStop outlet in the same area can be competitors; for instance, in case either of the two stores are running an in-house discount on their products. Anyway, Sony's annual revenue is around $80 billion, way more than that of GameStop.
Microsoft
Founded by another one of the richest persons in the world, Microsoft is primarily a computer manufacturer and distributor. Also, Microsoft games were all the rage back in the day, but they barely focus on PC games today. Their main area of focus in the current times is the Xbox, an exclusive Microsoft gaming console that competes head on with Sony's PlayStation.
Industry – Digital Gaming
Again, Microsoft isn't a competitor of GameStop per se since its revenue is over $140 billion, but you can find local competition between the two stores in the US. Every GameStop outlet has several Microsoft PC and console games on their racks, so there obviously isn't direct competition involved.
Nintendo
Nintendo has come a long way from producing handmade playing cards to dominating the digital gaming arena. Founded way back in the 19th century, the year 1889 to be more precise, Nintendo has garnered an extra-loyal fanbase over the century that swears by their products even in this competitive generation. And not without good reason!
Industry – Digital Gaming
Nintendo was the top contender in the video game console market in the '90s, and today, it has made headways into the gaming trade with its technologically advanced Nintendo Switch. GameStop is the official physical store for purchasing Nintendo products, so again, these two companies aren't exactly competitors unless their prices clash (online vs. offline).
Sega
The Sega Corporation was founded over 60 years ago by experienced American gaming entrepreneurs, Martin Bromley and Richard Stewart. It started off as an arcade game manufacturer, eventually evolving into a video game developer. Back in the '80s and the '90s, only two video game console brands ruled the roost: Nintendo and Sega. While Nintendo was able to survive the onslaught of the newer competition, Sega wasn't.
Industry – Digital Gaming
Today, Sega only manufactures video games. Their console days are lost somewhere in the dust storm created by the likes of Microsoft and Sony. Though hopeful gamers vociferously stand by their beliefs that Sega would one day bounce back into the console world, we highly doubt that it actually ever would. Recently, Sega has collaborated with GameStop to promote and sell their Sega Genesis products.
Valve
In the rapidly progressing digital age that is apparent today, Valve is one of the most popular virtual game developers in the market. Founded in 1996, Valve became an instant success thanks to its flagship enterprise, Half-Life, which is loved by gamers around the world even today! Over the years, they have developed several other games, most of which are first-person shooters. But their major breakthrough arrived when they collaborated with Blizzard Entertainment to produce a short-battle version or Multiplayer online Battle Arena (MoBA) of the World of Warcraft enterprise – Defense of the Ancients (DotA).
Industry – Digital Gaming
Valve is famous for its Steam software that provides the end user unlimited access to its variety of games. Apart from its uber popular games like Counter-Strike and Team Fortress, it is also known for Portal, Day of Defeat and Left 4 Dead. Despite several disputes with other equally popular software developers like Vivendi Universal Games and Activision, Valve survived the battles, and eventually won the war through mutual collaboration.
Valve's major drawback was that it didn't have any physical stores to sell their merchandise. You could only buy their games online. However, currently, Valve has collaborated with several physical platforms like GameStop to allow their customers to make hands-on purchases. So again, though Valve isn't a direct competitor of GameStop, it has the potential to be one under certain circumstances.
Conclusion
The Top 7 GameStop Competitors: Nintendo, Sega, Amazon, Sony, Microsoft, Best Buy, Valve. Over the years, they have been regularly contributing over $650 billion to the gaming industry. Put together, all these companies, including GameStop, have close to one million employees with their fanbase extending to several billion people!
Competitor's Stats
| | | | |
| --- | --- | --- | --- |
| Name | Founded | Headquarters | Employees |
| Best Buy | 1966 | Richfield MN, US | 102,000 |
| Nintendo | 1889 | Kyoto, Japan | 6200 |
| Sega | 1951 (officially 1960) | Shinagawa City, Tokyo, Japan | 130 |
| Amazon | 1994 | Seattle WA, US | 575,700 |
| Sony | 1946 | Minato City, Tokyo, Japan | 111,700 |
| Microsoft | 1975 | Redmond WA, US | 166,475 |
| Valve | 1996 | Bellevue WA, US | 360 |
GameStop Competitor Crossword
Content from this and other articles on this website can be used as a crossword clue