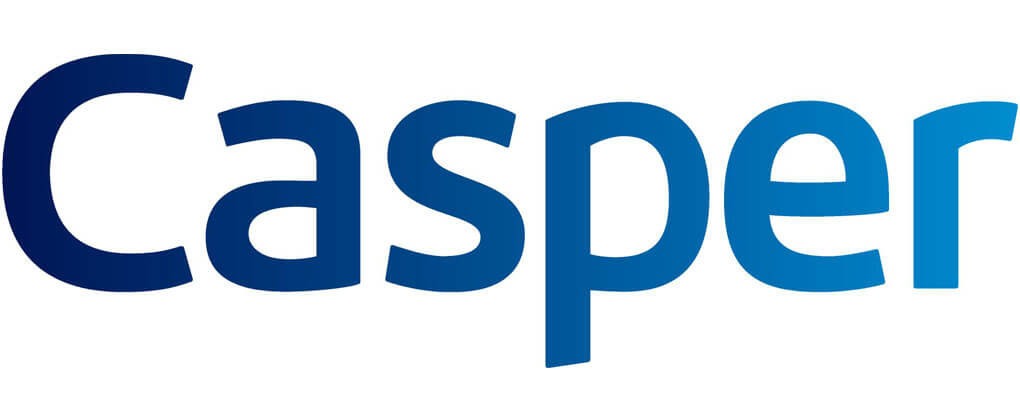 Casper is an American sleep company headquartered in New York City. It deals in mattresses, pillows, bed frames, and bedding such as duvets, sheets, and quilts. The company operates both retail locations and an eCommerce platform. Casper was founded in 2014 by Philip Krim, Gabriel Flateman, Jeff Chapin, T. Luke Sherwin, and Neil Parikh. Within its first month of launch, Casper sold sleep products worth $1 million. As of 2019, the company had 831 employees worldwide and a revenue turnover of $441.3 million. Casper closed down its European stores at the beginning of the year to focus on the North American market.

| | |
| --- | --- |
| NAME | Casper Sleep Inc. |
| FOUNDED | 2014 |
| HEADQUARTERS | New York City, New York |
| SIC CODE | 2510 |
| STATUS | Public |
| INDUSTRY SECTOR | Household Furniture |
| EMPLOYEES | 831 |
| TRADING SYMBOL | NYSE: CXPR |
Casper competitors include: Leesa Sleep, Tuft & Needle, Purple Innovation, Sleep Number, Tempur Sealy International, Helix Sleep, Kingsdown, Saatva, Mattress Firm, and FloBeds.
How Casper Makes Money
When Casper launched in 2014, it made $1 million in revenues within their first 28 days. It became an instant hit after endorsements from a number of celebrities including Kylie Jenner. The company packs its mattresses in a small box which is then shipped directly to the client. There are no middlemen. Buyers have up to 100 days to commit to the purchase or return the shipment.
Customers can order the mattresses through Casper's websites. The company has also partnered with top retailers such as Amazon and its products are available in over 2,000 locations in the US. The mattresses are made from memory foam and latex which makes their cost cheaper than an average mattress. They come in six different sizes and with a 10-year warranty. After the success of its mattresses, the company also ventured into other sleep products such as pillows, bed frames, and bedding.
Leesa Sleep
Leesa was founded in 2015 by Jamie Diamonstein and David Wolfe. The start-up manufactures and sells mattresses besides other sleep products such as pillows. It is one of the pioneers of bed-in-a-box technology. Leesa sells its products directly to consumers and was awarded the Best Memory Foam Mattresses by the Wirecutter. Buyers don't get charged for shipping and returns. Leesa donates one mattress to charity out of every ten sales. Headquartered in Virginia Beach, Virginia, the company had 70 employees as of 2019. Leesa made $400 million in revenues.
Leesa and Casper came to disrupt the mattress industry with their innovative products. They both use memory foam on their mattresses. But that's just where similarities between the two companies end. Most mattress review sites rate Casper mattresses as having a softer feeling while Leesa mattresses are firmer. The construction of Leesa mattresses also makes them cooler. Overall, Casper slightly pips Leesa to the top spot in terms of revenue.
Tuft & Needle
John-Thomas Marino and founded Tuft & Needle in 2012 in Phoenix, Arizona. The company manufactures mattresses and bedding which it sells directly to consumers. Tuft & Needle also earns its revenue from the sale of furniture bed frames, dog beds, and pouches. In 2018, Serta Simmons Bedding merged with the company even though it continues to operate as a brand of its own. Tuft & Needle earned about $200 million in revenues. As of 2019, the company had 123 employees.
Tuft & Needle's revenue has not been made public since its merger with Serta Simmons Bedding despite operating as a brand of its own. The last reported revenue was $170 million (2017) which analysts projected to rise to $200 million the following year. In spite of that, Casper posted better revenue than Tuft & Needle. Tuft & Needle seems content with living in the shadows of its parent company.
Purple Innovation
Headquartered in Lehi, Utah, Purple Innovation is an American comfort technology company that produces mattresses, pillows, platform bases, seat cushions, and back cushions. It also sells its products directly to consumers. The company was established by the Pearce brothers Terry and Pearce in 2015. They had started out in 1989 by creating carbon fiber wheelchairs and sporting goods. They later registered EdiZone LLC which patented 23 trademarks for hyper-elastic polymers, cushioning materials, and fluids. In 2013, they patented Mattress Max machine that enabled them to use larger pieces of polymers for making mattresses. A king-size mattress in 2015 marked the entry of Purple Innovation into the mattress industry. Its revenue for 2019 was $428.4 million. The company employs 875 people.
Purple innovation is almost at the same level as Casper when it comes to revenues. But Casper just edges it out with a small margin even though Purple has a broader product portfolio compared to the former. While the two companies are some of the largest brands in the mattress industry and all make foam mattresses, Purple uses a hyper-elastic polymer grid which makes its mattresses feel weightless. It is more popular among backpackers than regular users.
Sleep Number
Sleep Number has its headquarters in Minneapolis, Minnesota. But it also operates manufacturing and distribution centers in Utah and South Carolina. Besides its Sleep Number 360 and Comfortaire bed brands, the company also makes foundations and bedding accessories. Sleep Number was founded in 1987 by Bob Walker and his wife as Sleep Comfort. It rebranded to its current name in 2017. With operations in the US and Canada, Sleep Number runs about 579 stores. It had 4,476 employees as of 2019. Its revenue turnover was $1.69 billion.
While Casper is the new kid on the block, Sleep Number has been around for quite some time. Casper came to interrupt the mattress industry with its direct-to-consumer business model. But going by Sleep Number's revenues, the hit had no impact on it. The company is popular for its adjustable air beds' ability to adjust the support and firmness. Sleep Number also offers buyers the choice of choosing from four different types- Classic, Performance, Innovation, and Sleep Number 360 series.
Tempur Sealy International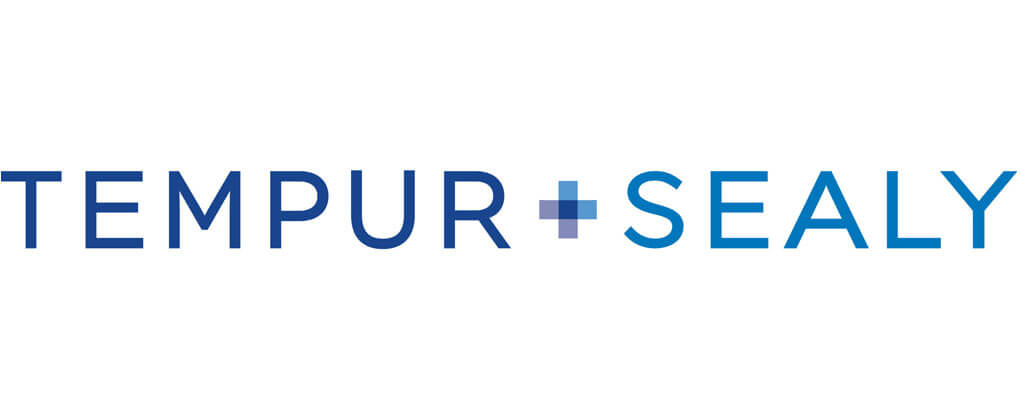 Tempur Sealy International was established in 2012 after Tempur-Pedic International bought off Sealy Corporation. At the time, Sealy Corporation was Tempur-Pedic International's biggest competitor when it came to manufacturing foam mattresses. Tempur Sealy International manufactures mattresses, pillows, foundations, and other sleep products. The company operates in the US with third-party retailers selling its products outside of the US. Some of its brands include Tempur, Sealy, Tempur-Sedic, Stearns & Foster, and Posturepedic. Tempur Sealy International is headquartered in Lexington, Kentucky. It has 7,400 employees. Its revenue for 2019 was $3.1 billion.
While Casper is a trend-setter in the mattress-in-a-box space, Tempur Sealy International is a household name in the industry. It has a range of sleeping products that are suited to almost every type of sleeper. Casper's revenue is only a fraction of that of Tempur Sealy International. There have been rumors of Tempur Sealy International acquiring Casper. The company said there has never been a discussion about purchasing Casper.
Helix Sleep
Helix Sleep serves customers both in the United States and Canada. It expanded to Canada in 2016. The US buyers get to have their orders shipped for free. The company makes custom-made mattresses that can be personalized to an individual buyer's preferences. It has a showroom in Soho, Manhattan where buyers get the opportunity to test their personalized products. Jerry Lin, Adam Tishman, and Kristian Von Rickenbach founded Helix Sleep in 2015. Headquartered in New York City, New York, the company employs 27 people. Its revenue for 2019 was $50 million.
Helix Sleep and Casper came into the market at almost the same time with Casper slightly ahead. But Casper caught on immediately and was an instant hit. Perhaps the celebrity endorsements it got helped propel it to the top. Five years into the industry and Casper makes more than 8 times what Helix Sleep generates in revenues.
Kingsdown
Kingsdown specializes in making handcrafted mattresses. It has manufacturing plants in Virginia, Texas, Florida, and California. A.N Scott and W.W. Cobert founded the company in 1904 in Mebane, North Carolina, under the name The Mebane Bedding Company. It was later rebranded to Kingsdown. The company has since then expanded its operations to the international markets with operations in China, South Korea, UAE, and Taiwan. As of 2019, Kingsdown had 350 employees on its payroll and a revenue turnover of $350 million.
Kingsdown has been in the mattress industry for over 95 years. It has also expanded its operations into the international markets where its products are sold through licensed partners. But the new kid on the bloc, Casper, has easily overtaken it since its entry into the industry five years. If it is ever said that Casper disrupted the mattress industry, then Kingsdown is one of the casualties of the disruption.
Saatva
Headquartered in New York City, New York, Saatva's specialty is in luxury mattresses. The company offers three mattress brands including the Saatva Luxury Mattress, Loom and Leaf Memory Foam Mattress, and Zenhaven Natural Latex mattress brand. Founded in 2011 by Ron Rudzin and Ricky Joshi, the Saatva Luxury Mattress brand was its initial product before it expanded to the other brands. Saatva sells its products exclusively online without any brick-and-mortar store. The company had a revenue turnover of $375 million in 2019. It had 190 employees.
Saatva and Casper have been a hit since they came into the market. They both provide their customers with high-value sleeping products and their economic pricing models have won them fans. On any other level, it is a tough call deciding which of the two companies has an upper hand over the other. But when it comes to revenues, Casper is clearly leading the way.
Mattress Firm
Mattress Firm was founded in 1986 by Steve Fendrich, Harry Roberts, and Paul Stork. The company was established with the aim of helping buyers find sleep products within their budgets. Mattress Firm has since grown into one of the largest specialty mattress retailers in the US. It has operations in 19 states and offers a wide selection of bedding accessories besides mattresses. Steinhoff International Holdings acquired Mattress Firm in 2016 and the company now operates as its subsidiary. Headquartered in Houston, Texas, Mattress Firm had 10,000 employees as of 2019 and $3.4 billion in revenues.
In the last four years, Mattress Firm's revenue has stagnated around the $3 billion mark. As a mattress retailer, Casper's direct-to-consumer business model is a big threat to its existence. In 2018, Mattress Firm filed for bankruptcy and has since been closing down a number of stores across the US. The company is one of the mattress industry players feeling the heat of the disruption caused by mattress start-ups such as Casper.
FloBeds
FloBeds was founded in 1971 by Dave, a Stanford University student, in Palo Alto, California. It was a specialty sleep business selling waterbeds. The company, family-owned, has since morphed into a personalized mattress manufacturer. FloBeds sells its products both within and outside the US. as of 2019, the company had 597 employees and posted $357.89 million in revenues.
FloBeds is another early starter in the mattress industry that has been overtaken by Casper. But is holding up quite well. The fact that it is family-owned means it has the flexibility to adapt to changes in its business environment. Casper, being a public company, will have to seek the approval of investors before making any major investment decisions. FloBeds can overtake Casper in a few years' time.
Conclusion
The top 10 Casper competitors are: Leesa Sleep, Tuft & Needle, Purple Innovation, Sleep Number, Tempur Sealy International, Helix Sleep, Kingsdown, Saatva, Mattress Firm, and FloBeds. Their combined revenue for 2019 was $10.35 billion. They had a total of 24,108 employees among them.
While many of Casper's competitors focus on mattresses and cushions, younger companies keep up and develop in the field of more affordable but equally useful sleep accessories. Companies like Mela are winning the weighted blankets market and their products like Mela Premium Weighted Blankets are now at their peak. That's why big brands shouldn't relax. As companies are developing much faster in the modern world, the balance of power may soon change.
Competitors Stats
| | | | |
| --- | --- | --- | --- |
| NAME | FOUNDED | HEADQUARTERS | EMPLOYEES |
| Leesa Sleep | 2015 | Virginia Beach, Virginia | 70 |
| Tuft & Needle | 2012 | Phoenix, Arizona | 123 |
| Purple Innovation | 2015 | Lehi, Utah | 875 |
| Sleep Number | 1987 | Minneapolis, Minnesota | 4,476 |
| Tempur Sealy International | 2012 | Lexington, Kentucky | 7,400 |
| Helix Sleep | 2015 | New York City, New York | 27 |
| Kingsdown | 1904 | Mebane, North Carolina | 350 |
| Saatva | 2011 | New York City, New York | 190 |
| Mattress Firm | 1986 | Houston, Texas | 10,000 |
| FloBeds | 1971 | Palo Alto, California | 597 |