Cadbury Competitors and Similar Companies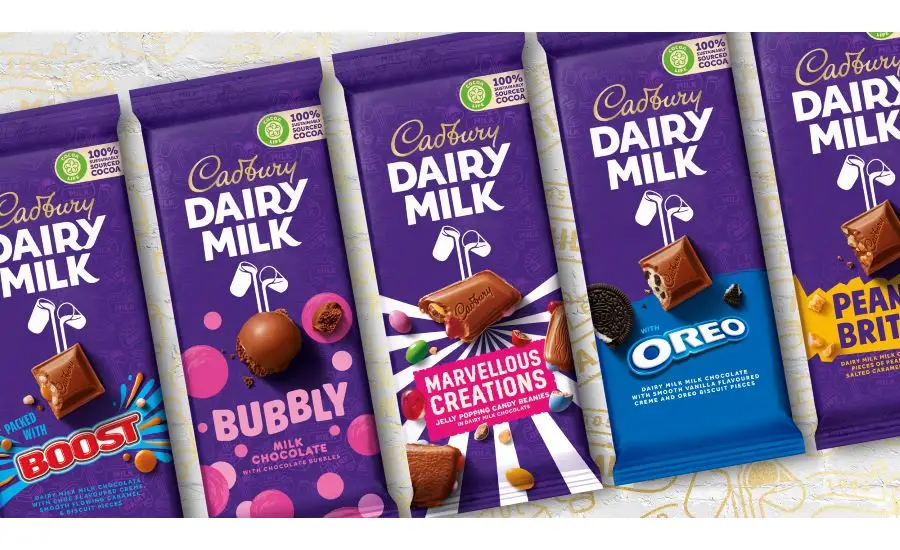 Cadbury (formerly Cadbury and Cadbury Schweppes) is an international food and beverage company operating in the most developed countries of the world. It started crudely as a domestic business before the  ownership of the company was transferred to Mondelez International (originally Kraft Foods) in 2010.
Cadbury was founded in 1824 in Birmingham, England, by John Cadbury. John Cadbury traded with his brother Benjamin, followed by his sons Richard and George. 
Cadbury has become the second-largest confectionery brand in the world after Mars. 
| | |
| --- | --- |
| NAME | Cadbury  |
| FOUNDED | 1824 |
| HEADQUARTERS | Uxbridge, London |
| SIC CODE | 5145 |
| STATUS | Private Company (subsidiary) |
| INDUSTRY SECTOR | Food and Beverage (confectionery) |
| EMPLOYEES | 45,000 |
| TRADING SYMBOL | NYSE: CBY |
How Cadbury Makes Money
Confectionery sales and promotion
Cadbury manufacturing facilities churn out about a million batches of confectioneries per day. Cadbury promotes large-scale milk and chocolate consumption in kids' and adult diets. The company also sells largely in the same respect. 
Cadbury Similar Companies 
The 10 biggest rivals to Cadbury are:
Hershey's
Mars
Nestle
Ferrero
DOVE
Kraft Foods
Lindt
Milka
Kinder
Godiva
Cadbury is a world leader in the exciting confectionery industry, a large and growing brand-driven industry. The company operates in over 60 countries. 
Confectionery has a large retail market (over $150bn worth). The market is growing steadily, and the rising is brand-led and demand is impulse-driven.
Cadbury has recently generated annual revenue of 5.4 billion euros, owning a market share of over 10% of the total confectionery market.
The Confectionery & Snacks segment is expected to attain a second-time high revenue of US $1.56 trillion in 2022. This forecast predicates a growth of 5.09% annually (CAGR 2022-2027).
In a global comparison, most of the estimated sales are generated in the United States ($292.4 billion in 2022). Based on the total population of 2022, sales per capita will be $204.8 billion at the end of the year.
Now, let's discuss more of the top 10 Cadbury competitors: 
Hershey's
Hershey's was established by Milton S in 1894. The American company manufactures candies and baking products to be distributed and sold worldwide. Pennsylvania is the location of Hershey's corporate headquarters. 
Hershey Chocolate Company is a subsidiary of the Lancaster Caramel Company. The Hershey's Company owns a minority interest but holds most of the voting rights within the company.
Hershey's Chocolate is sold in over 60 countries around the world, including the United States. The company has state-of-the-artwork management systems across its distribution centers. 
Similarities between Hershey's and Cadbury
Both companies use dehydrated milk for their chocolate products
Both confectionery companies have better bargaining with their suppliers
Mars
Mars Wrigley Inc. was founded in 1911 by Franklin Clarence Mars in Tacoma, Washington. Forbes ranked Mars as the sixth-largest privately held company in the United States. Mars has its headquarters in McLean, Virginia, USA. The Mars family totally owns the company.
Mars operates through four businesses worldwide, including Food (Rancho Dominguez, CA) and MARS Edge (Germantown, Maryland), the company's Life Sciences division.
The company deals in products that range from chocolate to bubble gum, etc. More than 34,000 employees are engaged to work hard and improve how they procure, manufacture, and sell their products so that consumers can enjoy more products. 
Similarities between Mars and Cadbury
Both giant chocolate companies contribute to food science and health (Symbio-science)
| | | | |
| --- | --- | --- | --- |
| Annual Revenue | Funding | Headquarters | EMPLOYEES |
| $40 billion  | N/A | Virginia, US | 130,000 |
Nestle
Nestle S.A. is a Swiss beverage processing corporation with subsidiary branches in many confectionery-leading countries worldwide. It has been the largest publicly held food company worldwide, measured by revenue and other metrics, since 2014. It ranked No. 64 on the Fortune Global 500 in 2017 and No. 33 in the 2016 edition of the Forbes Global 2000 list of the largest public companies.
Nestle has multiple best-selling brand products which include; Nescafé, KitKat, Smarties, Nespresso, Nesquik, and others. Two-thirds of Nestlé brand's signature products record annual sales of over $1.1 billion. 
Similarities between Nestle and Cadbury
Both companies spend huge money and time on research and on new plants
Both chocolate brands use dairy milk for confectionery products 
| | | | |
| --- | --- | --- | --- |
| Annual Revenue | Funding | Headquarters | EMPLOYEES |
| $111 billion | N/A | Vevey, Switzerland | 293,603 |
Ferrero
Ferrero Rocher was established in 1979. The brand majorly deals in hazelnut chocolate.  The chocolate products are produced by the Italian company, Ferrero. After the confectionery brand was introduced in 1979 it expanded to other parts of Europe in 1982. Michele Ferrero is recognized as the product's creator. Rocher is popular with a common chocolate product, "Ferrero Rocher".
Aggregately, 3.6 billion Ferrero Rochers are sold annually in more than 42 countries. This includes 28 countries in Europe including the United Kingdom, 8 Asian nations, 5 African nations, including South Africa, 9 American nations, including Canada, and 2 Oceanian nations, including Australia.
Similarities between Ferrero and Cadbury
Both create chocolate bars using the same choice (12) ingredients, including almonds, raisins, peanuts, etc. 
Both companies have sold chocolate in more than 120 countries
DOVE
DOVE (sold as Galaxy in the UK, Ireland, Middle East, India, and Australia) is an American brand of chocolate owned and manufactured by Mars Corporation. DOVE manufactures a variety of chocolate candies as well as other chocolate products such as milk, cakes, and ice cream.
DOVE was launched in the UK in 1960 as the Galaxy. In 1986, the company was acquired by Mars, Incorporated. The brand's flagship products include the Dub Milk Chocolate Bar and the Dub Dark Chocolate Bar.
DOVE brand products include; dark chocolate, milk chocolate fruits, nuts, Minstrels, caramel, Ripple (milk chocolate with a folded or "rippled" milk chocolate center), Duetto, etc.
Similarities between DOVE and Cadbury
Both companies design chocolates with different styles and flavors, e.g., dark chocolate and peanut butter candy
Both companies provide job opportunities for experts who conduct research into new tastes for confectionery manufacturing
| | | | |
| --- | --- | --- | --- |
| Annual Revenue | Funding | Headquarters | EMPLOYEES |
| $50 million | – | New Jersey, US | 257 |
Kraft Foods
The Kraft Heinz Company was founded when the owners of Heinz, Berkshire Hathaway and 3G Capital, arranged for a merger. After the deal was announced, Kraft shares about 17% in pre-market deals. The deal brought Heinz back to the public market after being acquired two years later. The company completed the merger on July 2, 2015. The merger makes it the 5th largest food and beverage company in the world.
The company was split into a snack food company and a grocery company to serve more needs. This was done in order to meet the goal of serving the North American grocery demands.
Similarities between Kraft Foods and Cadbury
Both companies compare in sales volume
| | | | |
| --- | --- | --- | --- |
| Annual Revenue | Funding | Headquarters | EMPLOYEES |
| $25 billion | N/A | Illinois, US | 38,000 |
Lindt
Lindt started from a little beginning in 1836 with David Sprüngli-Schwarz and his son Rudolf Sprüngli-Ammann. They had a small confectionery shop in the old town of Zürich, where they produced chocolates under the name David Sprüngli & Son. The sons took up the brand as a legacy from their father, and one of the sons kept what became Lindt today. 
Lindt has opened over 410 chocolate cafés and shops all over the world. The café's menu mostly focuses on chocolate and desserts. The Lindt Chocolate Café also sells homemade pralines, macaroons, cakes, and ice cream.
Similarities between Lindt and Cadbury
Both Cadbury and Linz convey the brand similarly in a cross-cultural sense
Both brands rely on sugar/fat ratio rather than cocoa for traditional chocolates
| | | | |
| --- | --- | --- | --- |
| Annual Revenue | Funding | Headquarters | EMPLOYEES |
| $5 billion | N/A | Kilchberg, Switzerland | 14,000 |
Milka 
Milka is a widely-known chocolate confectionery brand. The company was founded by Suchard in Switzerland in 1901. Milka has since been manufactured in Lörrach, Germany, for 100 years. Milka is one of the most popular and well-known chocolate brands in the world. 
The brand became owned by US-based Mondelez International in 2012 when it began to follow in the footsteps of its predecessor, Kraft Foods, which acquired the brand in 1990. 
Similarities between Milka and Cadbury
Both companies make chocolate bars using the same ingredients
Both chocolate brands are owned by Mondelez
| | | | |
| --- | --- | --- | --- |
| Annual Revenue | Funding | Headquarters | EMPLOYEES |
| > $25 million | – | Switzerland | 100-250 |
Kinder
Kinder Chocolate, creamy chocolate stuffed with milk, was introduced to the German and Italian markets in 1968. The product launched with commercial success and later sold in other European countries.
A child's face is drawn on the right side of the children's chocolate bar package (first by Günter Euringer, then by Matteo Farneti) to convey ideas for children's products to shoppers. 
Kinder brand products include multiple flavors sold in more than 125 countries around the world, in addition to its candy bars. 'Kinder Bueno' is a duo set of chocolate bars stuffed with hazelnut cream. 
Similarities between Kinder and Cadbury
Both brands make confectioneries that target both kids and adults
Godiva
Godiva Chocolatier is a Belgian chocolate company owned jointly by Turkish agglomerate Yildiz Holding and the Korean investment firm MBK Partners.
The company was created in 1926 and acquired by Yildiz Holding of Turkey in November 2007. After that, MBK Partners purchased the shares in 2019. More than 600 Godiva locations are owned and operated across North America, Europe, Asia, and over 10,000 specialty retailers.
Godiva opened close to 2,000 coffee shops around the world over six years. The concept intended is to introduce more chain-like products, such as Espresso drinks and Croissant sandwiches. 
Similarities between Godiva and Cadbury
Both make chocolates from finely blended cocoa beans to ensure a premium taste
| | | | |
| --- | --- | --- | --- |
| Annual Revenue | Funding | Headquarters | EMPLOYEES |
| $780,000 | – | Midtown, Manhattan | 5,000-10,000 |
CONCLUSION
Cadbury's biggest competitor is Hershey. Hershey's has a long-standing record of confectionery production using improved CAM technology, and it is instituted by a large portion of shares owned by a large wealth of investors.
The confectionery market has grown globally. Best-selling confectionery brands have leveraged with a few more manufacturing factories and cocoa farms (involving deals for planting and supply of raw materials).