Top 7 Johnson & Johnson Competitors in 2022
Johnson & Johnson (J&J) is a US-based business that operates all over the world. It mainly deals in pharmaceuticals, medical gadgets, and other consumer goods. It is currently placed 36 on the Fortune 500 list, but it definitely has the potential to rank higher. Why you may ask? Let's face it, barely anyone on the entire globe hasn't heard about J&J, thanks to its wide range of offerings!
The company and its founder themselves have rich histories spanning over 135 years. Before J&J was established, Robert Wood Johnson, the founder, had gained extensive experience as a pharmaceutical apprentice at a local apothecary in Poughkeepsie, NY. And in January of the year 1886, he along with his brothers, James Wood Johnson and Edward Mead Johnson started their business under the Johnson & Johnson name, manufacturing sterile surgical dressings with the help of only 14 employees.
| | |
| --- | --- |
| Name | Johnson & Johnson |
| Founded | 1886 |
| Headquarters | New Brunswick, NJ, US |
| SIC Code | 2834 |
| Status | Public Independent Company of NYSE |
| Industry Sector | Pharmaceuticals |
| Employees | 134,500 |
| Trading Symbol | NYSE: JNJ |
J&J's common stock is a component of the Dow Jones Industrial Average, and its subsidiaries include the likes of Acclarent, Tibotec, Janssen Biotech, Cilag, Synthes, etc. However, the best part is that J&J is only one of the two American businesses to hold the AAA prime credit rating, essentially making it more valuable than the US government!
So is it really possible for anyone to compete with such a prestigious and well-established company? Do any of the current US-based or international businesses dealing in J&J's sectors have the potential to overtake such a huge organization? Or is some other business already bigger than J&J? Let's take a look at the top 7!
Johnson & Johnson's similar companies:
Pfizer, Merck, Unilever Merck, GlaxoSmithKline, Bayer, Abbott, Bristol Myers Squibb, Medtronic.
Who is Johnson & Johnson's Biggest Competitor?
The biggest competitor of J&J is Pfizer. Known as the world's premier pharmaceutical company, Pfizer is even older than J&J, with its roots tracing back to 1849. This glorious business was established by two German immigrants, Charles Pfizer and Charles F. Erhart in Williamsburg, Brooklyn, NY. They started off with the production of a unique antiparasitic called santonin, but it was their citric acid production in the late 1880s that made them super famous!
How Johnson & Johnson Makes Money
J&J is into many different types of consumer goods, but its main line of business is pharmaceuticals. The company manufactures medicines and medicinal products, selling them at the wholesale price (often less than that even) to various hospitals, medical shops, research institutes, medical reps, etc. around the world. Customers may also buy directly from their company stores at less than the market price.
The entire list of J&J's products is vast, and they are mostly related to the personal health and hygiene sector. Apart from the regular pharmaceutical medicines, there are the J&J medical devices that combine technology and surgical expertise to bring about some really amazing products. You can also find healthcare, self-care, and beauty/skin products at any of its distributor's outlets.
Industry – Pharmaceuticals
J&J's biggest money driver is obviously its pharmaceutical line. Nearly 53% of its more than $80 billion business comes from this sector. You can find J&J tablets and syrups to cure a number of ailments at almost every medical store in the US and beyond. It is a brand that is trusted and admired throughout the world!
Did you know that J&J has also developed a vaccine to battle the ongoing COVID-19 crisis? Researched and created by Janssen Pharmaceuticals, a subsidiary of J&J, in the Netherlands, the vaccine has already hit the market in several parts of the world. With a 66% preventive immunity to symptomatic coronavirus and an 85% to 100% efficacy, the Janssen vaccine ideally requires only one dose, unlike most other vaccines which require 2-3 doses to be effective.
Industry – Personal Health
Self-care products from Johnson & Johnson include pain relief measures and pills, cigarette smoking prevention tablets, allergy antacids, and regular cough/cold medicines. The company also produces essential health products for men, women, and children like wound care and oral health care items.
But their major offering in this sector falls in the beauty and skincare category. J&J's beauty products compete with the best in the trade, with their top-notch cleansers, moisturizers, sunscreens, and acne and eczema treatments. Plus, you can never go wrong with their skin assessment tests provided all around the world.
Competitor – Pfizer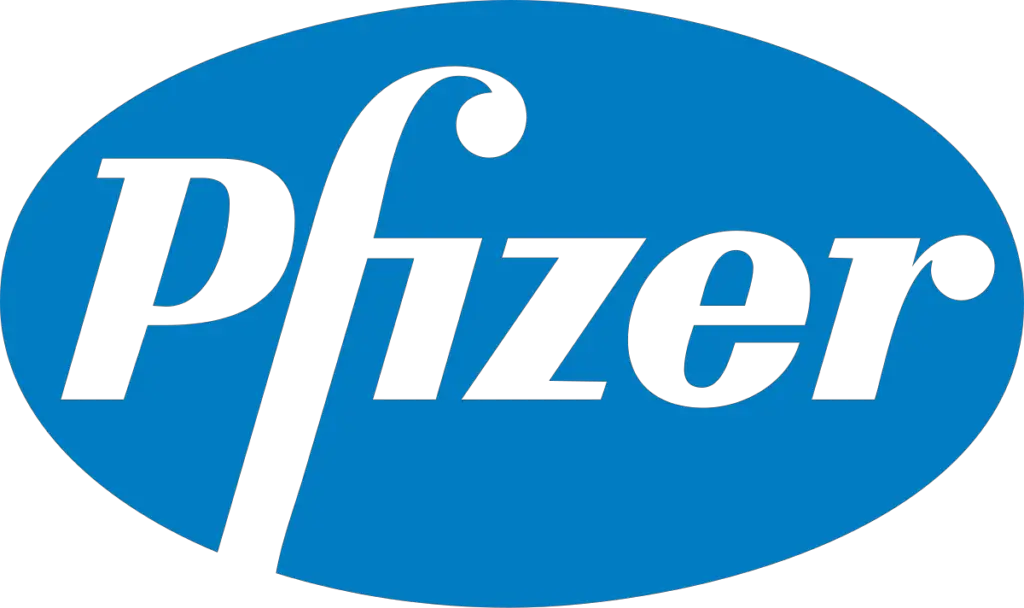 Pfizer, just like J&J, is a US-based pharmaceutical and biochemical company that has been making headways into the medical industry since its inception in 1849. Its original founders, Charles Pfizer and Charles Erhart are long gone but their legacy remains. The company's current CEO and chairman is Albert Bourla, a Greek vet who grew up the ranks from within Pfizer itself. Previously, he worked as a COO at the company. And given the vastness of the organization, Pfizer has 8 different directors!
Though Pfizer has established its presence all around the world, over 52% of its $41 billion revenue still comes from the US, its home country. Did you know that over the years, the organization has brought to life more than 4000 greenhouse gas (GHG) reduction programs? No wonder Pfizer is one of the leading brands in the pharma sector!
Industry – Pharmaceuticals
Pfizer is known to research and produce medicines in various sections of the pharma industry. The company has quite a few blockbuster drugs under its belt (medicines that generate more than a billion dollars for the firm in yearly revenues), namely Prevnar 13 ($5.9 billion), Ibrance ($5.4 billion), Eliquis ($4.9 billion), Xeljanz ($2.4 billion), Enbrel ($1.4 billion), Vyndaqel ($1.3 billion), and Xtandi ($1 billion). However, the company's most notable contributions lie in the vaccination sector.
Pfizer is almost always one of the first to research, produce, and distribute vaccines during any epidemic. The most recent example is the Pfizer-BioNTech (Comirnaty) vaccine for COVID-19. It was already in phase III trials by November 2020 (one of the first), eventually confirming that it has over 91% efficacy after the second dose. Comirnaty is currently being distributed all around the world.
Competitor – Merck

The Merck Group, simply known as Merck, is THE oldest existing pharmaceutical company in the world. Its origins can be traced right back to the 17th century. It so happened that sometime in 1668, Friedrich Jacob Merck, an experienced German pharmacist, took over a city pharmacy, Engel-Apotheke, in Darmstadt, Hesse, Germany. After working on it for 10 years, he died without any children, thus handing over the reins to his nearest successor, a nephew named Georg Friedrich Merck.
However, the Merck company didn't really see the light of day till the 19th century. In 1816, Emanuel Merck, a direct descendant of Friedrich, was vastly knowledgeable about medicines when he came into his inheritance. Thus, he was able to develop several beneficial drugs which he began mass-producing 11 years later. But the company didn't get its name, Merck, until the 1890s when it had expanded into the US.
Industry – Pharmaceuticals
Today, Merck (the company) is one of the leading innovators in the pharma niche, developing and distributing a number of drugs and vaccines every year. Its headquarters still remain in Darmstadt, but its reach has expanded to over 66 different countries! Merck primarily deals in medicine and healthcare products, but it also has a healthy presence in life sciences and electronics. In the latter, it is mainly known for its production of authentic and long-lasting semiconductors.
Merck entered the coronavirus vaccine race a bit late, so they had to scrap their vaccine production plans. Instead, they decided to manufacture vaccines produced by other companies. Their revenue is somewhere around $47 billion.
Competitor – GlaxoSmithKline

GlaxoSmithKline plc (GSK) is a British pharmaceutical company whose roots can be traced back to 1873 when Joseph Edward Nathan founded a trading company in Wellington, New Zealand. He initially gave it his own name, Joseph Nathan and Co. which was later changed to Glaxo in the early 1900s, a time when the company started producing dried milk baby food.
Today, GSK's headquarters lie in London, England, officially making it a British company. Glaxo's name was changed to GlaxoSmithKline in the year 2000 after the merger of Glaxo Wellcome and SmithKline Beecham. Did you know that Forbes has ranked it number six among the world's largest pharmaceutical companies?
Industry – Pharmaceuticals
GSK's main focus lies in manufacturing medicines to tackle major, widespread diseases like infections, diabetes, asthma, etc. It has also been manufacturing and distributing the malaria vaccine, especially in Africa. However, GSK started the vaccine production for COVID-19 a bit late, due to which it is still yet to begin mass production.
Other products from GSK include oral health like Aquafresh and Sensodyne, healthy milk mixers like Horlicks, cigarette smoking replacements like Nicorette, and so many more! Their revenue ranges in the $47 billion mark.
Competitor – Bayer

Bayer is a German multinational pharma company established on August 1, 1863, by Friedrich Bayer in Barmen, Germany. It began as a dyestuffs factory whose primary offerings were fuchsine and aniline. It was about 67 years later that Bayer moved its headquarters to its current location, Leverkusen, Germany.
An interesting fact to note here is Bayer's invention and distribution of the addictive drug, Heroin, in 1898. They had developed it solely as a cough suppressant, but when the drug's disastrous side effects came to light in the early 20th century, they had to discontinue its production. Currently, Bayer has a revenue of over $50 billion.
Industry – Pharmaceuticals
Bayer distributes its products worldwide, but the market for its top-selling medicines is to be found in Germany. Drugs like Xarelto, Eylea, Adempas, and Xofigo are their most popular medicines on the market. Apart from disease prevention and curing drugs, Bayer also deals in agricultural pesticides, fungicides, and insecticides. Additionally, Bayer started the coronavirus vaccine race a little late, due to which their vaccine is slated to come out sometime in December this year.
Competitor – Abbott

Abbott Laboratories, simply called Abbott for short, was founded by Wallace Abbott as the Abbott Alkaloidal Company in Ravenswood, Chicago in the year 1888. Given its rapid popularity in the region, the company was able to make its presence known on international waters by establishing a branch in London, England in 1907.
Today, Abbott's headquarters are located in its namesake area, Abbott Park, IL, US. It mostly deals in healthcare, but its generic pharmaceutical medicines are also quite popular among the masses.
Industry – Pharmaceuticals
You might have heard about Pediasure, the milk powder for kids. Abbott had heavily marketed this product in the past, due to which their popularity grew ten-fold. They have many such nutritional products under their belt that help them make great profits. However, a considerable part of their $34 billion revenue comes from diagnostics and medical devices, including a few pharmaceutical products.
Competitor – Bristol Myers Squibb

An American pharmaceutical company, Bristol Myers Squibb (BMS) was founded in 1858 as the Squibb Corporation by Edward Robinson Squibb in Brooklyn, NY. Edward Squibb wasn't just a proficient pharma genius, but also an author of several books on the genre. His quality control standards were once the best in the trade!
Today, BMS is consistently featured in the Fortune 500 list, with its overall revenue almost always crossing the $40 billion mark. Its headquarters are currently located in New York City, NY.
Industry – Pharmaceuticals
BMS's pharmaceutical products are used for the prevention and cure of various diseases. Many cardiovascular diseases can be tackled by their Avalide and Coumadin medicines. Glucophage and Bydureon for diabetes, Megace and Baraclude for infectious diseases like HIV, and Erbitux and Lysodren in oncology. However, they didn't start the production of the COVID-19 vaccine, instead opting to manufacture and distribute other company's products.
Competitor – Medtronic

Medtronic, as the name might suggest to you, is a medical device manufacturer based in Fridley, MN, US. It is one of the newbies in the medicine industry, but that might just be due to its focus on digital equipment. Founded in 1949 by Earl Bakken, it started off as a medical device repair store in Minneapolis. Only in the late 1950s did it expand its offerings to custom-made devices.
Industry – Medical Equipment
These days, you can find Medtronic's medical devices in many hospitals in the US and beyond. Indeed, it was once the largest medical equipment manufacturer in the world! It currently has its presence in over 140 countries with annual revenue of over $30 billion.
Conclusion:
The Top 7 Johnson & Johnson Competitors: Pfizer, Merck, GlaxoSmithKline, Bayer, Abbott, Bristol Myers Squibb, Medtronic. Together, including the revenue of J&J, they contribute nearly $342 billion in annual revenues to the medical sector. Their total employee count is close to 730,000.
Competitor Stats
| | | | |
| --- | --- | --- | --- |
| Name | Founded | Headquarters | Employees |
| Pfizer | 1849 | New York, NY, US | 78,500 |
| Merck | 1668 | Kenilworth, NJ, US | 74,000 |
| GlaxoSmithKline | 1873 | Brentford, UK | 99,000 |
| Bayer | 1863 | Leverkusen, Germany | 103,824 |
| Abbott | 1888 | Chicago, IL, US | 109,000 |
| Bristol Myers Squibb | 1858 | New York, NY, US | 30,000 |
| Medtronic | 1949 | Fridley, MN, US | 104,950 |
Johnson & Johnson Competitor Crossword
Content from this and other articles on this website can be used as a crossword clue