Accenture Competitors, Similar Companies and Alternatives In 2023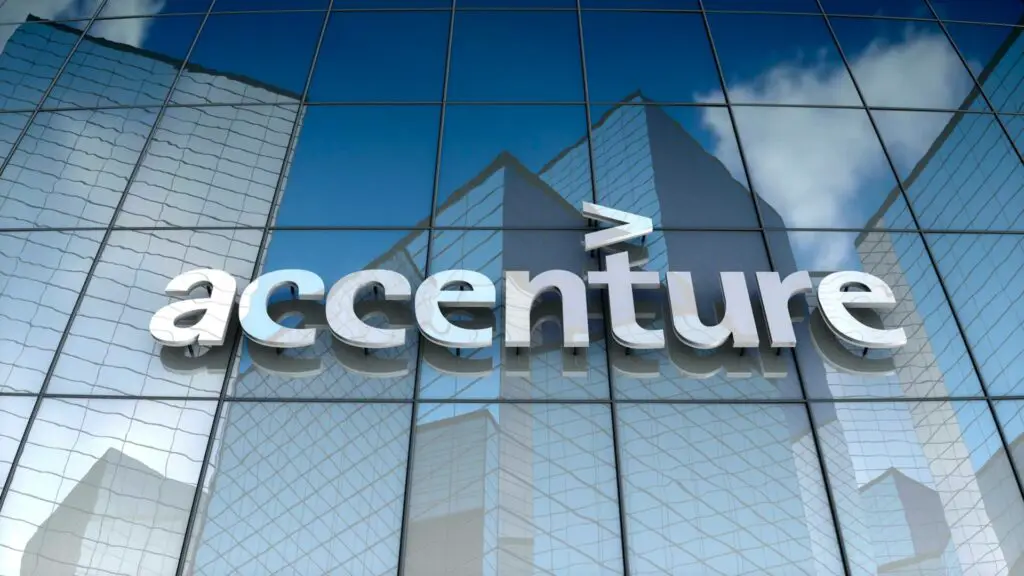 Accenture is one of the largest IT companies, offering services and solutions for numerous satisfied clients all over the world. Almost 700 000 employees work to serve the clients in more than 120 countries. Some of their prominent clients are Microsoft, Salesforce, and Oracle. 
| | |
| --- | --- |
| NAME | Accenture |
| FOUNDED | 1989 |
| HEADQUARTERS | Dublin, Ireland |
| SIC CODE | 8748  |
| STATUS | Public Limited Company |
| INDUSTRY SECTOR | IT; Consulting |
| EMPLOYEES | 699 000 |
| TRADING SYMBOL | NYSE: ACN |
How Accenture Makes Money
This company makes a profit through four types of services they offer.
Strategy and Consulting
Accenture works with some of the world's most prominent businesses to help them increase revenue and competitiveness in the industry. They use AI, innovation, analytics, and data to help clients solve business problems effectively and quickly. Their expertise and experience make them incomparable to most other companies that offer the same services. 
Song
This company utilizes the customer relevance model to increase the value and development of the business for the clients. Accenture's expertise can help clients grow and expand at any point of the business creation – from the first idea to the launch. They build a strong rapport with clients that, combined with their industry knowledge and experience, results in rapid growth and realization of clients' potential. 
Technology
Accenture offers clients knowledge in the most advanced technologies, such as artificial intelligence, robotics, software engineering, blockchain, 5G, and more. They always stay up-to-date with the newest inventions to help the clients utilize everything that modern technology has to offer with the goal of taking the client's business to the next level. 
Operations
Another way Accenture makes money is through operating necessary processes for clients' businesses. The processes a client can hire Accenture for are numerous – accounting, finance, sales, marketing, banking, health and insurance, and more. The operations are helped by their human-machine platform, SynOps, which utilizes AI, data, and digital technology to help clients achieve their business goals fast and securely. 
Accenture Similar Companies
Accenture offers a wide variety of services for some of the biggest companies in the world. Their awards speak for the quality of work they do; among others, they have been on the FORTUNE's list of World's Most Admired Companies for the last twenty years, and they've held the first place on FORTUNE World's Most Admired Companies: IT Services Category for nine years. This company's revenue for 2021 was 50.53 billion dollars. Given Accenture's reputation and profit, there are not many other companies that can compare. However, some of the biggest rivals to Accenture are Deloitte, IBM, Boston Consulting Group, McKinsey And Company, Capgemini, and Infosys. Let's discuss Accenture's competitors in more detail.
Deloitte
Deloitte is one of the world's leading companies in the fields of consulting, finance, and auditing. It was founded 180 years ago, in 1842. Although they have a significantly lower number of employees, they still managed to get close to Accenture's revenue in 2021. Deloitte operates in approximately 150 countries, around 30 countries more than Accenture. 

These numbers are fascinating considering that Deloitte provides fewer services to their clients than Accenture. This is why we can say that Deloitte is one of the biggest competitors when it comes to consulting and operations services Accenture offers. 
| | | | |
| --- | --- | --- | --- |
| Annual Revenue | Funding | Headquarters | EMPLOYEES |
| $50.2B | Undisclosed | London, UK | 345 374 |
IBM 
IBM, or International Business Machines, is a technology corporation that operates in more than 170 countries worldwide. It was founded in 1911, and it steadily grew throughout the years. This company is famous for inventing many products that changed the life as we know it – ATM, hard disk drive, floppy disk, SQL programming language, and more. 
Nowadays, IBM makes computer software, hardware, and middleware. The competition between Accenture and IBM is in the IT consulting services both companies offer. 
Although IBM has much fewer employees than Accenture, it generated slightly larger revenue in 2021. This is why IBM is one of the biggest Accenture competitors out there.
| | | | |
| --- | --- | --- | --- |
| Annual Revenue | Funding | Headquarters | EMPLOYEES |
| $57.35B | Undisclosed | Armonk, NY, USA | 282,100 |
Boston Consulting Group
Boston Consulting Group, or BCG, was founded in 1963 and is one of the most prestigious consulting companies in the world. They have more than 90 offices spread across 50 countries. Accenture and Boston Consulting Group offer similar services: business transformation, finance and strategy, operations, marketing and sales, and risk management. 
Boston Consulting Group's prominent partners are Microsoft, Meta, IBM, TED, and more. They have many awards that speak for the quality of their work. Some of them are Fairygodboss's Best Company for Women in 2020, and the first place in Consulting Magazine's Best Firms to Work For in 2021. 
Considering the range of services BCG offers, multiple awards, and clients' testimonies, it is safe to say that BCG is one of the biggest Accenture competitors. 
| | | | |
| --- | --- | --- | --- |
| Annual Revenue | Funding | Headquarters | EMPLOYEES |
| $11B | Undisclosed | Boston, MA, USA | 25 000 |
McKinsey & Company
McKinsey & Company was founded almost a century ago, in 1926. This company offers professional management consulting services, much like Accenture does.
Along with Boston Consulting Group, McKinsey & Company holds a prestigious status in the world of consulting services. In 2021, it generated revenue of almost $11B with the help of 30 000 employees from more than 65 countries. 
With a longer lifespan and countless satisfied clients, McKinsey is certainly one of the significant Accenture competitors in the field of consulting services. 
| | | | |
| --- | --- | --- | --- |
| Annual Revenue | Funding | Headquarters | EMPLOYEES |
| $10.5B | $700m (2020) | None | 30 000 |
Capgemini
Capgemini offers engineering, digital, technology, and consulting services. They are similar to Accenture in the way they utilize the latest technology to grow and transform clients' businesses. 
Capgemini operates in nearly 50 countries, and they receive countless awards yearly. Their revenue in 2021 was more than $18B, almost 15% more than in the year before that. Considering this company's steady growth, it is safe to say that its numbers can soon rival those of Accenture, with the potential to make them serious competitors. 
| | | | |
| --- | --- | --- | --- |
| Annual Revenue | Funding | Headquarters | EMPLOYEES |
| $18.16B | Undisclosed | Paris, France | 340 700 |
Infosys
Infosys is one of the biggest Indian companies that specializes in IT and business consulting. The company generated almost $13B in 2021, and they have clients in more than 50 countries. It was founded in 1981 and has steadily grown ever since. 
Accenture and Infosys offer several similar services, such as consulting and engineering. Although their revenue is significantly lower than Accenture's, the rate at which Infosys is growing can make this company one of Accenture's competitors quickly. 
| | | | |
| --- | --- | --- | --- |
| Annual Revenue | Funding | Headquarters | EMPLOYEES |
| $12.95B | Undisclosed | Bengaluru, India | 276 319 |
Conclusion
Considering larger revenue with the help of much fewer employees, Accenture's biggest competitor is IBM. This is not a surprise because IBM exists for longer than Accenture does, and their innovations have changed the world as we know it. Accenture will need to work just a little bit harder to top IBM's revenue, and who knows, it may happen as soon as in the next few years. 
Make sure to regularly check our website to be updated on the different companies' competitors and alternatives.