Top 10 Shopify Competitors In 2023
Shopify is an eCommerce company that provides a platform for retail point-of-sale systems and online stores. It offers retailers a suite of online services such as marketing, payments, and shipping besides customer engagement tools that make it easier for small merchants to run online stores. It has a presence in about 175 countries with over 1 million registered retailers around the world. The company was founded by Scott Lake, Daniel Weinand, and Tobias Tobias Lütke in 2004. It is headquartered in Ottawa, Ontario. The company has 5,000. In 2019, its revenue turnover was $1.57 billion.
| | |
| --- | --- |
| NAME | Shopify Inc. |
| FOUNDED | 2004 |
| HEADQUARTERS | Ottawa, Ontario |
| SIC CODE | 7372 |
| TYPE | Public |
| INDUSTRY SECTOR | E-commerce software |
| EMPLOYEES | 5,000 |
| TRADING SYMBOL | NYSE: SHOP |
Shopify similar companies:
Volusion, PrestaShop, BigCommerce, WooCommerce, Magento, 3dcart, Weebly, Wix, Salesforce, and Squarespace.
How Shopify Makes Money
Shopify is an eCommerce platform that enables merchants to commercialize their products. It primarily focuses on small and medium businesses but it also has a package for large enterprises. Shopify makes money through two primary business segments- fee-based subscription plans and merchant solutions. 
Subscription plans
The merchants pay monthly subscription fees to use the platform. The subscription fees make up the core of Shopify's revenue.
The basic plan, Basic Shopify, starts at $29 per month and is the most popular plan on the platform. There are also the Shopify and Advanced Shopify subscription plans which go for $79 and $299 per month respectively. Regardless of the plan, Shopify offers all retailers a free trial for up to 14 days.
There is also a Shopify Plus plan that targets large businesses and high-volume merchants. It starts at $2,000 per month even though the pricing depends on business needs. Some of the brands on this plan include Unilever, MVMT, Kylie Cosmetics, and Allbirds. Brands on this plan are often high-retention as they usually automatically renew their subscription unless they give notice of termination.
 Merchant solutions
The revenue made from this segment are usually from additional services provided to users. They include transaction fees, Shopify Payments, Shopify Shipping, and Shopify Capital. Revenue from referral fees by partners and point-of-sale hardware also fall under this segment.
These solutions sustain merchants' activities on the platform and therefore have a high retention rate. According to Shopify, about two-thirds of its users have enabled Shopify Payments.
Volusion
Volusion was founded in 1999 by Kevin Sproles. The company is headquartered in Austin, Texas. Volusion is a hosted eCommerce platform that helps merchants and retailers to get their online stores running. It helps users to set up their websites, marketing, and brand publicity. The platform has over 180,000 merchants who have built their online stores on it. Volusion offers four different subscription plans with the basic plan, Personal, starting at $29 per month. In 2019, the company made $40 million in revenues. It has 250 employees.
Both Volusion and Shopify are hosted eCommerce solutions. They enable merchants to build and run their online stores. Volusion comes with big data tools that give merchants access to impressive analytics and reporting. But it charges merchants separately for SSL certificates. It is also a little bit complicated for users to build their websites, especially those who are new to eCommerce. These are some of the reasons why Shopify has a larger market share than Volusion and makes more revenue than it does.
PrestaShop
Headquartered in Paris, France, PrestaShop was founded in 2007 by Igor Schlumberger and Bruno Lévêque. It is an open-source eCommerce platform that only charges users for web hosting and domain name. It also partners with service providers such as Microsoft Azure, TMD, 1&1, and WebHostingHub to provide hosted eCommerce solutions. PrestaShop is available in 60 different languages and has 300,000 online merchants worldwide. As of 2019, the company had 220 employees and a revenue turnover of $19 million.
PrestaShop is one of the top choices for retailers looking for a free platform to build their online stores. Merchants get access to multiple currency support, 25 languages, unlimited products, international sales, abandoned cart features, and no additional transaction fees. But it does not offer comprehensive themes and templates as Shopify does. As a proprietary code software, users are also not able to modify Shopify's functionalities as they would do with PrestaShop's open-source code.
BigCommerce
BigCommerce is a SaaS eCommerce platform that helps merchants to create and run online stores. It also lists merchants' products on Facebook, eBay, and Amazon among other popular networks to increase visibility and get more orders. It also helps with search engine optimization. The basic subscription plan for BigCommerce starts at $29.95 per month. The company was founded in 2009 by Eddie Machaalani and Mitchell Harper. BigCommerce has 600+ employees and made $112.1 million in revenues in 2019.
BigCommerce is one of the best alternatives for Shopify due to its wide range of powerful sales features. While it is a hosted eCommerce platform just like Shopify, its features are more out-of-the-box compared to Shopify's. It has advanced content marketing features that enable retailers to increase their conversion rates. But BigCommerce limits the amount of sales volume a merchant can have in a year. Merchants who exceed the limit are automatically upgraded to a higher-tier plan. Perhaps this is what makes Shopify outclass it in terms of the number of active users and revenue generated.
WooCommerce
WooCommerce is a flexible, open-source eCommerce solution built on WordPress. Adii Pienaar, Mark Forester, and Magnus Jepson founded the company in 2008 under the name WooThemes. In 2017, the company shifted its focus exclusively to eCommerce and rebranded to WooCommerce. It gives small and medium businesses a platform to build their online stores. WooCommerce has a presence in about 32 countries and employs over 150 people. Headquartered in San Francisco, California, the company had a revenue turnover of $12 million.
Despite operating in a limited number of countries, WooCommerce is one of the most popular eCommerce platforms in the market. This is mainly because it comes as a WordPress plugin and gives merchants complete control of their online stores. It is also free and users only pay for web hosting and domain. But in terms of revenue, it is still way behind Shopify.
Magento
Magento was founded in 2008 by Roy Rubin. Adobe acquired the company in 2018. Magento is a free, open-source eCommerce platform that gives online retailers an opportunity to build and run their stores. They can tweak the platform as they wish to suit their needs and preferences. But merchants have to pay for a domain name and web hosting. There's also an Enterprise Edition subscription plan that starts at $15,000 per year. As of 2019, the company had 812 employees and a revenue turnover of $2.83 billion. Magento is headquartered in San Jose, California.
While Shopify is a hosted eCommerce platform, Magento is a self-hosted platform. This means that Magento users have to pay for their own web hosting, domain name, website security, and extensions. On the other hand, Shopify takes care of everything. Magento is suited to a medium or large business that has an in-house web development team. In terms of revenue, it has one over Shopify with twice as much the revenue Shopify made in 2019.
3dcart
3dcart is a cloud-based eCommerce platform that enables retailers to create online stores. The company was founded in 1997 under the name Infomart by Gonzalo Gil. The platform was created to maximize sales opportunities for both manufacturers and retailers. In 2017, it partnered with Square Inc. to integrate payments through credit cards. It also offers point-of-sale systems. 3dcart is headquartered in Tamarac, Florida. As of 2019, it had 100 employees and $11 million in revenues.
3dcart's revenue is just a fraction of what Shopify made in 2019. But the two platforms are similar to each other in terms of functionality. In spite of this, 3dcart has more affordable pricing options for users. This also extends to credit card payments. On the usability front, Shopify wins hands down.
Weebly
Weebly is an eCommerce and website development company founded in 2007 by David Rusenko, Chris Fanini, and Dan Veltri. The company was acquired by Square in 2018. Headquartered in San Francisco, California, Weebly has over 625,000 users on paid subscriptions. It also has offices in New York, Toronto, and Scottsdale. As of 2019, Weebly had 350 employees and a revenue turnover of $32 million.
Weebly is more of a website development platform than an eCommerce one. Its eCommerce functions are optional for users.  On the other hand, Shopify is a dedicated eCommerce platform. Therefore, Weebly is a less powerful option for an eCommerce platform compared to Shopify. But it is easier to set up.
Wix
Headquartered in Tel Aviv, Israel, is a cloud-based web development company that allows users to create mobile sites and HTML5 websites. The platform comes with online drag and drop tools that make it easy for users to create their own websites. Users also have the option of adding eCommerce, email marketing, and social plug-ins besides other functionalities to their websites. The platform has over 180 million users in 190 countries around the world. As of 2019, Wix had 3,200 employees and $216 million in revenues.
Just like Weebly, Wix is primarily a website development platform with eCommerce as its secondary focus. Wix's eCommerce features are targeted at small and medium-size retailers with less than 100 products in their online stores. In terms of revenue, while Wix is pulling its weight against Shopify compared to the other competitors, it is still behind Shopify.
Salesforce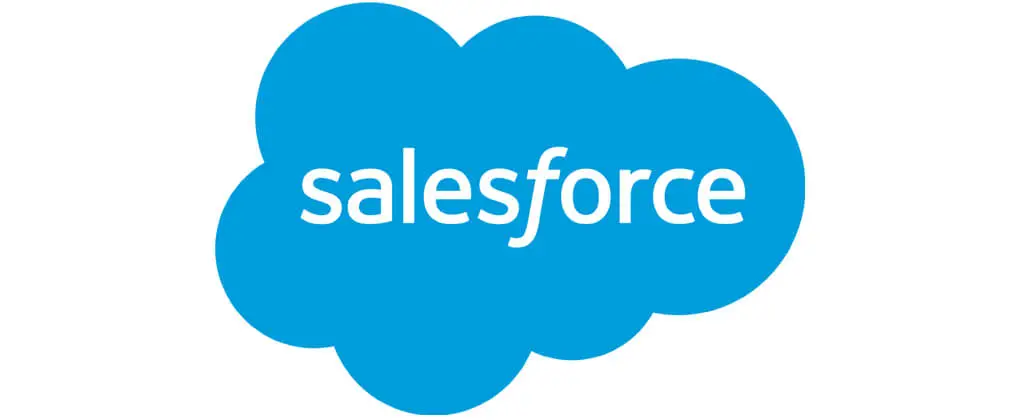 Salesforce is a cloud-based software company that deals in the Software As A Service (SaaS) market. The American company is headquartered in San Francisco, California. It was founded in 1999 by Frank Dominguez, Dave Moellenhoff, Parker Harris, and Marc Benioff (an ex-Oracle executive). Salesforce provides customer relationship management (CRM) software aimed at improving clients' eCommerce, marketing, sales, and customer service delivery. In 2019, the company had 35,000 employees and a revenue turnover of $13.2 billion.
Salesforce is primarily a cloud-based SaaS. But it also offers an eCommerce platform through its Salesforce Commerce Cloud product. Salesforce Commerce Cloud, unlike Shopify, doesn't charge any subscription fees. Instead, it only charges a commission of between 2 and 4% depending on the retailer's sales. This makes the platform preferred over Shopify by upcoming retailers who are still struggling to make conversions.
Squarespace
Squarespace was founded in 2003 by Anthony Casalena. It is headquartered in New York City, New York. the company offers a SaaS platform for building websites and hosting. It started off as a blog-hosting service then later expanded to include eCommerce tools, domain name services, and analytics. The platform comes with pre-built website templates and drag-and-drop elements for creating web pages. Squarespace made $300 million in revenues in 2019. The company has 1,143 employees.
While Squarespace is cheaper, it offers fewer eCommerce tools to online retailers compared to Shopify. The former's primary focus is to enable users build well-designed, functional websites. It is best suited for building content-driven websites. For primarily building an online store, Shopify is a better option.
Conclusion
The top 10 Shopify competitors are: Volusion, PrestaShop, BigCommerce, WooCommerce, Magento, 3dcart, Weebly, Wix, Salesforce, and Squarespace. Their total revenue for 2019 was $16.77 billion. Their total number of employees was 41,825. BigCommerce is Shopify's biggest competitor in the eCommerce platforms industry.
Competitors Stats
| | | | |
| --- | --- | --- | --- |
| Name | Founded | Headquarters | Employees |
| Volusion | 1999 | Austin, Texas | 250 |
| PrestaShop | 2007 | Paris, France | 220 |
| BigCommerce | 2009 | Austin, Texas | 600 |
| WooCommerce | 2008 | San Francisco, California | 150 |
| Magento | 2008 | San Jose, California | 812 |
| 3dcart | 1997 | Tamarac, Florida | 100 |
| Weebly | 2007 | San Francisco, California | 350 |
| Wix | 2006 | Tel Aviv, Israel | 3,200 |
| Salesforce | 1999 | San Francisco, California | 35,000 |
| Squarespace | 2003 | New York City, New York | 1,143 |
Shopify Competitor Crossword
Content from this and other articles on this website can be used as a crossword clue