Boxabl Competitors and Similar Companies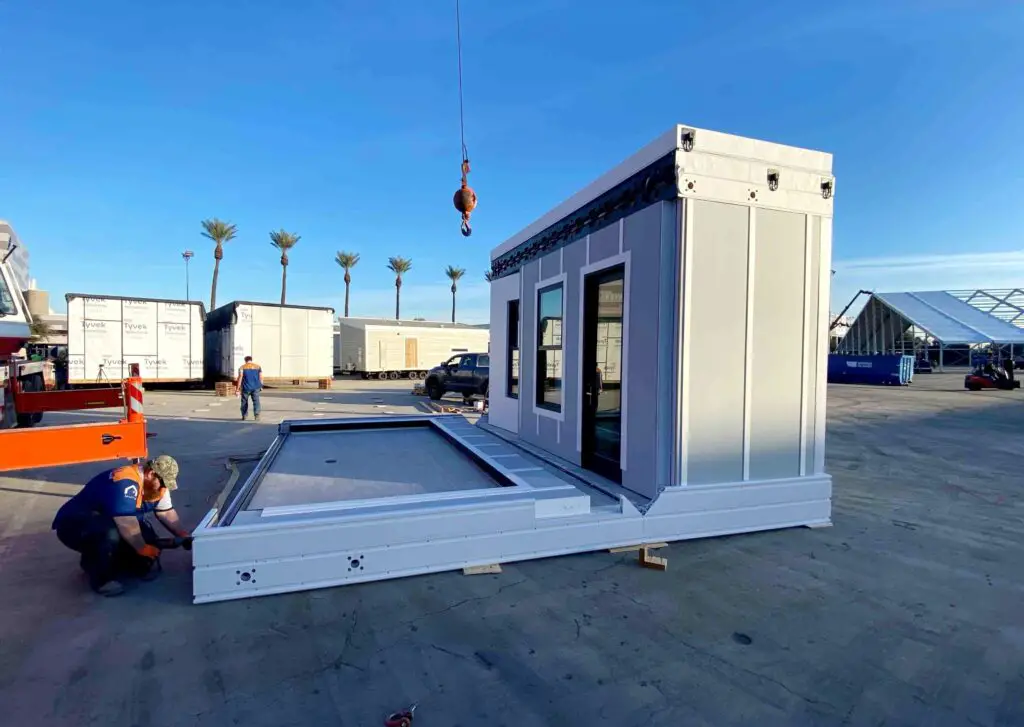 Boxabl (also known as Boxabl Casita) is a home unit and appliance fabricating company that constructs prefabs (Casitas) and room modules with technology that can set up almost any building faster. 
Boxabl offers prefab constructions cheaper than the cost of whole permanent construction, which is considered less economical for some businesses for rental housing purposes. With Boxabl construction services, mobile brands/businesses can build abode spaces, workspaces, etc., quickly unpacked on-site. Boxabl constructs prefab homes with basic utilities and amenities pre-installed to save the cost and hassle of fixing them. It works with a goal of sustainable and stackable space-efficient housing. 
How Boxabl Makes Money
Boxabl YouTube Channel
Boxabl handles a YouTube channel with how-to videos on DIY (home-made) home utilities and appliances and prefab constructions. The channel earns an average revenue of $USD 18,746 yearly for cost per thousand views (CPM). 
Boxabl Casita Setup
Boxabl constructs and sets up the Boxabl Casita house for $50,000 without the cost of land and site setup. Other additional costs include landscaping, utility hookups, and foundation. The company earns a percent of the total expense in building each foldable Casita.
Patented Packing and Shipping Tech
Boxabl provides patented packing and shipping/carriage for customers who order customized commercial buildings and homes.  
Boxabl Similar Companies 
The 7 biggest rivals to Boxabl are:
Dvele
Homma
Baya Build
Connect Homes
Method Homes 
Plant Prefab
Bedly
Boxabl performs its home setup operations by constructing integrated homes (with certified structures) using workshop building and on-site automation. The prefab building units are modularly approved state by state, which defines the standards for the sizes, the installations, and the shapes of all homes. Inspections for standardization are performed in their workshops, making assemblage and construction easier for the builder when on site. The Boxabl Casita is built to the same or higher standards as traditional houses. It is built for a fast and easy-to-setup home construction purpose where financing is not an issue.
Boxabl has raised $55 million in crowdfunded rounds, including the REG D 506c and REG CF. The company still looks forward to raising more, up to a whopping $USD 1.07 billion in Reg D, debt, and Reg A+ offerings. This is to be used for constructing the world's largest prefab factory, where upscaling house construction is possible and affordable housing can be made available to everyone in the US.
By the timeline of information collected from research on eco-friendly wood-product manufacturing companies, urban planning, and housing firms, insights have been provided on the current performance of prefab-construction companies:
Kit-houses/Prefabs have become the future of the wood products manufacturing industry, with major wood products (doors, windows, floors, roofing, other slab-including products, etc.) fetching more demands.
Cheaper and affordable rentals would change the rental business in the US for the better.
Competition in the prefab building industry will undergo a flux as soon as government policies standardize the modular home system for wide acceptance in some regions in the US (to come near 2027) – Prefabricated Homes (U.S. National Park Service) (nps.gov).
The prefabricated building market had a stable growth during the past ten years. The industry generated a revenue of USD 39.6 billion in the year 2019. This was a 10% increase when compared to the revenue realized in the year 2016. Prefab housing in the United States has significantly experienced expansion. Modular housing is projected to increase two-fold in size over the next five years – United States Prefabricated Buildings Market | 2022 – 27 | Industry Share, Size, Growth – Mordor Intelligence
Now, let's discuss more of the top 7 Boxabl competitors. 
Dvele
Dvele Home, Inc. was founded by Kris Goodjohn and his brother, Kurt Goodjohn, in 2017. The real estate company specializes in constructing and selling luxury prefab homes. The company has a manufacturing plant for building contemporary luxury houses. 
Over its few years in the business, Dvele has developed by winning awards for state-of-the-art design and cutting-edge production technology; Dvele has developed a platform to supply eco-friendly, smart luxury homes created with a wide range of modern home designs with customizable exterior and interior features managed in a production-ready environment. Customers can place orders for their new homes or workspace prefabs.
Dvele offers off-the-grid prefab homes for up to $670,000. Crescent Real Estate primarily funds the realty company. 
Recently, Dvele was to come close to a $15M round of funding. This makes the market share (per buying power and market attractiveness) of Dvele much closer to Boxabl's. The funding track was flagged off by the primary investor company, Crescent Real Estate. Other experts in real estate joined, each investing with a portfolio of over $3 billion – being led by Marvin. Marvin is a top-notch manufacturer of windows and doors. The company has a record of 100 years, leading the industry. 
Dvele proposes to use the raised investment to upscale its smart construction factory system, which is located in Loma Linda, CA. The focus is to create a fully mountable, robotic production line. 
Similarities between Dvele and Boxabl
Both modular rooms construction companies provide durable and luxury designs 
Both build prefabricated homes with cost and affordability consciousness to satisfy customers' real-time budget
Homma
Homma Inc. is a hand-crafted home construction company founded in 2014 by Takeshi Homma. Homma was founded to meet the demands of residents in expensive cities and regions looking for family rentals with fewer utility bills. 
Homma provides a special blend of modern structural planning and technology to introduce new living spaces, to meet contemporary demands. They contribute to forming strong communities with diverse families and individuals to build unique urban neighborhoods.
Homma has regional offices in Silicon Valley (CA), Portland, Oregon, and Tokyo in Japan.
Similarities between Homma and Boxabl
Both companies provide efficient and fast-supply prefab home delivery 
Modular rooms built are durable and storm-proofed
Baya Build
Baya Build is a technology company that gives a revolutionary, ultra-efficient design-thru-build alternative to developers of housing and commercial structures. The company was founded in 2017 by James Casper.  Bayabuild uses modern and elegant traditional designs to capture a modern-world asymmetrical housing charm.
Similarities between Baya Build and Boxabl
The two home construction companies offer cutting-edge design and building for customers and third-party licensed organizations
Both provide affordable housing
Connect Homes
Founded in 2011, Connect Homes is a prefab home builder that designs homes to meet every household's housing demand. Prefab houses are designed with a target for the streamlined process of developing modern and eco-friendly homes. Homes are ready-to-pack and can easily be shipped worldwide on the intermodal shipping container network.
Connect Homes has 15 models to build after. Each model is designed to meet the pricing and size needs of customers.
Similarities between Connect Homes and Boxabl
Both offer home-build prefab designs that are easy to ship, pack, and assemble
Both companies build prefabs with emergency units installed in peculiarly similar modules
Method Homes 
Method Homes LLC is a housing contractor that helps people design and build modular prefabs. The company was founded in 2007. The construction company has a base price of $180-350 per square foot for any house construction. Method Home employs urban planners, designers, and architects to construct high-quality modern prefabricated modular homes.  The Method Homes manufacturing plant site is located in Washington State.
Method Homes house models include; the M Series, Cabin Series, SML Series, Paradigm Series, Elemental Series, and the HOMB Series.
Similarities between Method Homes and Boxabl
The environmental footprint of both traditional construction companies follow the same pattern
Both provide cheap, affordable homes without compromising aesthetics
Plant Prefab
Plant Prefab is a private company founded in 2005. Plant Prefab is a building construction technology company devoted to durable and maintainable housing designs, material making, and operations. It utilizes a patented Plant Building System (PBS) that utilizes Plant Panels and Plant Modules to assist designers, assemblers, developers, contractors, and individuals in building traditional housing. Prefab also embarks on (and executes) tree re-speciation plans to replenish their utilization resources bank.
Similarities between Plant Prefab and Boxabl
Both home construction brands offer standard framing designs
Both house designs have expansible exterior and interior frameworks
Bedly
Bedly Inc. is a subsidiary home construction company founded in 2015. Benjamin Chester and Martin Greenberg founded the company. Contemporary simple designs are used to build rent-friendly capacious housing. Most designs are adapted to suit the new reliefs for most rentals. Considering the cost of rent, maintenance, packing, shipping, and building (ultimately), Bedly's Prefab houses seem notably cheaper compared to the pricing range of other home construction wood manufacturing companies. 
Similarities between Bedly and Boxabl
Both companies build modular units with even heating, cooling, and ventilating features
Both have space-efficient designs
CONCLUSION
Boxabl's biggest competitor is Dvele. This is because Dvele has a clientele base similar to Boxabl. 
Prefab home building business in the US has gained traction as a solution to severe housing challenges facing real estate housing rentals, among other factors plaguing house owners who have exorbitant bills to pay monthly.
The benefits of prefab homes are that they help to conserve energy and even land (maximizing space for current and future economical use), and they are fast in construction.