Coursera Competitors and Similar Companies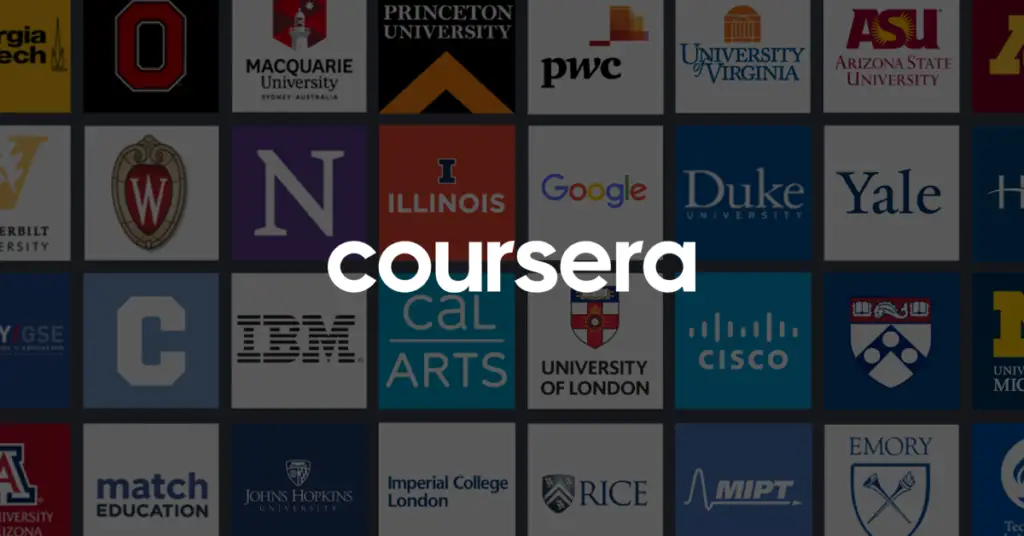 Coursera was founded in 2012 with the aim of making educational courses available for everyone. It was brought to life by two Stanford professors – Andrew Ng and Daphne Koller. Coursera offers 7 000 courses, and it is accessible to people who speak other languages than English, such as Spanish, Italian, French, and Chinese.
| | |
| --- | --- |
| NAME | Coursera |
| FOUNDED | 2012 |
| HEADQUARTERS | California, United States |
| SIC CODE | 7372 |
| STATUS | Corporation |
| INDUSTRY SECTOR | Education |
| EMPLOYEES | 1 137 |
| TRADING SYMBOL | NYSE: COUR |
How Coursera Makes Money
Coursera reported revenue of more than $415 million in 2021. It has more than 80 million subscribers, which is an impressive number. Given the statistics, it's obvious that Coursera makes a lot of money. Let's see how exactly. 
Guided Projects
Coursera offers guided projects – short, up to two hours, job-relevant courses designed to help you learn a new skill from professionals in the industry in a short period of time. These guided projects' costs start at $9.99 and there are millions of people enrolling yearly, so it's safe to say that Coursera makes a lot of money off of this product. 
Courses
This website offers thousands of courses in hundreds of different fields and subjects. Courses differ in length and difficulty and are mostly taught by professors from notable universities, such as Yale, Princeton, Duke, and similar. The courses are mostly free, but if you want to be graded and earn a certificate, you need to pay. The cost of individual courses greatly varies depending on their popularity. The courses last for 4-12 hours. 
Coursera Plus Subscription 
Coursera Plus offers customers an opportunity to learn without limits – at $59 per month, you can access more than 7 000 courses, guided projects, and professional certificates. If you are sure that you will get your money's worth, you can also pay a $399 annual price. It is not a bad deal if you set out to learn and grow your knowledge.  
Professional Certificates
This Coursera option is a great choice if you want to invest a bit more time in learning and expanding your knowledge. A Professional Certificate program lets you take a series of courses in a specific field or subject, and it lasts for up to three months. The monthly price for unlimited access to all the professional certificates is $39.
MasterTrack Certificates
MasterTrack certificates are portions of graduate programs that are counted towards your credits when or if you enroll in a full-time university master's program, as the completed coursework will be accepted. The average time it takes to complete one MasterTrack certificate is four to seven months and the price starts at around $2000. 
Degrees 
Probably the most amazing thing about Coursera is that it offers actual degree programs. You can get your bachelor's or master's degree in two to four years on average. The price starts at $9 000 with some programs costing much more than that. However, the price you pay is usually much lower than what you would pay for on-campus learning. 
Coursera for Business
This Coursera option is a good fit for both small teams and enterprises. It provides access to thousands of guided projects, courses, and specializations that can help your company or organization grow and stay up-to-date with the newest knowledge in the industry. Coursera for Business for small teams costs $399 yearly per team member. Coursera for big companies probably costs much more, but if you are interested, you will have to contact their sales team for details. 
Coursera for Government
Government from 100+ countries and 25+ USA states use this Coursera option. It allows governments to upskill and reskill citizens, so they can be job-ready. It is not clear how much this service costs, but it's safe to say that it's probably not cheap. Considering the number of governments using this service, Coursera probably sees a lot of profit from them. 
Coursera for Campus
Coursera for Campus is a great choice for universities and schools to keep up with the fast-growing and sometimes unavoidable remote learning. Universities and schools can either choose already-ready courses and degrees for their faculty and students, or they can create courses, projects, and assessments according to their needs. 
Companies Similar To Coursera
Now that you know everything about Coursera, you have a sense of what you can expect if you sign up for the services this company offers. If you are not convinced of the quality of this platform, if you don't like the curriculum it offers, or if you want to continue looking, so you can compare it with Coursera similar companies, keep reading. Some of the alternatives and the biggest rivals to Coursera are Udemy, Udacity, MasterClass, Greatlearning, Skillshare, LinkedIn Learning, edX, and Open Culture. 
Let's learn all about Coursera competitors.
Udemy
Udemy is a San Francisco company founded in 2010, two years before Coursera. It was created by Eren Bali, Gagan Biyani, and Oktay Caglar, a passionate group of people who waited for years to get appropriate funding for the project.
Today, Udemy offers more than 200 000 courses in over 60 available languages. The company has been very successful, reporting a profit of more than half a billion dollars for the previous year. Moreover, Udemy has 49 million active users.
Udemy offers courses in hundreds of fields from industry specialists. The courses are paid for separately, and they cost anywhere from $11.99 to $200. This company also offers a Personal Subscription plan that gives you access to more than 5 000 courses, and it costs $30, after a 7-day trial period. Udemy Business costs $360 yearly per member for small teams (up to 20 people) and the price for enterprises and Leadership Development Programs is available only upon request.
Considering Udemy's reputation, slightly lower cost, and yearly revenue, it is the biggest rival of Coursera. 
Udacity
This is another organization offering educational online courses. It was founded in 2011 and created by Sebastian Thrun, David Stavens, and Mike Sokolsky. Udacity's name came from the organization's goal to be audacious for students, according to Thrun. 
Unlike Coursera and Udemy, Udacity focuses on the tech niche. Students can choose courses in artificial intelligence, autonomous systems, business, cloud computing, cybersecurity, data science, product management, programming & development, and career fields. 
Udacity offers plans for governments, enterprises, and individuals. Prices vary depending on the program, length, and other factors, but typically, individuals can expect to pay a few hundred dollars per month for one program. 
While Udacity is an amazing option for anyone who wants to gain knowledge in the tech niche, Coursera is a better choice for individuals who want to gain expertise in various fields. Furthermore, Coursera offers accredited degree programs, while Udacity doesn't. 
MasterClass
This company was founded in 2014 by David Rogier and Aaron Rasmussen. It offers over 150 classes by professionals in various industries, such as writing, music, acting, cooking, music, photography, sports, and more. 
MasterClass has a bit different concept than Coursera – while Coursera usually offers classes taught by notable professors and academics, MasterClass offers classes taught by famous and popular stars. Some faces you can see teaching at this platform are Neil deGrasse, Chris Hadfield, Christina Aguilera, Timberland, Stephen Curry, Metallica members, Margaret Atwood, and many more. 
The pricing of MasterClass depends on how many devices can use the platform and if the users can watch the content offline. The basic plan for one account and one device costs $18 monthly, one account and two devices plan costs $24 monthly, and one account for six devices is $27.16 per month. The latter two plans allow offline watching, and all of them imply being billed annually.
Overall, MasterClass is a good choice for anyone who wants to learn specific skills from professionals. It is cheaper than Coursera, but it doesn't offer as many classes.
| | | | |
| --- | --- | --- | --- |
| Annual Revenue | Funding | Headquarters | EMPLOYEES |
| $161.2M | $461.4M | San Francisco, CA, USA | 480 |
Great Learning
Great Learning is a company based in India and a part of the BYJU's group. It was founded in 2013 by Mohan Lakhamraju and Hari Nair with the goal of making every employee in the country data-proficient. 
This company offers programs in technology, data, and business niche. It has more than 4.5 million users spread across over 170 countries. The programs Great Learning offers are available in classrooms, online, or as a combination of the two. What's great is that some of these classes are developed by the world's most prestigious universities, such as MIT and Stanford. 
Great Learning offers a lot of courses completely for free. Those that aren't free are generally cheaper than Coursera, but the price differs between the programs. Another advantage of Coursera over Great Learning is that Coursera offers more courses in many more fields. 
| | | | |
| --- | --- | --- | --- |
| Annual Revenue | Funding | Headquarters | EMPLOYEES |
| $100 million | N/A | Gurgaon, Haryana, India | 792 |
Skillshare
Skillshare was founded in 2010, and it is headquartered in New York, United States. This platform, much like Coursera, offers thousands of courses and classes taught by professionals in various industries. Unlike Coursera, this platform primarily focuses on creative skills, such as animation, design, photography, film, writing, illustration, lifestyle, and business. It also offers programs in technology fields, such as data science, game design, product management, and more.
Skillshare does well, with more than 12 million registered users and over 14 million dollars in yearly revenue. One of the best things about Skillshare is the project part of the learning. All courses require students to do their own projects in the field they studied, so it gives learners an opportunity to practically apply their newly-found knowledge. 
Membership purchase on Skillshare will give you access to all their classes. It costs $36 per month, or $13.99 if you opt for a one-time payment for a year. 
Skillshare is still a smaller platform than Coursera, and the reason for that may be the fewer options to choose from. It is, however, a bit cheaper, and it includes the project element, so a lot of users choose Skillshare over Coursera. 
LinkedIn Learning
LinkedIn Learning is a subsidiary of LinkedIn, Microsoft's company, that is primarily used as a platform for business and employment. It is an online educational platform that offers classes and courses in various fields.
This company offers more than 13 000 classes taught by professionals. The classes teach individuals, businesses, and government valuable skills that fall into four categories – Creative, Business, Technology, and Certifications. 
LinkedIn Learning costs $29.65 per month, after a trial period that lasts one month. If you choose a one-time payment for a whole year, the price is $20 per month, so you save around 30%. 
LinkedIn is a company with significantly larger revenue than Coursera, but LinkedIn Learning has around 27 million active users, much less than Coursera. Thus, LinkedIn Learning is not a huge competitor when it comes to online learning.
edX
EdX is a company founded in 2012. It was created by two prestigious universities, Harvard and MIT. 
This company offers courses, series, professional programs, and master's degrees in various niches. The prices start at $99 for a short course, $135 for a series of courses under a certain topic, $299 for professional certificate programs, $499 for courses that can earn you college credit, $600 for a MicroMasters program, and $10 000+ for Full Master's programs. 
Coursera and edX are very similar companies in terms of the products they offer and the credibility they have. However, edX is a bit more expensive, so it doesn't attract as many clients as Coursera does.
Open Culture
This website was opened in 2006 by Dan Colman and five other people who contribute to the website nowadays. 
Open Culture offers more than 1 700 courses from the world's top universities, more than 4 000 movies, over 1 000 audiobooks, material for learning 48 languages, 200 certificate programs, 100 kids' educational resources, and more. The best part? It is all absolutely free.
While Open Culture doesn't have as much money, credibility, or popularity as Coursera, it is still a pretty cool site for students who can't afford to pay a subscription to learning platforms. 
| | | | |
| --- | --- | --- | --- |
| Annual Revenue | Funding | Headquarters | EMPLOYEES |
| est. < $5M  | N/A | Mountain View, CA, USA | 1-10 |
Conclusion
Coursera is an amazing learning platform offering thousands of courses, classes, and degree programs. While it is truly a pleasure gaining knowledge through Coursera, there are alternatives to this website if you are not satisfied with it for any reason. The biggest competitor of Coursera is Udemy, but there are a few more companies that may become a threat in the future, such as Udacity, Skillshare, and edX. Some other alternatives that you can check out are MasterClass, Great Learning, LinkedIn Learning, and Open Culture.
COURSERA Competitor Crossword
Content from this and other articles on this website can be used as a crossword clue