Top 7 Wix Competitors, Similar Companies & Alternatives in 2023
Wix Competitors & Companies Like Wix
Wix is a software company that makes website creation easy even for people who don't know anything about website development and coding. The company was founded in 2006 and today its services are available in 17 languages and used by over 170 million customers in 190 countries. Wix has offices in nine countries and over 3 000 employees.
| | |
| --- | --- |
| NAME | Wix |
| FOUNDED | 2006 |
| HEADQUARTERS | Tel Aviv-Yafo, Israel |
| SIC CODE | 7371 |
| STATUS | Limited Liability |
| INDUSTRY SECTOR | Web development services |
| EMPLOYEES | 3 000+ |
| TRADING SYMBOL | NASDAQ: WIX |
How Wix Makes Money
Wix reported revenue of over billion dollars in the previous fiscal year. The company is doing quite well, considering they are growing more yearly. Let's see how Wix makes money and what products and services they offer make it stand out against the competition. 
Website Design
This powerful product is designed to help you build a website without paying developers thousands and thousands of dollars. It allows customers to have complete freedom when it comes to the design, thanks to the amazing built-in features and tools. You can drag and drop the elements to make a website just how you like it. 
The second option to getting your own website in no time is to answer a few questions and Wix ADI (Artificial Design Intelligence) will do all the work for you. Once you get a fully-designed website, you can change the design and pictures to fit your brand more, but there's a minimum of work required for this option. 
Another option Wix offers is pre-made, already fully-designed website templates. There are over 800 of them you can choose from, whether you are making a personal blog, wedding invitation, a website for your restaurant, or pretty much anything else.
Finally, if you don't trust your design skills at all, you can hire a Wix partner to make the website for you. Wix's partners are digital marketing experts who can advertise your website, graphic designers who can make your brand authentic, and more. 
Advanced Web Development
Developers can take advantage of Velo – a full-stack development platform that will make website development faster, easier, and more convenient. 
Online Store 
With Wix, you can build a whole online store with the help of the eCommerce website creator. Customers can offer subscriptions, manage drop-shipping, manage the payments, and more. All of this is also possible on the go with Wix's mobile app. This product helps sellers achieve sales fast, convert clicks to money, and grow the online presence, without the unnecessary hassles and fees that come with opening an online store. 
This product is also handy for restaurant owners – you can show off your menu and make reservations online. The same goes for fitnesses, gym owners, and other business niches. 
Wix Learn
This company offers online courses and lessons that can help you make the most out of the platform and your business. You can learn how to build a website, coding, blogging, restaurant management, digital marketing, eCommerce, and much more. 
Wix Growth
Once you've made your website using Wix, it's time to grow your business. Wix helps with that too! You can automate your email campaigns, design social media posts, make Facebook and Instagram ads, and maintain customer relationships with the built-in CRM management solution. 
Wix Pricing 
It may seem that Wix is very expensive, considering everything this company provides to the customers. However, you will be surprised that it's actually quite affordable. 
Website plans start from $4.50 – the Most basic plan that lets you connect a domain. The Combo plan, for personal use, costs $8.50, and it allows 3 GB of storage space and 30 minutes of video. The Unlimited plan, for entrepreneurs and freelancers, costs $12.50, and it comes with an hour of video, plus 10 GB of storage space. Finally, the most expensive plan (VIP) is $24.50, and it includes 30 hours of video and 35 GB of storage space. The first two plans have limited bandwidth, 1 GB and 2 GB, respectively. The last two include unlimited bandwidth. Enterprise plans start at $500 per month.
Business and eCommerce plans are necessary if the customer wants to include payments on the website. The Basic business plan costs $17, Business Unlimited is $25, and Business VIP comes at $35. The features differ across the plans, but all of them include unlimited bandwidth and online payments. 
The prices mentioned are the monthly fees you should expect to pay if you decide to choose Wix for your business growth. 
Companies Similar to Wix
Overall, Wix is an amazing choice for anyone without much knowledge of making a website and coding. It is also a great choice for developers who want to speed up the website development process. This company basically offers everything you need to make a business web page – from the design to the marketing and growth. 
The main advantages of this platform are user-friendliness, built-in features, free templates, and the ability to choose just how you want your website to look. Some disadvantages are pricing (it is generally a bit more expensive than some Wix competitors), limited options even with paid plans, and reported problems with mobile devices. 
Let's learn about Wix similar companies, so you can make an informed decision before purchasing a plan. Some companies that offer similar services are Squarespace, WordPress, Weebly, Webnode, Web.com, GoDaddy, and Zyro. 
Let's discuss the biggest rivals to Wix in more detail. 
Squarespace
Squarespace is another great option if you're looking for an easy-to-use platform to build a beautiful website. With its user-friendly drag-and-drop editor and customizable templates, Squarespace makes it easy to create a professional-looking site, even if you don't have any coding experience. With 24/7 customer support, you'll always have someone to help you if you run into any problems. 
Squarespace is one of the most affordable website builders on the market, making it a great option for anyone on a budget. This is also one of the main advantages over Wix because Squarespace is a slightly cheaper option. 
Wix and Squarespace offer many of the same features. However, Squarespace is thought to have better templates, easier control over the website builder features, and, as mentioned, it is cheaper. Considering all of this, even though Wix has bigger revenue, Squarespace is one of the biggest competitors to this company. 
WordPress
WordPress is open-source software that lets customers build their own websites, blogs, and apps. It is one of the most popular content management systems in the world, powering approximately 43% of all websites. WordPress is a highly customizable platform, with a wide range of themes and plugins available. This flexibility makes it ideal for businesses of all sizes, as well as for personal use. 
WordPress is also very user-friendly, with a simple interface that even beginners can quickly learn. Overall, WordPress is a powerful and versatile CMS that can be used to create websites and blogs of any size or complexity.
WordPress is owned by Automattic, a company that reported revenue of over a billion dollars in the past year. Considering the fact that Automattic's revenue is slightly bigger and that WordPress is probably the most popular website builder in the world, we could say that WordPress is the biggest rival to Wix at the moment. 
Weebly
Weebly is another website builder that makes it easy for users to create their own sites. With Weebly, you can choose from a variety of templates and designs, or you can create your own. 
Weebly also offers a variety of features, including e-commerce, blogging, and social media integration, much like Wix does. You can use Weebly to create a simple website for your business or blog, or you can use it to create a more complex website with multiple pages and features.
Weebly is easy to use and offers a wide range of customization options, making it a great choice for those who don't have any experience with coding and developing.
Wix is more expensive than Weebly but offers many more customizable templates and useful features. This makes Weebly a better choice for beginners and small businesses. 
Webnode
Webnode is another powerful, yet easy-to-use website builder that makes it simple to create and manage a professional-looking website. You can choose from a variety of templates and designs, or create your own custom look. You can also add animated elements, video backgrounds, and more. 
The best thing about Webnode is that it is free to use. Well, mostly, you can also choose one of the premium plans, but the basic creation and running of a website are free. Even the premium plans are generally cheaper than those of Wix. Although the storage for the premium PROFI plan is limited, you get Google Analytics, Google AdSense, website statistics, and more features that can help you grow your newly-built website. 
While Webnode really is a powerful platform, Wix is still a better choice if you want to have more features and options available when making a website. 
| | | | |
| --- | --- | --- | --- |
| Annual Revenue | Funding | Headquarters | EMPLOYEES |
| $44M | N/A | Zurich, Switzerland | 225 |
Web.com
Web.com is a web hosting and domain name registrar company, based in Jacksonville, Florida. The company offers a variety of services including website design, search engine optimization, and online marketing. 
Web.com was founded in 1999 by Darin Brannan and has since grown to serve over 3 million customers worldwide. In addition to web hosting and domain registration for small businesses, Web.com also offers a suite of tools to help businesses build and optimize their online presence. These include a website builder, eCommerce platforms, and email marketing services. 
Wix and Web.com offer similar services, but Web.com is slightly more expensive. Although the subscription plans start at as low as $1.95 for a month, the renewal prices for every following month can go as high as $49.99. 
Another difference is that Web.com is a bit better when it comes to marketing options. You can take advantage of their SEO tool and services, as well as PPC and directory services.
GoDaddy
Since its launch in 1997, GoDaddy has become the world's largest domain registrar, with more than 75 million domains under management. The company offers a wide range of web-based services, including domain name registration, website hosting, email hosting, digital marketing tools, and security solutions. GoDaddy is also one of the largest providers of cloud-based computing services. 
In addition to its primary business of selling domain names and web-based services, GoDaddy also provides a number of value-added services, such as search engine optimization and web design. The company has more than 20 million customers in over 100 countries. GoDaddy has a strong commitment to customer service, offering 24/7 support via phone, email, and live chat. 
GoDaddy reports bigger revenue than Wix, so it is one of Wix's competitors. However, many customers prefer Wix to GoDaddy because it's easier to use and offers more freedom in terms of building a website. The disadvantage of Wix over GoDaddy is that it is a bit more expensive. 
Zyro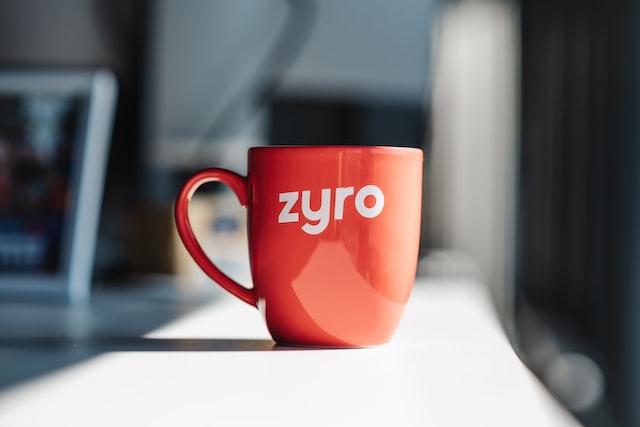 This company was founded just three years ago, in 2019, but it is already making a name in the field of website building. Apart from the features that are similar to the products offered by Wix, such as website building, templates, eCommerce development, and domain hosting, Zyro provides customers with an AI writer tool, slogan generator, business name generator, blog post name generator, and more. 
Zyro is expected to become a serious competitor to Wix and similar companies, considering the number of useful features it offers. It is also cheaper than Wix and has a greater value for money. 
| | | | |
| --- | --- | --- | --- |
| Annual Revenue | Funding | Headquarters | EMPLOYEES |
| $4.58M | N/A | Kaunas, Lithuania | 100+ |
Conclusion
Wix is a great platform for amateurs and developers to build a website, blog, e-commerce store, and more. It offers numerous useful features, and it comes with an intuitive technology that lets you have freedom over how you want your website to look. However, one of the biggest disadvantages is the pricing – many competitors in the market are much cheaper. 
Wix biggest competitor at the moment is WordPress, followed by Squarespace and GoDaddy. There are many other similar companies you can choose from if you are not a fan of these three. 
Thank you for reading, we hope that we made it easier for you to make a decision for your website building process!