Top 7 John Deere Competitors in 2023
John Deere is a brand that commands the utmost respect of its peers and competitors. It is best known for manufacturing agricultural and forest equipment, with its parent organization being Deere & Company. John Deere, the man, the legend behind the corporation, was born in 1804 in Rutland, Vermont, a then thriving county in the state. 

A blacksmith by profession, Deere moved to Grand Detour, IL in 1836, where he started the Deere & Company a year later. He is popularly known as the inventor of the self-scouring steel plow, which was also one of his best-selling items on the list. This unique invention boosted Deere's business rapidly, and within 15 years, he was already making great profits in selling a variety of farm products apart from his trademark plow.
Here's another fact that many of you might not be unaware of. Soon after the unfortunate death of John Deere, the company, then run by his son, Charles Deere, also tried to deal in bicycles, which were all the rage in the late 19th century. However, the venture wasn't as successful as they had expected it to be, so they had to shut it down later, only to renew it in the 1970s!
| | |
| --- | --- |
| Name | John Deere / Deere & Company |
| Founded | 1837 |
| Headquarters | Moline, IL, US |
| SIC Code | 6719 |
| Status | Public, Independent Company, S&P 500 Component |
| Industry Sector | Heavy Equipment |
| Employees | 69,600 |
| Trading Symbol | NYSE: DE |
Today, John Deere manufactures and sells heavy equipment of almost every kind, with its core focus on industries like agriculture, construction, forestry, and lawn care. The company is globally ranked 329, making it one of the largest heavy equipment manufacturers in the world! Its subsidiaries and brands include the likes of Nortrax, Blue River Technology, Lesco, Hagie, etc. It also deals in financial products under the name John Deere Financial.
Essentially owning the heavy equipment sector in the US and beyond, does John Deere really have any credible competitors? Who can compete with this $40 billion revenue-generating company? Let's take a look at the top seven!
John Deere similar companies:
Caterpillar Inc, Ponsse and CLAAS, AGCO, The Toro Company, Mahindra, CNH Industrial, Kubota, Claas.
Who is John Deere's Biggest Competitor?
The biggest competitor of John Deere has to be Caterpillar Inc. (CAT). It is the ideal adversary of John Deere in almost every way. Founded in 1925 in California, many years after John Deere, Caterpillar is best known for its construction equipment; so much so that whenever you come across a bulldozer or an excavator working on American soil (literally!), you will, more often than not, find it to be developed by CAT. The company also manufactures agricultural equipment and diesel engines and sells finance and insurance products.
How John Deere makes Money
John Deere makes huge profits out of manufacturing and selling heavy equipment of almost every kind. The three primary sectors that it targets are agriculture (includes lawn care), forestry and construction. The company holds firm ground in the development of agricultural equipment, but it doesn't fall too far behind in the other sectors either. John Deere dozers are almost as common in the US as those of Caterpillar.

John Deere's most popular offerings include a score of agricultural equipment like harvesters, tractors, seeding products, sprayers, tillage equipment, etc. Their utility vehicles under the Gator brand also fly off the shelves. The best part is that if you cannot afford any of their equipment, then you have an option to buy those second-hand, meaning that you can even sell your newly purchased equipment back to John Deere for a fair price!
Industry – Heavy Equipment
Heavy equipment is a very big industry encompassing the manufacture and selling of all kinds of heavy machinery. Such industry has a calling in various sectors around the globe, the main ones being agriculture and construction. John Deere deals in both these sectors, and then some. The company is considered to be the world's largest producer of agricultural equipment, right from selling heavy shredders to dealing in top-grade foraging machines.
John Deere's forestry equipment is one of the best in the class. Their commercial mowers and front-end loaders are preferred by the top competitors in the forestry business. Also, their construction machinery like loaders and scrapers are the ones to watch out for. In lawn care and maintenance, their zero-turn mowers are top of the chain, and they also provide specialized attachments for those.
Industry – Engines
The manufacture and sale of old-world engines and drivetrains is becoming more and more obscure as we welcome new technology. However, John Deere is right at the forefront of innovation! Their sophisticated models of diesel engines and drivetrain components are a class apart. They even work on marine engines for commercial or recreational ships, and they have a number of governmental clients in this sector.
Competitor – Caterpillar Inc.

Caterpillar (CAT) is a huge corporation that deals in every heavy equipment sector that John Deere does. CAT's origins can be traced back to the early 1900s when Benjamin Holt started dealing in innovative, easy-to-use farm equipment. C. L. Best was his main competitor and often went head-to-head while acquiring contracts. Both these pioneers were eventually roped into WWI for building war tanks, with Best getting the better governmental backing. Finally, after Holt's death in 1920, plans for the merger of two heavy equipment giants began taking shape. And on April 15, 1925, Caterpillar Inc. was formed!
CAT has a worldwide presence today, with a major part of its whopping $53 billion revenue stemming from the US. It may have started off with agriculture and war equipment, but it is presently best known for its construction machinery. Its top 4 equipment that are most sold in the market are the D11 dozer, 345C L excavator, 930G wheel loader and 797F haul truck. CAT has an extensive list of financial subsidiaries as well, along with their healthy presence in the logistics and marine machines sectors.
Industry – Heavy Equipment
Caterpillar's top 3 sectors for heavy equipment are the same as those of John Deere – agriculture, forestry, and construction. And while John Deere rules the roost in agriculture and forestry, CAT takes the cake in construction. The company has a total of 110 manufacturing hubs located strategically throughout the planet. It is currently run by Jim Umpleby (chairman and CEO) who rose through the ranks of Caterpillar itself, his very first job being at Solar Turbines, a wholly-owned subsidiary of CAT!
Similar to John Deere, Caterpillar also deals in diesel engines, lawn maintenance equipment, and financial products. But the ace in its sleeve is the comprehensive training that it provides to budding entrepreneurs in the trade.
Competitor – AGCO

AGCO, as you might have deduced from the acronym, manufactures agricultural equipment. It was founded much more recently than many of its competitors, in 1990 as the Gleaner-Allis Corporation. They later switched the places of the names to Allis-Gleaner Corporation, thus forming the acronym AGCO (a clever twist on 'agriculture corp'!). The company is publicly traded under NYSE: AGCO, and its revenue is upwards of $9 billion. It is nowhere near the revenue of the giants, John Deere and Caterpillar, but since AGCO only deals in agricultural equipment, it makes a considerable profit.
Industry – Heavy/Agricultural Equipment
Manufacturing agricultural equipment has been AGCO's priority since day one. Right from tractors and combines to foraging and tilling equipment, AGCO provides it all! The company also sells parts for faulty machinery with options to either DIY by the consumer or servicing by AGCO's experienced personnel. They have branches in several parts of the world to ensure smooth delivery of machines or parts almost anywhere.
Apart from agricultural equipment, AGCO also manufactures diesel engines. And if you are a reputable company that buys in bulk, then you don't need to make the entire payment upfront. AGCO provides some really amazing financial solutions for its loyal customers! Additionally, there are quite a few top-end brands owned by the company, namely Fendt, Gleaner, Massey Ferguson, White Planter, Valtra, etc.
Competitor – The Toro Company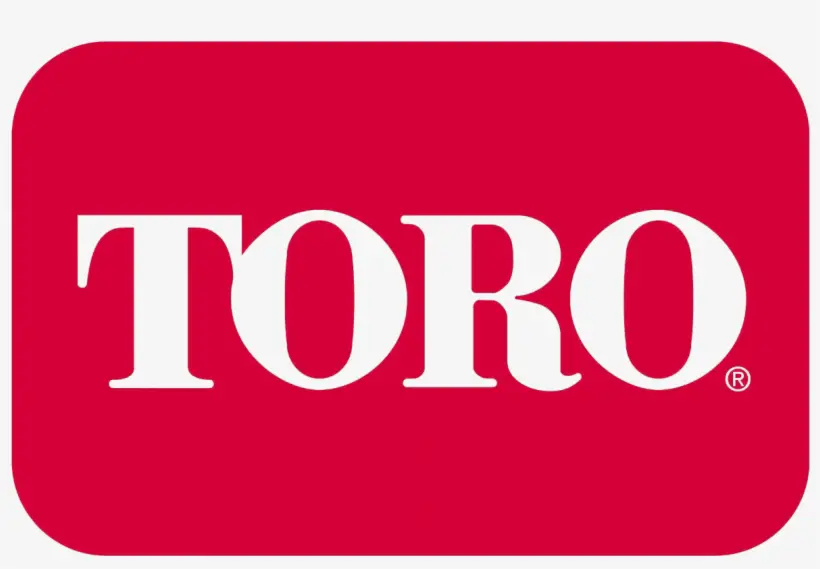 The Toro Company, simply called Toro, deals in a specific branch of equipment manufacturing – turf maintenance. But did you know that it started off as an agricultural equipment manufacturer? Founded in 1914 under the name Toro Motor Company, it initially developed tractors for The Bull Tractor Company. It was only around three and a half decades later that Toro seeped into the lawn equipment market, and it took them a couple more decades to find their footing in the industry.
Industry – Turf Maintenance Equipment
Turf maintenance covers the entire landscaping market, right from public gardens to backyard lawns. The Toro Company designs manufactures, and distributes turf maintenance equipment for both commercial and residential purposes. They have a worldwide presence and generate annual revenue of around $2.5 billion.
Note: While the US may have a formidable presence in the heavy equipment industry, it is just ONE of the leading countries in the trade. Here on out, we will briefly discuss the top companies based in other countries.
Competitor – Mahindra

Mahindra & Mahindra, simply known as Mahindra, is headquartered in the land of farmers (India), in Mumbai. It is one of the largest automobile manufacturers in the world, and, statistically, also THE largest producer of tractors. The company was founded in 1945 by three budding entrepreneurs, brothers Kailash and Jagdish Mahindra, and their friend, Malik Ghulam Muhammad as a steel trading firm. It was initially called Mahindra & Muhammad, but when Muhammad shifted to Pakistan after the partition and dived into politics, the name was changed to Mahindra & Mahindra after the two brothers.
Industry – Agricultural Equipment
It was sometime in the late 1940s that Mahindra veered away from the steel trade and began dabbling in agricultural equipment, mostly tractors, and jeeps. The company rapidly climbed the ranks over the years to finally become the largest tractor manufacturer in 2007 after acquiring Punjab Tractor LTD. Today, Mahindra also manufactures commercial four-wheelers and motorcycles. Its revenue is somewhere around $13 billion.
Competitor – CNH Industrial
CNH Industrial is an Italian company founded in 2012, making it the youngest firm on this list. It is currently headquartered in Basildon, UK. So, how come it is considered to be Italian? The thing is, Exor, an Italian investment firm, operates CNH Industrial and also mostly owns it. Here's another interesting fact – Exor once owned and ran Fiat Industrial which was one of the largest producers of automobiles at one time!
Industry – Automotive
The primary focus of CNH these days lies in the production of tractors and trucks. They discontinued their sedans after the dissolution of Fiat. CNH is also into the manufacture and distribution of agricultural and construction equipment and in the making of drivetrains and engines. The company's revenue is nearly $30 billion.
Competitor – Kubota

Kubota is a Japanese company based in Osaka that manufactures heavy equipment for the agriculture and turf care industries. Founded in 1890 in Osaka itself, the company is best known for its contribution to the development of the Solar Ark, a sophisticated photovoltaic power generation facility.
Industry – Heavy Equipment
Designing and manufacturing agricultural machinery is Kubota's primary area of focus. It also provides equipment for construction and turf care. The company even dabbles in the development of water development systems in the country. Its revenue is somewhere around $14-$15 billion.
Competitor – Claas

If you are into agriculture, then you definitely might have heard about CLAAS, even if you are not from Germany. Claas is a multinational manufacturer of heavy equipment for agriculture-based in Harsewinkel, Germany. August Claas, the son of Franz Claas who had started a milk centrifuge company in the late 1800s, laid the foundations of CLAAS in 1913.
Industry – Agricultural Machinery
Unlike the other companies in this list, Claas only deals in agricultural equipment like combine harvesters (owns the European market) and tractors. The company's revenue is a little more than $4.5 billion.
Conclusion:
The Top 7 John Deere Competitors: Caterpillar Inc., AGCO, The Toro Company, Mahindra, CNH Industrial, Kubota, Claas. Including John Deere, they generate total revenue of over $167 billion! The total number of employees working under them is 357,000.
Competitor Stats:
| | | | |
| --- | --- | --- | --- |
| Name | Founded | Headquarters | Employees |
| Caterpillar Inc. | 1925 | Deerfield, IL, US | 102,300 |
| AGCO | 1990 | Duluth, GA, US | 21,000 |
| The Toro Company | 1914 | Bloomington, MN, US | 6100 |
| Mahindra | 1945 | Mumbai, India | 42,900 |
| CNH Industrial | 2012 | Basildon, UK / Amsterdam, Netherlands | 63,500 |
| Kubota | 1890 | Osaka, Japan | 40,200 |
| Claas | 1913 | Harsewinkel, Germany | 11,450 |
John Deere Competitor Crossword
Content from this and other articles on this website can be used as a crossword clue